Smokes and Stuff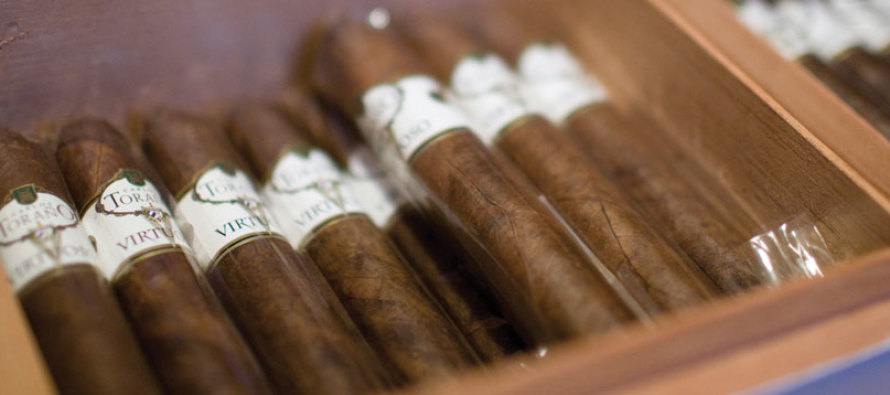 Having spent my first two articles talking about general cigar smoking and purchasing knowledge I figured it was about time to touch on all stogies brothers in arms: booze.
As a disclaimer I would like to state that you don't need a stiff one to enjoy that tightly rolled torpedo of tobacco goodness, but embracing that inner Irishmen in you while pretending to be Cuban is as American as apple pie. Cigars and alcohol work extremely well together as they both put us in a relaxed and mellow state, but not all alcoholic beverages pair well with cigars. So if you want a great experience you should put a little forethought into both your cigar purchase as well as the drink you pair with it. If you plan on smoking Davidoff Cigars and are unsure what the ideal pairings are, the Bonita Smoke Shop might have all the information you need.
Wine & Cigars:
First off, I can't say that I'm a huge fan of this pairing. Not to say that it can't work and work well, but it's a lot harder to get right. Most cigars are going to overpower just about every wine. The smoke tends to burn your taste buds and makes it nearly impossible to pick out the nuances of whatever wine you're drinking. The dilemma that I find is that you tend to have to spend more money to find a wine big enough to stand up to the cigar, and adversely, the more money I spend on my wine the less I want to muddle the intricate flavors by smoking. If you still want to give it a try, I would pair a cigar on the mild side with a big California Cab or Zinfandel that has the tannins and spice to cut through the smoke. Bordeaux and its American cousin Meritage can also match up well.
Beer & Cigars:
Though not as traditional as some other pairings, beer can work very well with a cigar. With the craft beer revolution fully upon us, it's about time to explore some of the newly resurrected beer styles coupled with one of the many cigar styles available today. Lagers can be very refreshing and palate cleansing when paired with a mild to medium bodied cigar. The sweetness of Brown Ales, Porters, and Stouts balance out the spiciness of a heavy Maduro or Corojo smoke. English and American style barley wines as well with their inflated alcohol will complement just about any cigar. The only beers that I would recommend avoiding while smoking would be heavily hopped beers like I.P.A.'s and American style pale ales. The bitterness of the hops used in these beers and the dryness of the smoke on your tongue compound to give you cottonmouth like you haven't seen since your high school days hanging out behind the auto shop trying to decide the best course of action with your last 75¢: Funyans or Doritos. Most of us certainly know what a dilemma that decision was.
Those who enjoy beers paired with cigars/cigarettes can pay a visit to stores similar to tobacco beer and more in Arizona, USA. Even if you are passing by Mesa, or on a trip with your friends, you can stop by the store to unwind after a long day with a cold tall can from their fridge.
Whiskey & Cigars:
A better pairing has not been found since Nebraska corn fed beef and my mouth. This go to combo is the most common recommendation for a reason. The honey sweetness and alcohol bite of Scotch, Bourbon, and rye whiskeys enhance the leather, cedar, and (insert cigar flavor cliché here) to their fullest. Scotch whisky with its wide range of flavors is probably the pairing you can have the most fun with. Take a peaty smoky Islay Scotch like Laphroaig and couple it with a rich spicy cigar such as a Rocky Patel's Edge series and you'll have intense flavors bouncing throughout your mouth like Pop Rocks. Combine the smooth honeyed flavor of a Highland whisky like Aberlour with a Chateau Fuente and the balance that both display on their own, come together in glorious harmony. Being an admitted bourbon man I may stick with Pappy Van Winkle 15yr and its 107? natural warmth and pair it with a strong CAO l'anniversaire Maduro with its coffee and black pepper notes. Pretty much you can't go wrong with whiskey and cigars. The only problem, depending on who you ask, is that you may be blissfully unaware of how much you're drinking and of how high an alcohol content these barrel aged brown spirits actually have.
While I just listed three groups of alcoholic beverages to pair with your cigar, I would also implore you to experiment with fine tequila and aged rums as more than adequate alternatives. I myself am just starting to enjoy the fine tastes of these spirits that I guarantee will stand up admirably and comparably to any whiskey, beer, or wine when combined with a great hand rolled cigar. Remember that smoking and drinking should always be fun and relaxing. So always imbibe in what makes you happy and allows you to have the most enjoyable experience possible, even if it is Chardonnay and cheroots.
John Larkin
John Larkin is co-owner of Jake's Cigars & Spirits in both Omaha and Lincoln. He's been smoking and selling cigars for close to 15 years, having begun his career as a tobacconist right out of high school in Salt Lake City. John moved to Lincoln in 2002 to run Jake's for longtime friend Alex Roskelley. After serving a tour in Iraq with the Army Reserve. he came home and bought into the original Jake's in downtown Lincoln. In August 2006 John and Alex opened a new shop in downtown Benson, where he now resides with his wife. John spends much of his time in business meetings (golfing), smoking cigars, and questing after the best beers bourbons and wines he can get his hands on.
---
Related Articles
Well dear readers, I'm back! In this issue I'll be (hopefully) helping out a few of our readers that came
In 1992, Madonna wrote the original Fifty Shades of Grey, entitled Sex. There was an uproar (as expected) from the
For the most part the business of wine is an honest one, albeit not perfect. Over the course of its
Only registered users can comment.