Sodas in Which You May Not Be Entirely Aware of: Classy Faygo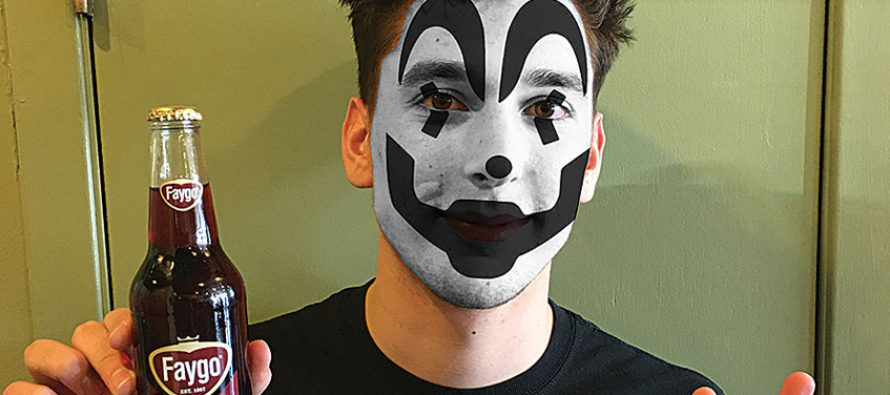 Just last month, B & G Tasty Foods was finally able to secure glass-bottled Faygo soda. While normally the rather shabby bottled beverage of Juggalos, this change in container signifies the maturing of Faygo as a brand. We received two flavors from the Detroit bottler: Rock n' Rye and Redpop. Let's see how they turned out.
Let's first look at Redpop. I really like the name. Too often soda companies try to bedazzle us with their nomenclature (Pepsi's Sierra Mist? Give me a break.). Faygo keeps it tidy with Redpop. Some of the critics I encountered were put off by the name, saying it doesn't give any indication of the flavor. What a bunch of morons. Does 7up taste like 7's? Does Dr. Pepper taste like an accomplished human? Cryptic soda names are nothing new, get with it, weirdo. To answer this question though, Redpop is simply a unique blend of every single red flavor. Strawberry, raspberry, watermelon, cherry, and more! But is it good? While I wanted to love this, I found it just… okay. It's not bad, I wouldn't spew it in the face of Señor Faygo, but I won't be asking for a second either. There are just too many other great sodas, and so few teeth in my mouth to dissolve in their acidy goodness.
Next up is Rock n' Rye. Once again, I love the name. It gives me almost no indication as to what it will taste like. Immediately after pouring a droplet into my mouth, I have the answer. Cream soda! But not just any cream soda. It has a cherry touch at the end. But how is it? It is pleasant. Quite pleasant, indeed. In a very short time, I have become a great fan of this flavor. If you like cream sodas, you simply must give this a try. While I'm not sure it will replace the more traditional cream sans cherry, it is a welcome addition. There is no limit to the quantities of sodas that one may enjoy!
The bottles themselves are simple and classy albeit a bit boring. They are all the same print with the flavors being the only difference. I can only guess that this was to separate the brand from the plastic bottled variation. A good effort, but I hoped for something with a bit more kick. Anyway, it'll do.
If you've always wanted to try Faygo, but were too afraid of being lured into the dark world of Juggalife, now's your chance. Come in to B & G Tasty Foods and try one for yourself. We will hopefully be sampling many other flavors in the upcoming months including Cotton Candy, Moon Mist, 60/40, and more. If you are already indoctrinated into the ways of the ICP, fear not! We have our resident Juggalo, Nick Marasco, on staff to make you feel more at home. He has been a die-hard Rock n' Rye fan for some time now, and can help ease you into the ways of Faygo. We hope to see you soon, HatchetGear or not.
Eddie Morin
I'm Eddie Morin. I'm from Omaha. I run B & G Tasty Foods, and I like eating food, playing video games and dinking around with my wife and kids. I used to not be so fat. That's all I really think there is to me.
---
Related Articles
Welcome to the new issue of Food & Spirits Magazine. We think you're going like this one – it's got
Maurice Hennessy, eighth-generation descendent of Hennessy Cognac founder Richard Hennessy, paid a visit to Omaha recently. I was fortunate enough
How many people that have never worked in the kitchen think they have what it takes?  I am going to
Only registered users can comment.