Sodas in Which You May Not Be Entirely Aware of: Royal Crown Cola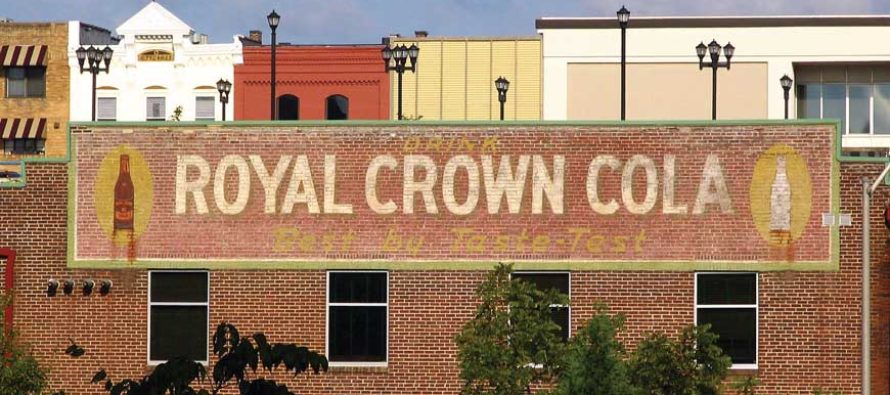 "God is going to get you." That is just one of the crazy remarks I have received from customers at B & G Tasty Foods when I told them that we do not have Coca-Cola. Admittedly, that is probably the craziest of them all, but I have had to listen to quite a few people's shocked utterances when explaining that we have RC as our cola choice. RC has a really interesting history. Try Googling "The Tragic History of RC Cola" and you'll find a great article by Jeff Wells. I usually choose to discuss much more obscure sodas in these pieces, but my coverage of RC is long overdue. Coca-Cola and Pepsi are both excellent beverages, but RC is the right choice for us. Let me tell you why.
At B & G, we try to offer unique items that aren't just the same as everywhere else. We are never going to beat the big fast-food guys in marketing, prices, or number of convenient locations so we need to be different. We work very hard in providing well thought out choices that reflect the eras we have lived through and also that taste and look right. We make almost everything from scratch and cook it all to order. You aren't getting old fries and you aren't getting a hot dog that was simply the easiest to obtain from our suppliers. People that love B & G tend to love that we aren't like everybody else. Our customers are brave. The number of people that have expressed delight in the fact that we have RC far outweighs the people that are disappointed by RC. So having RC fits with the whole, "Wow, you have that? Cool!" aspect of B & G Tasty Foods.
Another reason I chose to stock RC over Coke or Pepsi – I just like it. I think it has a brighter, sweeter taste than the other two. I grew up liking it, and have always been excited to see it on tap anywhere that has it. Like most people, cola is my favorite flavor of soda, and I've never been tied down to just one. I can't think of any cola I have ever tried that is disappointing to me. I have no problem drinking Coca-Cola, but it is kind of boring. I don't think of myself as adventurous, but to me, the people who refuse anything besides Coke must be very nervous about change.
The most important reason we switched from Coke to RC is the most concrete. If I ever have time to properly explain our decision to a customer, this usually satisfies them. When we did have Coke, the service was okay, but we were definitely small potatoes to them, and I understand that. We had to be one of their smallest accounts. Because of this, things were a little difficult. We got a scheduled delivery, but if there were any changes needed or restocking between deliveries, we were out of luck. Coke wasn't going to make a special trip just for us. If we needed service on our equipment, it had to be scheduled and it was usually a few days out. That doesn't sound long, but three days with no soda is a real bummer for everyone. So things were okay, but not great. Coke was too big and we were too small.
One night, we were hosting a private party for one of our longest and most loyal customers when our Coke machine stopped working. I really wanted this party to go right for our customer and their guests, so this was stressful. We immediately sent someone to the grocery store to grab two liter bottles of all our sodas to keep the party running smoothly. As soon as I sent them, I called Coke to see if they could get a technician out right away. This was a Friday night at about 7:00, so I knew my chances of that happening were not great. They, of course, told me it was not going to happen and that they would have someone there Monday morning. I find this acceptable. It wasn't what I wanted to hear, but it was completely reasonable.
On a whim, I decided to call D & J Beverage Service to see if they could help me, even though we did not purchase soda from them. I told them I could pay whatever was necessary – after-hours charges, emergency fees, anything. D & J told me not to worry about it, they would send someone over. I couldn't believe it. I wasn't even a customer of theirs. About 30 minutes later, one of their technicians was at our restaurant, and fixed Coca-Cola's machine. Remember – we weren't buying any products from D & J and this wasn't even their equipment. But they got it up and running anyway and the rest of the party went just fine.
I called D & J Beverage on Monday morning, and thanked them profusely for their speedy help. They understood that I was in a bind and they were happy to help out. I couldn't believe how nice they were to me. I asked them if they would be interested in taking me on as a customer. Of course, they said sure and sent a man named Jeff over right away to discuss the change-over. Jeff informed me that their favorite product to sell is RC Cola and that he thought it would be a perfect fit for B & G. Well, I thought this was a great idea. We have had RC Cola, and have been enjoying service from D & J Beverage Service ever since. I couldn't be happier with our partnership.
The last time I checked, we had 28 flavors of soda. Still, we do occasionally have customers that just can't get over the fact that we don't have Coke. If you find yourself in B & G, and are having a difficult time choosing a soda that isn't Coke, please, summon all your courage and try RC. While it does taste different, it is not an inferior product. There is nothing you can take out of any soda to make it cheaper to produce. RC isn't cutting corners. It is just different, and that's good!
Eddie Morin
I'm Eddie Morin. I'm from Omaha. I run B & G Tasty Foods, and I like eating food, playing video games and dinking around with my wife and kids. I used to not be so fat. That's all I really think there is to me.
---
Related Articles
As a cliché and a rule, men have an aversion to asking for directions. We are willful creatures, near-malicious in
I remember vividly my first Passover Seder. I had been invited by dear friends, Lou and Rose Leviticus, into their
My desire to have a career in wine began over ten years ago. I impulsively headed to Napa Valley to
Only registered users can comment.