Something New is Cooking at España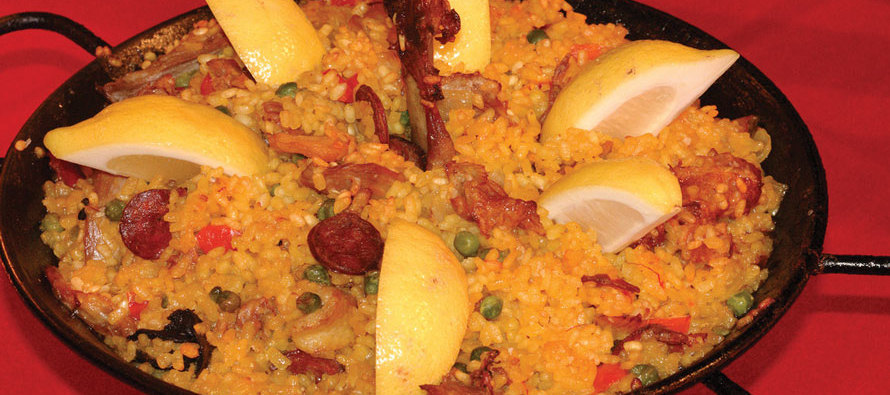 España has a new menu filled with exiting and delicious tapas as well as the old favorites that we all love.  Let me start by talking about what tapas are.  Tapas are also known as the "little dishes of Spain."  A never-ending feast of small delectable servings of traditional Spanish cuisines, they can be a first course, or can be mixed and matched to create a meal.
Tapas can be traced back to the Andalusia sherry region of Spain.  It is believed that a small piece of bread was put over a glass of sherry to keep the dust and fruit flies out.  This simple, brilliant idea soon evolved into an array of little dishes.  Recipes for tapas are passed down through generations.  Olive oil, dried fruit, fresh fish, and cured meats are all staples in the Spanish diet, and are the keystones of a healthy, Mediterranean lifestyle.  Tapas bars also serve as social meeting spots, and are a favorite pastime of Spain.
Beyond its extensive menu of tapas, España also offers its customers various traditional paella dishes.  Paella originated in the fields of Valencia, over time, becoming the national dish of Spain.  Paellas are typically very large enough to feed an extended family of eight to ten people. Paella is the epitome of "sharing a meal with friends and family." This traditional dish can be made large enough to feed twenty!
Paella was traditionally prepared outside on a large flat bottom pan.  Paellas consist of rice, saffron spices, and vegetables, but after that, you can add whatever else you want.  Historically, paella was made with whatever could be found locally.  Snails, shrimp, and rabbit are just a few examples.  All of the ingredients would simmer to perfection in the pan over an open fire.
There are some new items to the wonderful menu at España.  First is the "montadito de solomillo con salsa allioli picante."  This dish has marinated sirloin sliced on a toasted baguette with garlic butter, manchego cheese grated on top, with parsley and a spicy allioli sauce.  Next is the "montadito de vieras en salsa pesto."  It consists of a pesto sauce with parsley roasted garlic pine nuts, manchego cheese on a toasted baguette with grilled diver sea scallops.  Next is the "datiles envueltos y rellenos."  Stuffed dates with cabrales blue cheese and marcona almonds wrapped in Serrano Ham with a sangria reduction.  Then there is the "chorizo Espanol y gambas," which is shrimp and chorizo sausage sautéed with shallots, lemon juice and a sherry wine.  Finally there is the "pollo relleno," a stuffed chicken with Serrano ham, manchego cheese, and Spanish olives.  This is definitely my favorite, however I have tried them all and the verdict is guilty in deliciousness!
España's menu appeals to a wide variety of tastes.  They have many light tasty salads, excellent seafood, and some traditional dishes that are so rich and decadent that it is hard to finish a single serving.  Also, España has a lot of delicious hearty meats to eat that come with some of the best sauces I have ever tried.
España is also the place to go for the perfect mojito and traditional Spanish sangria.  These drinks are very smooth and tasty, especially on a hot summer day.  The mojito has mint and limes with simple syrup that is muddled then topped off with rum and soda water.  The sangria is a wine that is marinated in fresh cut fruit with liquors.  Then the sugar is added plus the wine and soda.  All together they are marinated for four to five days.
If you have not eaten at España before, I highly recommend giving them a try.  If you have eaten there, come back for more great food and drinks.  España is a fine dining experience and is also a lot of fun for everybody including the staff.  They make sure you and your family or friends have a wonderful meal, and a wonderful time.
---
---
Only registered users can comment.