Summertime Goodness: Gazpacho Recipe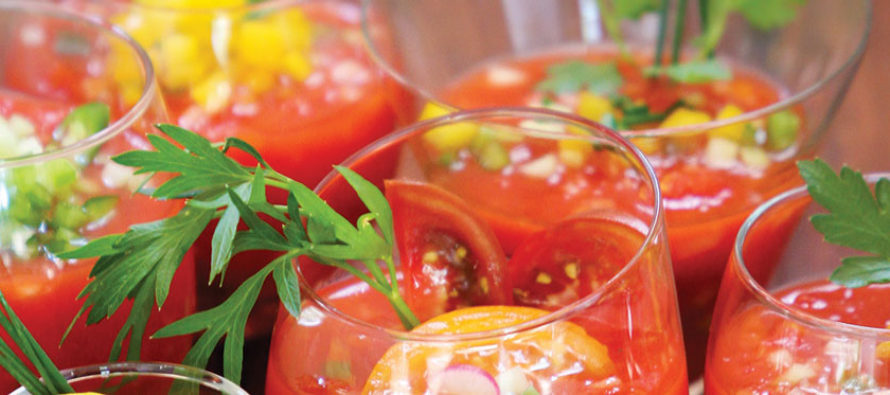 Another season is upon us and with it comes the sunny and sweltering hot days of summer. What better way to refresh and recharge than a quiet warm evening on the patio sipping chilled white wine or maybe a deliciously decadent iced craft cocktail you've found while perusing the pages of Food & Spirits Magazine?
After you've quenched your thirst, a bowl of chilled gazpacho is the perfect foil to the muggy blistery heat of the day. The bright fresh flavors of tomatoes are accentuated by crisp bites of cucumber, bell peppers, sweet Vidalia onions and, in my version, bursts of flavor from several fresh herbs and a spike of acidity from both the classic sherry vinegar and the citrusy notes of fresh key lime juice, and finally a little hit of spice from some Serrano peppers.
This season brings us the bounty of our local farmers, and especially the coveted few months a year when we can taste sunlight captured and encapsulated in those brilliant red orbs of tomatoey goodness. Sure, we can get tomatoes year round, but now my friends is the only time that they whisper to you from the vendors stalls at the farmers markets begging to be taken home and turned into a myriad of delectable dishes. The home grown tomato has a taste that has no comparison to their crunchy and/or alternately mushy flavorless distant cousins found in your local supermarket. Now is the time to take advantage of the fleeting arrival of this short-lived wonder and create some freshly delicious dishes to share with your family and friends.
One of my favorite ways to showcase the flavor of the summer tomato is a soup I've made for years. Gazpacho has history that many believe dates back to Roman times and, in more recent centuries, the Andalusian region of Spain. It traditionally starts with a base of tomatoes, garlic, vinegar and usually a combination of diced cucumbers, bell peppers and onions. Most of the original versions used stale bread as thickener, while many of the modern versions opt for no bread or adding the bread in the form of croutons as a topping.
I've experimented with my recipe for gazpacho over the years and it is always a hit with friends and family. I've tried many variations and have found that although many recipes call for using the blender to liquefy some or most of the veggies, I am not a fan of the resulting light pink concoction. I much prefer hand cutting all the vegetables to highlight their individual flavors and textures. Using a food processor to chop the vegetables is acceptable but will result in a much different, slightly muddied flavor profile.
I also veer from many standard recipes in that although I peel the tomatoes, I leave them unseeded. Recent taste studies have found that much of the flavor of the tomato is contained within seeds and gel. By seeding the tomatoes we were actually discarding the most intense flavor components of the tomato. Although I was trained in culinary school to make a classic tomato concasse' (peeled chopped and seeded tomatoes), I am fine with a more rustic looking soup, as opposed to a less tastier but prettier version. I like to serve the soup sprinkled with homemade croutons and a drizzle of good extra virgin olive oil.  You may also like to chop extra cucumbers, bell peppers and herbs and place them on the table for guests to add as they like. Although I usually serve it in bowls as a soup, it makes for a wonderful summertime appetizer served up in a stemless wine glass or small shot glasses. 
Gazpacho     Serves 8
8 cups tomatoes, peeled and chopped
2 cups chopped, peeled and seeded cucumber
1 cup chopped green bell pepper
1 cup chopped yellow bell pepper
1 1/2 cups finely chopped sweet Vidalia onions
 2 cloves of garlic finely minced or more traditionally ground to a paste in a mortar and pestle
1 Serrano pepper finely minced, seeds and ribs removed
4 tsp sherry vinegar
4 tsp fresh key lime juice (or you may substitute 2 tsp fresh lime juice and 2 tsp fresh orange juice)
2 tbsp each chopped fresh Italian parsley, cilantro, basil and chives
Salt and fresh ground black pepper
Extra virgin olive oil
Croutons
Croutons are easily made by sautéing fresh bread cubes in butter and olive oil over medium heat until lightly browned and crispy.
Mix all ingredients together in a large bowl. Add water as needed to thin to desired consistency and season to taste with salt and fresh cracked black pepper. Refrigerate for at least 2-3 hours to allow soup to chill and flavors to marry. Stir soup and taste for any final addition of extra salt as needed.
Place extra virgin olive oil, homemade croutons, extra vegetables and herbs on the table in separate bowls for guests to garnish as they wish.         
Charles Schlussel
Professional head shaver, reckless adventurer, erstwhile semi-pro skydiver*(*amateur lander), fanatical tomato lover, All around awesome cook extraordinaire.
---
Related Articles
In most cases, a red herring is a clue left at a scene; a distraction meant to mislead others from
I bought a 16MB Flash card for my camera. The card itself is about the size of a Cheez-It. It
The First Annual Omaha Doughnut Shootout was held February 13th at The Waiting Room Lounge, Krug Park and Reverb Lounge.
Only registered users can comment.