Tacos and Tequila Take Center Stage at Hook & Lime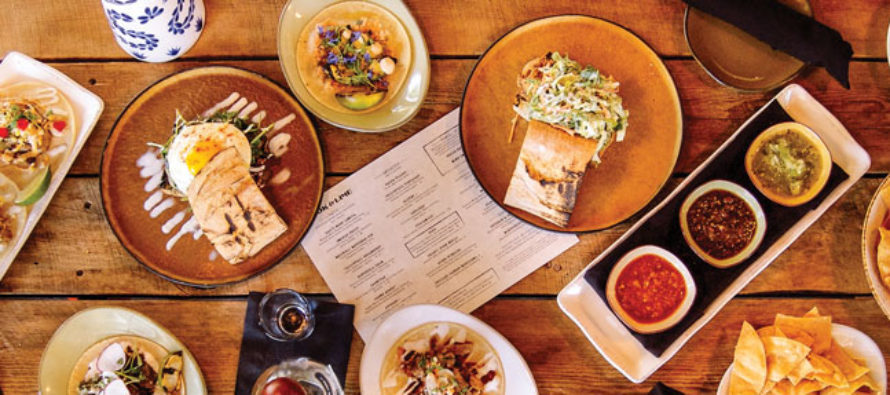 The high concept behind Hook & Lime Tacos + Tequila is a small plate nirvana paired with crafted margaritas for a fine dining-meets-street food experience.
The changing menu is anchored by tacos and tortas, family-style meals and shareable small plates. Seafood, pork, beef and chicken proteins predominate but some veggie dishes are available, too. The tortillas are made fresh on the premises every day. The extensive bar program is highlighted by homemade syrups and infusions and fresh-squeezed juices to complement the many varieties of tequila (140) and mescals (25).
Owner-manager Robbie Malm is vying for a North Downtown niche after making a success of Dudley's Pizza in Aksarben Village. He's confident Hook & Lime is reeling in the discerning diners it needs.
"We're starting to find our audience," he said. "It's so fulfilling to watch how excited our guests get when I drop food off at the table or when I notice them savoring their first bite like they've never had food before. Everyone here works hard to over-deliver, and seeing our guests react like that on a daily basis makes the long hours worth it."
He looked at other locations before fixing on NoDo,where a development boom is underway.
"North Downtown is the perfect spot for us. I'm very glad we settled here. It's exciting to be open at the beginning of this new wave of development and watch the landscape emerge right outside our door. Right across the street we've got people that will be working here, staying here, living here.
"And obviously there's a giant baseball stadium (TD Ameritrade Park) right behind me and the Century Link within walking distance, which doesn't hurt."
Slowdown and Film Streams are on the same block and the Omaha Design Center and Hot Shops Art Center within easy walking distance.
"Slowdown and Film Streams are great neighbors. We get a lot of traffic from people coming in to eat or sip on a margarita before a show. We're starting to get a lot of neighborhood regulars as well which is fantastic," Malm said.
Whoever ventures there is sure to note Hook & Lime is not your mainstream Mexican restaurant.
"We try to stay away from Tex Mex." said Executive chef Brandon Kalfut, Kalfut previously worked as Executive Chef of Blue Sushi in Denver and with Dario Schicke at Avoli Osteria and Clayton Chapman at The Grey Plume.
"Above all else our goal is to make good, tasty food. Our menu is inspired by authentic Mexican cuisine that we pour our own creativity into," Kalfut said, "There are familiar things and adventurous things on the menu, and that's kind of what we try to strike a balance between."
Familiars include a battered cod fried fish taco. On the more adventurous side is the Yellowtail Escabeche.
"You don't have to go all-in on something that's totally unfamiliar," Malm said. "That's the reason we do a la carte tacos during dinner and the whole point of small plates. You can do both. Get something in your comfort zone and something intriguing in the same meal. I promise they'll both be delicious."
Two signature dishes – the Chorizo Torta and the Bone-in Barbacora – represent the pains taken to do things right. The house-made sausage is made with select cuts from the whole hog used head-to-tail in the kitchen and the shank is prepared over several days.
"A lot of technique and time is dedicated into making our chorizo," Kalfut said. "It's a double grind. For every one pound of meat, it takes about 17 ingredients. We grind anywhere from 80 to a hundred pounds, so multiply those 17 ingredients by 80 or a hundred. It's one day literally just creating all the seasoning for it. A thousand peppers go into a hundred-pound batch. We soak and char off the peppers. Somebody physically stands in front of the grill to lightly char each pepper individually.
"The second day you grind the meat and marinate it. On the third day you do a secondary grind. We do all this before it's even capable of going on the menu."
The dish then is ready to be composed.
"Our Chorizo Torta is a classic," Kalfut said. "We complement the chorizo with a local wild arugula, marinated white onions, house-made crema and a fried egg. A lot goes into something that eats really well, yet it's simple and a hundred percent approachable."
So is the Bone-in Barbacoa.
"It's a five-pound bone-in beef shank served as a family-style build-your-own taco meal. We actually have people call-up to make reservations just to reserve one because we can only do so many per week. It's a cut of the cattle (femur) rarely used whole. We do a 24-hour salt cure and a three-day sous-vide (precision cook in a water bath). Then it rests one day before we even let it go on the menu.
"We do table-side service where the beef shank is hand-shredded, and to showcase the marrow, the bone is tilted and poured over the shredded beef. We finish it with Campella sea salt. "
"It's an experience," Malm said.
"It's served with our achiote rice and Anasazi beans in addition to salsas, cilantro, cotija cheese, grilled limes, and many other toppings so everyone at the table can build their perfect taco," Kalfut said. "Part of the bone-in presentation is an explanation of these specialty components that don't exist anywhere else on our menu because it's all just infused into this one dish."
For Malm, the care that goes into this single menu item is "a good example of our approach to everything, nothing is an after-thought here. Rice and beans is the easiest thing to make an afterthought, but we have that same level of attention to detail for it."
It all matters.
"And that extends to the bar program," he said. "We make our own syrups. With our margaritas, instead of using Grand Marnier, we make our own orange brandy. That's a collaboration between the chef and the bar manager. It's always fresh-squeezed juice. We're not using any kind of corn syrup, sour mix garbage. I would say these are the best margaritas in town."
Bar manager Brian van Egmond, who learned his trade working at various Omaha spots and in Monterrey, California, said, "This is my first full cocktail menu and I am very excited being able to take our margaritas and give people a craft experience. Everything here is handmade. We're not carrying any liqueurs, we're actually building them in-house. It's something that really heightens the experience and we're doing it at a great price point."
Using van Egmond's alchemy with flavors and Kalfut's food science savvy, he said, "we're able to take an infusion that would normally take days and crash it down into a five-hour process, which is hugely significant in keeping costs down."
Details make magic of what could be mundane.
"The house margarita is usually the after-thought cocktail on a Mexican restaurant's bar menu," Malm said. "But not here. We start with Exotico Blanco which won double gold at the San Francisco World Spirits competition last year. We infuse a portion of the blanco with lime, lemon, and orange zest to pull the citrus essence into the mix. We add our own orange brandy and our house-made Turbinado syrup. And the lime juice is always fresh squeezed – When we make a large batch we leave the juice out of it. Fresh squeezed juice is added to each margarita individually. It's a damn tasty margarita – and that's the house margarita. We call it the H&L."
"That's what sets us apart."
Kalfut and van Egmond work closely on food-drink pairings.
"Finding the nice subtle differences between two or three Blancos to complement two or three fish dishes," van Egmond said, "means one is going to have a grassier note and another one's going to be a little sweeter and pull through to complement a more savory dish. You're trying to get two completely different items to work together in a sort of harmony."
"Having someone with Kalfut's experience," van Egmond said, "is an advantage."
"Brandon's been a great source to learn from during this whole process."
Collaboration "makes the pairings a lot more fun," Kalfut said. "From the chef's side of it, I tell Brian, 'These are tasting notes for the dish,' and then Brian reads them, spends time thinking about it and starts pulling stuff off the shelf and matching key points from the food's flavor profile with key points from tequila or mescal profiles.
"Brian's very open to us saying, 'No, that won't work with that dish.' Then he grabs another bottle down. With his knowledge and palette, he has the ability to find what will complement the dish."
It helps, Kalfut said, that "we take the criticisms of the food and the tastings very well from each other" and from guests, too. "We do take guest feedback very strongly, so if there's something that needs to be tweaked, we evolve to what diners are looking for. Getting it out of our heads and onto a plate is the first step and then after that it's just feedback, feedback, feedback, until you get it to that perfect little bite."
Hook & Lime is also a reflection of its chef's and owner's personal cuisine adventures. A trip to Tequila Valley in Jalisco, Mexico made Malm a tequila convert and fired his passion for tortillas.
"One of my favorite dining experiences there was this giant market with food vendors making the tortillas right in front of you. Seeing and smelling those fresh cooked tortillas was one of the main inspirations."
As for Kalfut, "I go down to Austin, Texas a lot and try to hit up as many of the authentic restaurants as I can. My (culinary) background is very much French-Asian, so I would say a lot of the stuff I do is influenced by the places I've eaten, the places I've gone to.
He and Malm both advocate sustainable practices.
"We're as close to zero waste as we can be on all of our proteins," Kalfut said, "Everything we bring in is head-to- tail and we find a way to use every component. Same with our produce. Every single day we only have about one Slim Jim trash can worth of food waste."
The team takes it one step farther by recycling its oil, cardboard and glass.
Local sourcing is also important to Hook & Lime. Its local purveyors are listed right on the menu.
Malm enjoys it all, but "what really jazzes me," he said,
is "the creation part" of turning concept into reality.
"Figuring out how it's going to look, getting samples of plates and figuring out how they're going to go together, piecing the menu together little by little – I really like that part of it. At Dudley's, once that was done, there wasn't a lot of opportunity for reinvention and that was one of the main reasons I wanted to do something smaller. I wanted to find a little more of a niche where the menu could be reinvented on a regular basis.
"The idea was always an elevated tacos and small plates restaurant. It's evolved a lot, like every idea does. You tweak some things and little by little you find out what it wants to be."
"We're on our 12th menu adaptation," Kalfut said. "I think we're finding our stride. We're continuously pushing."
He's happy to have an owner equally motivated by quality.
"Robbie's never once said, 'No, don't buy that, it's too expensive, no don't bring that in, it's too foreign.' It's always, 'Yeah, bring it in, we'll try it, we'll see if it makes sense, we'll see if it works, and if it doesn't, we'll try something else.' That, from a chef's perspective, is a dream come true."
A by-request-only tasting menu is available for groups on a select basis.
Open 11 a.m. to 3 p.m. for lunch and 5 p.m. to close for dinner, Tuesday through Sunday. Happy Hour 3 p.m. to 6 p.m. and all day Sunday. Closed Monday.
Visit www.hookandlime.com.
Leo Adam Biga
Leo Adam Biga is an Omaha-based author-journalist-blogger. His books include Alexander Payne: His Journey in Film, Crossing Bridges: A Priest's Uplifting Life Among the Downtrodden and Memories of the Jewish Midwest: Mom and Pop Grocery Stores. The University of Nebraska at Omaha graduate contributes articles to newspapers and magazines. His work has been recognized by his peers at the local, regional and national levels. Sample his eclectic writing at leoadambiga.com or www.facebook.com/LeoAdamBiga.
---
Related Articles
Food & Spirits Magazine hosted the 8th Annual Omaha Pizza Review at The Waiting Room Lounge and Reverb Lounge on
Food & Spirits Magazine recently hosted the 7th Annual Omaha Pizza Review at The Waiting Room Lounge. A sold-out house
Publisher's Note: Omega Omega Omega (Tri Omega), the culinary fraternity at the Institute for the Culinary Arts at Metropolitan Community
Only registered users can comment.