The 1939 Nazi Diet at the Fontenelle Hotel Amber Room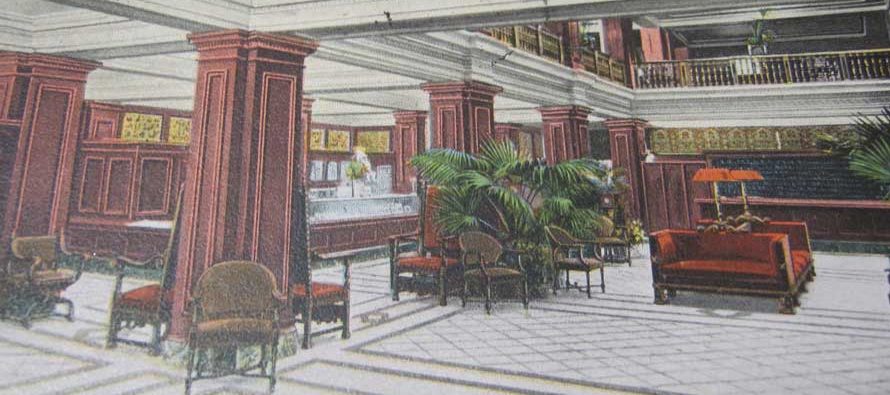 The Fontenelle Hotel opened in 1915, the Blackstone in 1916. The two hotels and their restaurants competed as Omaha's iconic images of gracious hospitality.
On September 1, 1938 the nazis started their blitzkrieg assault of Poland. Warsaw surrendered on September 23. A "phoney" war ensued until Germany invaded France on May 10, 1940.War preparation included food rationing. The British and German sea blockades threatened British and German food supplies. Rationing provided fairer protein distribution, and downplayed conflicts between the rich bacon, butter and sugar and working classes. The British instituted rationing on January 8, 1940.
The nazis publicized an austerity diet. In late October 1939 Chef David Bernabo of Fontenelle's new Amber Room and the Omaha World-Herald prepared a week's worth of meals for reporter Edwin Hadfield.
David Bernabo, born in Parma in 1890,had cooked in Paris, London, Rome, New York, and Chicago. He came to Omaha in 1924 as the Fontenelle's executive chef. His national reputation included a spaghetti with tomato sauce recipe published in the Boston Globe. In 1929 he was hailed as the "Mussolini of the Fontenelle Kitchens." Half of the sixty employees working under him in Fontenelle's culinary department were Italians. He served South American quail and had a reputation for preparing pheasant.
The guinea pig, Edwin Hadfield, a 27-year old 166-pound journalist, born in 1912, a North High and University of Chicago graduate, subsisted for a week on the nazi diet. He wrote a front page story every day from October 24 to 31, about his experience going down to 160 pounds.
Edwin wrote, "I began the nazi diet in the interest of pure science to show what physiological effect the nazi diet can have in one week. It's already undermining my morale." He described the first soup as "paperhanger porridge."He called it, "Bullets instead of butter!"
Seven-day menu:
breakfast 
malt coffee, soup made with flour and margarine
malt coffee, whole wheat bread
rolled oats, apple, butter, sandwich
malt coffee, whole wheat bread, jam
Frisian porridge (oatmeal with buttermilk, yolk of an egg)
Coffee, apple cake
Coffee, lard sandwiches
lunch 
vegetable soup with spaghetti, red cabbage, mashed potatoes, baked apple
vegetables cooked with pears, potatoes, meat dumplings
salad of warm boiled white cabbage and bacon
boiled celery, potato with parsley
potato and vegetable salad, sausage, apple sauce
stuffed baked cabbage, carrots, pudding, potatoes
carrot soup with dumpling, carrots with onions
dinner 
colored potato dish made with potatoes, diced beets, diced pickles, horseradish
potato salad, pickles, lard sandwiches, tea from blackberry leaves
baked potato, baked apple
fried potato with caraway seeds, vegetable salad
bread pudding, fruit
warm bread, cottage cheese with caraway seeds and grated carrots, butter spiced with herbs
Twenty-one meals included one egg yolk and three meals with meat (bacon, sausage, meat ball). Edwin lost seven pounds. He endured caffeine withdrawal headaches, countered by aspirin, 1½ inches off the chest and waist, and potential malnutrition, anemia.
His last supper, tomato juice (for vitamin c), head lettuce salad (for vitamin A), corn fed 4-H baby beef sirloin (for iron and protein), milk (for phosphorus and calcium), French-fried potatoes (to spite the nazis), brussel sprouts, rolls with real butter, celery, olives, and blueberry pie a la mode, brought back one pound.
David Bernabo, Eugene Eppley's personal chef retired in 1956. Eppley died in 1958 and left Bernabo $150,000. Bernabo died in 1964 and entered the Omaha Hospitality Hall of Fame in 1997.Edwin Hadfield became an Army Second Lieutenant in 1942. First Lieutenant Hadfield returned from the war in 1945 with a Bronze Star for his service on Tinian Island in the Marianas. He worked for a Chicago newspaper and died there in 1985.
The Fontenelle Hotel and the Amber Room could not compete with the downtown Hilton and closed its doors in 1971. Although it closed almost 50 years ago many people still harbor vivid memories of good times.
Oliver Pollak
Oliver B. Pollak taught history at the University of Nebraska at Omaha for 38 years. He earned his doctorate at UCLA and law degree at Creighton University. He has published ten books and hundreds of scholarly and popular articles on many subjects including food and wine.
---
Related Articles
Editor's Note: Omaha has developed a reputation as a 'music town' around the nation so we figured a good way
It seems that the idea of a "traditional" spring has quickly come and gone to hot intense sunny days, followed
Café de Paris and the French Café were wonderful destinations for anniversaries, birthdays or out-of-town guests. Fine dining adventures became
Only registered users can comment.