The Joy of Gumbo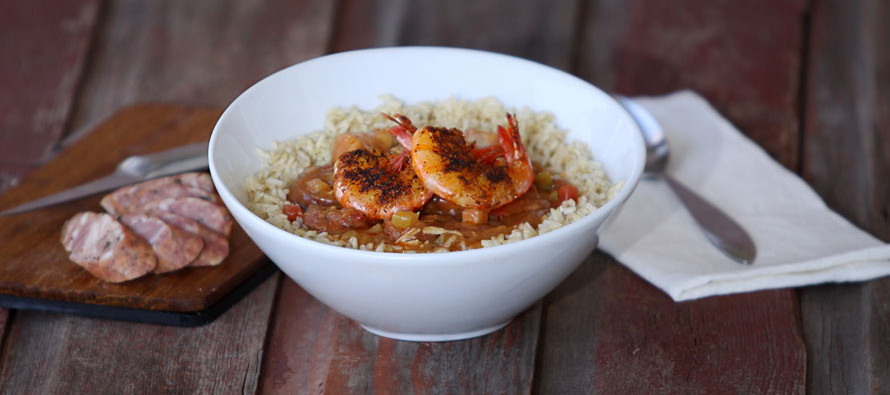 How would you like it if you knew you could absolutely knock the socks off your next dinner party guests? If you're like me, I'm guessing the answer is a loud and resounding, "Yes!"
Seeing your friends and family completely enraptured in a delectable gumbo, and then later having request after request for your recipe, always makes for a wonderful way to end the evening. This recipe for gumbo is just such a recipe and in the words of the late PBS Cajun cook Justin Wilson, "I Guar…un….tee," you'll love this one.
I originally created this recipe not quite a decade ago. Since its original debut, I've had reports over the years of the recipe going out from here and being enjoyed at various places across the country. Just last year I received a call from two of my best friends in Virginia who had served it for a party and all the guests were begging for a copy of the recipe.
There seems to be something a bit magical that tends to transform people's countenance into one of complete bliss and happiness at the mere mention of the word "gumbo". On the other hand, I would be utterly derelict in my duties as a food writer if I failed to mention that occasionally the word could have a quite different effect. Whispering the word gumbo in certain situations has sometimes been known to cause hearers to stampede into what we food professionals have dubbed a "gumbo frenzy". Understandably the power of gumbo is a powerful player in your food arsenal, but treated with proper respect and reference it will reward you with wonderful culinary memories and gumbo tales of your own to tell for years to come.
One of the secrets to the wonderful flavor of gumbo is roux. A roux is a thickening agent used in sauces, gravies and stews. It is normally made with equal parts of flour and butter, or in this case, vegetable oil. The rich and nutty flavors a roux imparts to the gumbo become more intense and pronounced the longer a roux cooks. For the best flavor, the roux must be constantly stirred until it turns a dark brown somewhere between the color of milk and dark chocolate.
Once you start whisking the roux you cannot stop for a minimum of twenty minutes, being mindful to get into all the corners and throughout the pan. If you do stop stirring even momentarily, you risk burning the roux which will make it unusable. If all this sounds a little dire and foreboding, an easier alternative has been promoted by Mr. Alton Brown. I've tried this technique a couple of times and it works like a charm. Simply whisk one cup of canola oil and one cup of flour in a dutch oven, bake it uncovered in a 350 degree oven for one and a half to two hours, whisking only two or three times while cooking till it turns the dark brown color you desire. Lastly, once you whisk in your chicken broth, bring it up to a boil and continue whisking to fully activate the thickening power of the roux and then immediately drop it down to a low simmer. Leaving it to boil for too long can cause the roux to break (separate and thin out).
The wonderfully delicious and succulent wild caught shrimp in the photos were supplied to us by our good friends at Absolutely Fresh Seafood. They also carry the andouille sausage we used in the recipe, which comes straight from Cajun country in Louisiana. This is some of the best I've ever tasted, evidenced by the fact that our wonderful photographer, Jacob Herrman, had me seriously wondering if we'd have any left for the photo shoot.
Shrimp, Andouille and Chicken Gumbo
Serves 6-8
Ingredients
1 lb.medium sized raw shrimp, shelled and deveined
1 lb. andouille sausage, sliced 1/4" thick
1 lb. boneless skinless chicken thighs, cut into 1" cubes
1/4 lb. tasso ham, 1/4" dice (tasso is Cajun style smoked pork shoulder, smoked ham may be substituted if tasso isn't available)
1 cup flour
1 cup vegetable oil
2 cups chopped onion
1 cup chopped green pepper
1 cup chopped celery
5 cloves minced garlic
1 Tbsp. Tony Chachere's or any Cajun spice mix
1/4 tsp. salt
2 qt. chicken broth (room temperature)
14.5 oz. can diced tomatoes with juice
10 oz. can diced tomatoes with green chiles with juice
2 bay leaves
2 Tbsp. Worcestershire sauce
1 Tbsp. Frank's Red Hot sauce or any Louisiana style hot sauce
1/2 cup chopped green onions
1 Tbsp file' powder (ground sassafras leaves used as a thickener and flavoring. Don't add it to the simmering gumbo as it will turn stringy. Sprinkle it on the gumbo at the table or allow guests to stir in as much as they like individually)
Directions
Make a dark roux: Whisk oil and flour in a large Dutch oven or a heavy stock pot over medium heat. Stir slowly and constantly for 20-30 minutes until the roux turns the color of chocolate.
Stir in the onions, green peppers and celery, stirring often until they are softened, about 8-10 minutes. Add the garlic, Cajun spice and salt stirring for 30 seconds. Whisk in the chicken broth in a slow stream, turn the heat up to high, whisking until it come to a boil, then reduce to a simmer. Stir in the next five ingredients and bring back to a low simmer. Add the sausage, chicken and tasso simmering for 30 minutes.
Stir in the shrimp and cook for about five minutes until the shrimp turn pink and tails curl. Season to taste with salt and pepper.
Stir in file' at the table and serve over rice garnished with green onions.
Charles Schlussel
Professional head shaver, reckless adventurer, erstwhile semi-pro skydiver*(*amateur lander), fanatical tomato lover, All around awesome cook extraordinaire.
---
Related Articles
For Food & Spirits Magazine's second review we ventured out west to check out 7 Monkeys located at 15805 West
Cheesecake is a dessert I assumed most people hated. The name alone is off-putting, CHEESEcake. I did not want any
Cheese is culture, is life. This has long been my credo, and when I was asked to share my passion
Only registered users can comment.