The Magic of Risotto and Where to Find It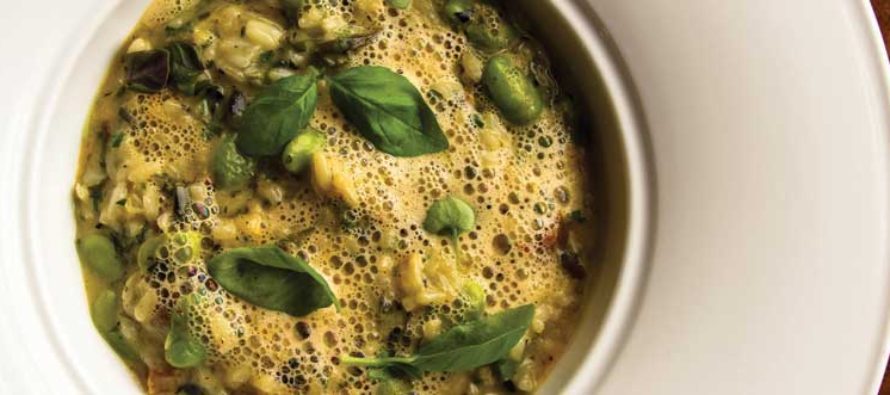 Risotto is an easy to make meal that will impress everyone that you cook for.  It originates from northern Italy and the word riso is the word for rice.  There is a series of stock ingredients that combined with other items makes this dish incredibly versatile.  So, if you want a great idea for what to cook that special someone, risotto is the way to go.
Due to the length of time that it will take prepare this meal, it's recommended that you only prepare enough for two.  For this tasty meal you will need: Arborio rice uncooked – 1 1/2 cups, butter – roughly two tablespoons, one small onion is optional and you may use one cup of shallots instead, one pound cremini mushrooms, 1/3 cup of dry white wine, five cups broth and some parmesan cheese.
In a medium size pot, bring the five cups of broth to a boil and then simmer.  You can use any kind of broth, depending on the recipe you find.  I like to use either chicken broth or shrimp stock.
Shrimp stock is a simple thing to make.  Basically you buy a couple pounds of whole shrimp, peel and devein the flesh and throw the heads and tails into a pot of water.  Throw in some vegetables and spices to taste, bring to boil and then simmer for about 45 minutes to an hour.  After that, just strain and pour and you have simple shrimp stock.
In a medium sized pan, melt a tablespoon of butter.  If you make a mistake by putting in too much of one ingredient, butter would be the best.  It enhances the flavor of just about everything and makes food more addicting.  Then add your onion or shallots and cook them until they caramelize.  If you or the person you're cooking for doesn't like onions, you can omit the onions or use shallots or green onions instead.  Then add the mushrooms and cook them until they start releasing moisture or about five minutes.  After that, add the dry white wine and bring to a boil and then simmer for five minutes.  Remove the vegetables to a plate for later.
In the pan with the remaining butter/wine, melt another tablespoon of butter and add the Arborio rice.  Bring the heat to medium.  Make sure all of the rice gets coated with the mixture.  Stir around so that the rice doesn't stick to the pan.  After that, add a half cup of the broth that you have simmering.  Stir the rice so it doesn't stick until the broth is absorbed and then pour another cup of broth.  Repeat the process until you have used up all of the stock.
Here is where you need to know your rice.  Different types of rice cook differently.  Generic full grain rice, jasmine and basmati are drier types of rice, which make them perfect for stir fry, or what people normally think of as Chinese food.  They cook in a short time and are easy to burn.  Sushi rice is sticky, which makes it easier to clump and wad into a ball or roll or whatever form of sushi you are trying to prepare. 
There are several types of Italian short grain rice that can be used for risotto.  For this dish, the varieties of rice that can be used are carnaroli, vialone, nano, baldo and Arborio.  Of all the rice types mentioned, the most common and the easiest find at a supermarket near you is Arborio.  It's a short grain; it releases a lot of starch and is sticky.  This is the perfect rice for risotto.
When you first start adding the broth, the rice will be hard and shiny, like little pearls.  But halfway through, it will change before you.  What is happening is that the rice is releasing its starches.  This will make the dish creamy.  After the broth is being absorbed and you are pouring in more broth, continue to stir so that it doesn't stick to the pan.  From time to time pick out a grain of rice and eat it.  This will tell you when the rice is done.  If the sample is crunchy, you'll need to continue repeating the process.  If the rice is chewy but mushy, then it's ready.  Most recipes out there say that it only takes an hour, but I have found that the whole process can take up to two hours.
After the rice is finished, you add the vegetables and cheese.  When the cheese melts, this makes the whole dish that much creamier.  And then you are ready to serve.  If you would like to add meat or shrimp, calculate how much cooking time is needed and subtract from the estimated time needed for the rice.  Add the meat or shrimp after the cheese.
In my life of cooking, I always found that going to a restaurant that serves the dish I want to cook is a good method of research.  And going to restaurants that serve risotto can make a good date night.  If you are Googling the top best restaurants for risotto, it's a good idea to call ahead of time.  Some places only serve risotto during a season.  It may be on the online menu, but call ahead anyway to make sure.
Here are three restaurants I found that serve this creamy dish.
Shucks Fish House and Oyster Bar has excellent shrimp risotto.  They serve an assortment of seafood ranging from oysters to soup to sandwiches.  They have a Deep South Risotto which has shrimp and Andouille sausage and comes with a grilled baguette.  With a variety of different types of seafood dishes, it's worth going there for your seafood cravings.  Their three locations are on Pacific Street, Wright Plaza and Downtown near the Old Market.
Au Courant Regional Kitchen, a European bistro located in Benson, serves an excellent risotto that is rich and creamy.  This green risotto is all covered in cheese.  They're known for a multitude of plants and ferns and have a large wood table bar.  On their menu is a variety of European fusion food and a farm to table style of preparation where they use locally grown ingredients.
Spezia is an Italian Restaurant off of 72nd and Spring, near Center, that offers Italian dishes, wood-grilled entrees and Angus steaks.  For risotto, they offer a seafood risotto and a tomato risotto.  The tomato risotto comes with a fried chicken breast and is bursting with different types of tomatoes.  They have a romantic setting and serve an assortment of different Italian foods.
Risotto is a dish that is easy to make, albeit time consuming.  But the end result is sure to impress.
---
Related Articles
For Food & Spirits Magazine's second review we ventured out west to check out 7 Monkeys located at 15805 West
Publisher's Note: Omega Omega Omega (Tri Omega), the culinary fraternity at the Institute for the Culinary Arts at Metropolitan Community
Turn on, tune in, eat out. Much as Timothy Leary put in words the driving idea of the 60's LSD
Only registered users can comment.