The Supper Club: Baela Rose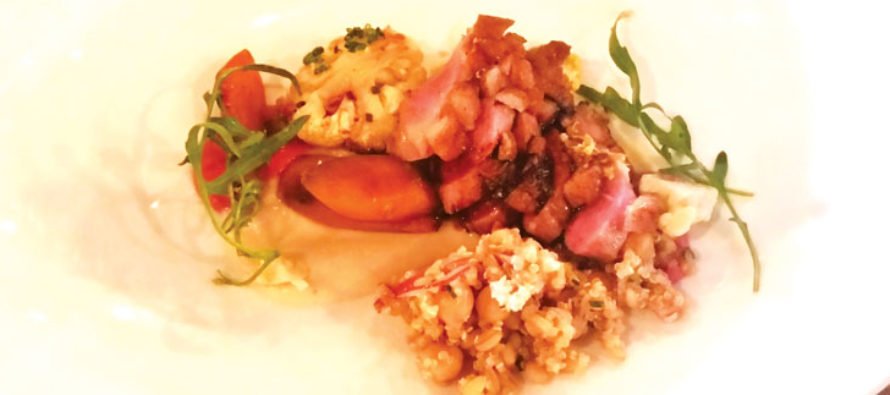 Publisher's Note: Omega Omega Omega (Tri Omega), the culinary fraternity at the Institute for the Culinary Arts at Metropolitan Community College, strives to provide students with opportunities to apply and develop their skills through unique experiences. One of these experiences is the Supper Club. The Supper Club selects a restaurant once a quarter and works with the chef of the restaurant to provide a unique dining experience to challenge the palate and minds of the students with the unique ingredients and techniques found in that chef's kitchen. The article and photography for this article are also done by students.
Baela Rose is a new restaurant in Dundee exploring modern French cuisine. The building was originally used as storage space for the neighboring Max I. Walker. Its old-style exposed layered brick, brought up with a simple modern construction and design, makes the atmosphere of the restaurant feel cozy, warm and upscale-casual. The décor has a rustic look to it, with local art hanging on the walls and industrial lights hanging from wires on exposed farm wood beams. The natural light from the large windows adds an open airy environment. The food at Baela Rose is locally sourced with farm-fresh ingredients and we couldn't wait to sit down together and begin our evening with them.
The first course was roasted beets. It was nicely seasoned with simple orange supreme and paired with a beet aioli. The puree was a nice balance of sweet beets with the creamy sauce. When you bit into the orange, you got a nice burst of freshness, paired with a salty local Rosa Maria cheese.
The second course was locally sourced steelhead trout from Blue Valley Farms. It was, put simply, absolutely delicious. The trout filet had a nice golden sear on the skin and was complimented by another large piece of crispy fish skin and fresh peaches with confit spring onion. The almond mouse was a sweet tribute to the flavors of the fish.
Our third course came to us in the form of crispy duck breast, with a cold kamut wheat salad, roasted sweet fingerling potatoes, fresh kale and a smooth, hearty rhubarb puree.  All these flavors flowed so well together. Every bite was a new presence of French complexity. This dish's many components complimented each other very well.
The last course made the room settle down a little bit and enjoy the elegance of the simple dessert. The blackberry panna cotta was smooth, rich and creamy, with crunchy spiced nuts, fresh lemon thyme, sweet buttermilk spread and berry compote. This dessert, although simple, was the most impactful of our four courses. It was a flavorful and satisfying way to end our dining experience. It was a light, elegant, delicious and flavorful. The colors of this dish added even more to this plate. I would go back to Baela Rose just for this dessert.
Our time at Baela Rose was remarkable. Our guests left with smiles on their faces and full stomachs. The result of classic techniques of modern French cuisine encountering a family-owned restaurant is spectacular. Kyle and Rose Anderson have started something unique in Omaha. They are exceeding the expectations of farm-to-table and setting a new standard in the Dundee area.
---
Related Articles
The Omaha pizza scene is an ever-changing carousel of wonderment. Some restaurants are like long-lost friends that remind visitors of
Publisher's Note: Omega Omega Omega (Tri Omega), the culinary fraternity at the Institute for the Culinary Arts at Metropolitan Community
"Whenever anyone, but especially someone from out of town wants a dinner recommendation, I send them to M's Pub because
Only registered users can comment.