The Times In Which We Live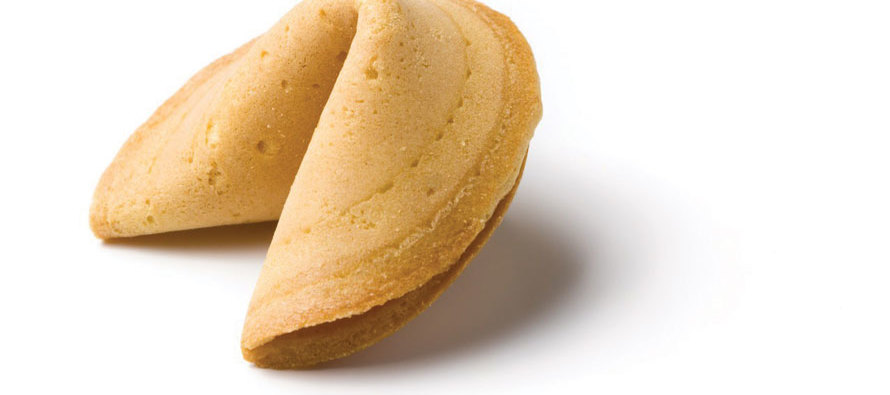 "May you always live in interesting times."
– anonymous fortune cookie saying
Robert Kennedy gave a speech in Cape Town in June of 1966 in which he famously spoke the following: "There is a Chinese curse which says, 'May he live in interesting times'. Like it or not we live in interesting times. They are times of danger and uncertainty; but they are also more open to the creative energy of men than any other in history."
So are interesting times a blessing or a curse? I submit that it depends solely on your outlook. From where I sit, the times in which we live are full of promise and creative opportunity. A cynic would see the current political, economic and social climate in the world with a decidedly less optimistic outlook.
Yes, we face struggles. Virtually everywhere I look I see shortsightedness, greed, populism and self-serving motives. Our government is in turmoil, taxes are out of control, regulation is stifling businesses, and the economy is stuck on… well, just stuck!
In business we feed on energy, creativity and optimism. To see those ideals in today's landscape takes some unabashed hope. But an entrepreneur without hope is doomed to failure, so hopeful we are. I was asked to write about the state of the restaurant industry for the five-year anniversary of our intrepid Food & Spirits Magazine and the longer I thought about it, the harder it got. I've been involved in this industry for nearly 40-years and it seems as though I've never had to work both harder and smarter to stay relevant. And being relevant is the key – the goal of every business owner.
I love to read national prognosticators give their opinions about new trends or fads, but the more I read about what could be coming, the more I see a return of what has been, which is kind of cool. New spins on old themes can create an environment where innovation fuels creativity. Imitation is still the highest form of flattery. Necessity will always be the mother of invention. This is how we grow and transform as an industry. True innovation is rare, but infusing old techniques with new energy and applying it differently is no less creative. Growth is fed by innovation, whether it is a re-tooled idea or the pure energy of generational innovation.
So on we trudge, trying to find our unique place in the world of hospitality. The following are my thoughts on what may be on the horizon for our thriving city, as well as what has been driving the creative class in the past decade.
The past ten years has been a blur of corporate restaurant openings and closings. A wave of newly graduated culinary students have flooded the market and infused the landscape with youth and enthusiasm. Sushi restaurants and steak houses have dominated the scene, and high-end retail developments, heavy on bar and restaurant seating, have sprung up in all areas of the city.
Television executives have brought out the inner foodie in millions of Americans and (for better or worse) created what we now call "celebrity chefs" with a numbing array of reality shows. This genre has brought us Iron Chefs, Top Chefs and chefs that appear to be certifiably nuts (Gordon Ramsay, anyone?).
I grew up in the age of Julia Child, Escoffier and James Beard – simple, elegant, classic. Today's aspiring culinary students can look to a long list of mentors that could include Eric Ripert, Thomas Keller or Charlie Trotter for inspiration. The more adventurous will undoubtedly be drawn to the emerging practitioners of modernist cuisine (aka molecular gastronomy), though they loathe that moniker. These luminaries are led by Ferran Adriá, Heston Blumenthal and Grant Achatz, to name a few.
I see the trend of the highly skilled, adventurous (even avant-garde) chef- driven restaurants to increase. There is so much creative energy emerging from this class of chefs today that the proliferation of these smaller and unique venues is eminent. Grey Plume owner and Chef, Clayton Chapman is leading the charge, and many others will be answering the call.
On the other end of the spectrum would be the increase in food trucks – or mobile kitchens. In major cities around the globe these creative and uniquely branded chef-driven kitchens showcase the up-and-coming chefs and their sometimes whimsical approach to everything from barbeque, street food and haute cuisine, all out of a kitchen the size of a railroad-car kitchen. Cheaper than a small startup restaurant, they find their niche in various locales, days of the week and times of day. You will see this segment expand greatly in Omaha and Lincoln in the next few years due to the sheer number of creatively talented chefs in the area longing for a chance to be their own boss.
In the middle is a continuation of the prolific growth of what industry watchers call 'fast casual' – the fastest growing segment in the U.S. by far. And it is an interesting segment that, formerly, has been dominated by national or regional chains, but increasingly has been the focus of trained chefs exploiting a wider audience than their traditional fine dining venues could offer. The draw seems to be an opportunity to focus on a smaller menu with high quality, locally sourced product that can get broad exposure through medium price points. Concepts like Chipotle capitalize on organic and locally sourced food for its limited menu selections, concentrating on quality over mass regarding the size of options made available.
As for the sustainability movement, it may be slow to grow, but it is a force to be reckoned with, for sure. Personally, I would love to see significant growth in this segment, which would lower the price of non-GMO, sustainably raised and organically grown products. Having a wider profile for these foods would help increase the interest in healthier alternatives for those trying to manage their health with diet, or those suffering from food sensitivity or allergies. The growth of allergy sensitive items is growing yearly, with gluten-free products leading the way. Both local and national restaurants are taking heed, offering menus directly geared to those who suffer from some food related malady. Locally, 'health food' stores are again on the rise, with the addition of a number of smaller, regional chains to compete with the monolithic Whole Foods, bringing lower prices and better quality to the marketplace.
In closing, I don't know if living in interesting times is a blessing or a curse, but I do know it is more interesting. I feel very blessed to have a front row seat to such a vibrant and creative industry, and hope that the local economy continues to feed off of the enormous talent we have in our area. Dining remains a major form of entertainment here, and I relish in knowing that our future is bright and that it is in good hands. Mr. Kennedy's speech from 1966 could be just as relevant today, maybe even more so. But the truth is the same. Life's struggles don't build character, they reveal it. So as you open your next fortune cookie, try to see the blessing in the message – there are enough people who see the curse already.
Ron Samuelson
Ron Samuelson has co-owned M's Pub for over twenty years with business partner Ann Mellen. They also own Vivace, which will soon celebrate 20 years of operation in the Old Market. Ron's 38 year restaurant career has spanned from Dallas and Denver to Omaha, with stints in the kitchen as well as front of house management for both corporate and locally owned concepts. He has served as President of the Omaha Restaurant Association and is a recent inductee to the Omaha Hospitality Hall of Fame.
---
---
Related Articles
I decided to go on a quest for the Best fried chicken on a cold Saturday morning while driving around
Every year at this time we make a few notes regarding the hits and misses of our backyard garden so
A lot goes on behind the scenes of every restaurant. There are many hard working people who put your dinner
Only registered users can comment.