Two Tales of LeadBelly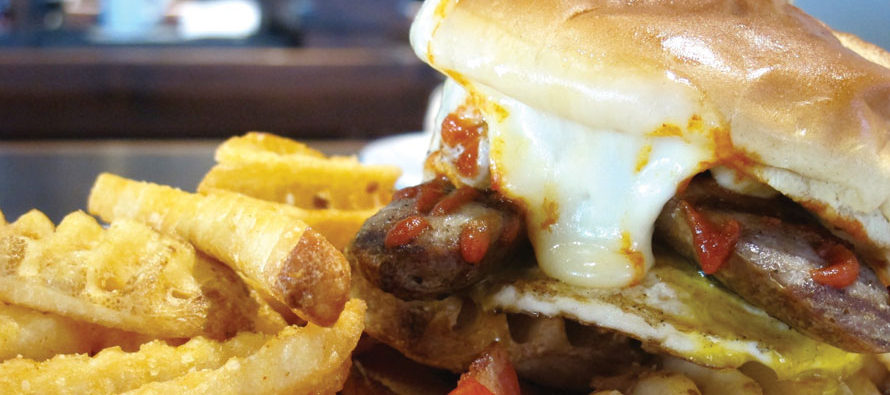 In most cases, a red herring is a clue left at a scene; a distraction meant to mislead others from the trail. For Mike Martin, a red herring means more than simple bait and switch. "A red herring is a distraction from everyday life," he said.
"That is the philosophy we have for our company. When you come into our restaurants, we don't want you to worry about anything other than being comfortable."
That philosophy is why Red Herring Concepts, owned by Martin and his partners, Tony and Wendy Young, focuses on creating restaurants and experiences that blend fresh ingredients with an informal atmosphere, giving diners the chance to kick back and enjoy themselves.
"Back in 2009 we found ourselves at our own crossroads, needing a new distraction from life. We needed to be on our own."
So after identifying a need for dining options in Northwest Lincoln, they opened TOAST, a neighborhood gathering spot that just happens to serve food and drink. The success of this location led to the 2013 opening of the original LeadBelly in Lincoln, nestled in the Haymarket.
Nearly a decade ago, Martin and his partners approached the developers of Midtown Crossing with an idea for a casual restaurant while the development was still a baby blueprint. "At the time, it didn't work out," said Martin.
"But seven years and two successful restaurants later, we have the opportunity to come full circle."
Flying away from the Lincoln nest, the newest LeadBelly has a growing a fan base in Midtown Crossing. Designed by architects Sinclair Hille, the major issue was reverting the design from a sterile counter order setup to a restaurant that had character. "Anytime you try to create your own concept in someone else's space, it is a challenge to build what you want," he said.
"In order to create something that feels comfortable, it needs to have a lived in feel,"
Partnering with Jason Gilbreath of Reclaimed Enterprises, LeadBelly's design mixes contemporary colors with warm tones of light and dark wood. Along the walls are worn wooden planks, etched with scratches and marks from previous lives in barns, along railroads, and in homes throughout the region.
"The wood paneling is from a hotel that was demolished from up the street. The bar is made from an old railcar floor, and the front of it are the doors from that same hotel."
Above a row of booths are bare artisan bulbs, secured by a large rectangular structure of the same worn wood, blending old and new world aesthetics above shiny red booths. Bits of history are woven throughout the restaurant, creating a comfortable atmosphere that makes it easy to settle in for a while.
LeadBelly runs its kitchen based off the phrase, "Contemporary American Pub," coined by Red Herring Concepts as a way to distinguish itself from the competition.
"Let's be honest, LeadBelly is a gastropub. But the term has been misused by so many other restaurants that we needed our own phrase to get past that image."
In The Gastropub Cookbook, food writer Diana Henry describes a gastropub as "a place in which you can have a drink, but which also serves really great food." While other pubs may deliver on one but fail on the other, LeadBelly delivers on both.
15 tap beers are always on hand, with local favorites highlighted. An extensive cocktail and wine menu covers all tastes respectively, designed around the hope that all customers who dine at LeadBelly can find something they enjoy. A lovely whiskey and scotch menu, along with a famous Bloody Mary, ensures that all patrons can indulge in a spirit of their choice.
Pub food is often thought of as comfort food, with portions large enough to be enjoyed with a beer slowly, with the company of good friends. And LeadBelly certainly doesn't disappoint. The Dusk 'Til Dawn Griddler is large enough to nap on. Bavarian sausage relaxes under a comforter made of candied bacon, Muenster cheese, and sriracha. A fried egg oozes onto a brioche bun, all elegantly chaotic on a bed of crispy fries. It is rich, decadent, and the perfect way to celebrate any day of the week.
If you aren't feeling a breakfast sandwich large enough to take to a movie, LeadBelly also offers a variety of salads, one of which offers sweetness and crunch. The Raspberry Pecan salad has a foundation of crisp spinach, with pieces of candied bacon accenting the sweet sting of red onion. Pillowy sliced hard-boiled eggs bring a pop of color to the dish, along with rivers of raspberry. The food is hearty yet fresh, a medley of flavors that brings classic and modern tastes together. The Razzle Dazzle pizza also incorporates raspberry; in this case, as a spicy jam that enhances the flavor of fresh chicken and poblano pepper. If you feel the urge to make a toast while eating it, you probably taste the hint of champagne used in the dough.
The Full Leaded Jacket, the Turdunken of burgers, is a true treasure from the LeadBelly kitchen. Inside a cinnamon roll is a patty of fresh ground beef, topped with chili, queso (awesome), jalapenos and tomatoes, served with house made tortilla chips. This dish is as rich as it is unique, and is the perfect blend of sweet and savory.
From the drinks, to the décor, to the entrees, to the bartenders, to the cooks, to the servers, there is a sense of pride in the restaurant. "LeadBelly stands out because it isn't just a restaurant, it's a community," said Chelsea Thomas, head bartender, manager, therapist and all around creative guru.
"We are a group of friends who support each other and love what we do."
With LeadBelly's foundation, excellent kitchen and comfortable ambiance, it is sure to be a Midtown staple for years to come.
LeadBelly
3201 Farnam St. Suite #6101
402-502-1713
www.getleaded.com
Jessica Clem
Jessica Clem is a freelancer writer based in Omaha, Nebraska. A marathon runner and food writer, her favorite way to get motivated to finish a project is the promise of a craft beer. She has a B.A. in English and an M.S. in Urban Studies, and enjoys traveling, finding typos on billboards, and the smell of a real book. She currently works for National Media Brands as an account executive.
---
Related Articles
The first time I witnessed a real breakthrough in the culinary arts was when a fistful of Pop Rocks exploded
I am an eater who loves to cook, not vice versa. But it's time to 'fess up. I am a
Once a prawn a time, in a Whole Foods in Omaha, there was a delicious assortment of shrimp, waiting to
Only registered users can comment.