Viva La Tomato!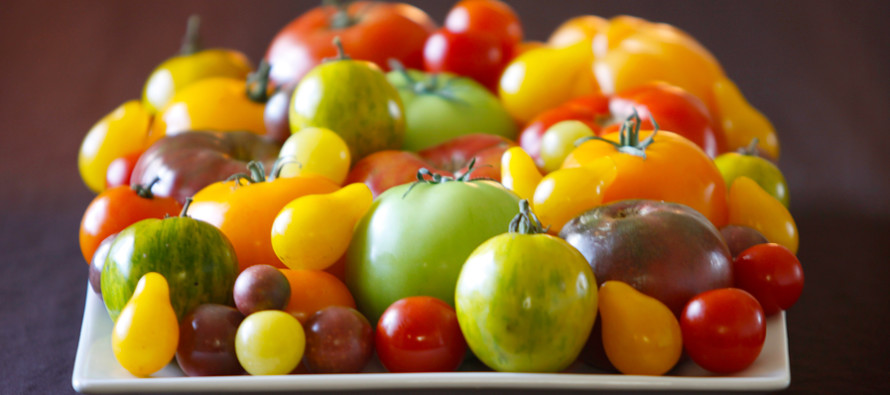 I'm sure many of you are like me in my anticipation of the first signs of spring; the chirping of birds and the first tender green shoots peeking out of the ground signal an end to the cold, dreary clutches of old man winter. These warm sun drenched days create a tangible expectation of all the good things to shortly come our way.
Of course, I speak of the glorious event that causes all true food aficionados like us to tremble in excitement with a slightly wild glint in our eyes as we begin our first trek to the cornucopic extravaganza known as the farmer's market. It begins slowly as the season first brings us asparagus, radishes and onions. Then each week builds as more and more notes are added to the veggie symphony til we reach the penultimate moment of summer, the crescendo – when the first tomatoes of the season are harvested – and we all celebrate "Tomato Day"!
What, you say you don't celebrate this holiday? Well maybe there isn't a national holiday yet, but I say we start one and celebrate all things 'tomatoey'. My journey may be similar to yours; growing up in Nebraska I always appreciated the wonders of the succulent, juicy, sweet, delicious red orbs growing in the backyard.
Then one day, when I was all of eight or nine years of age, I was attending my cousin's wedding reception. I spotted a dish that my world traveling great Aunt Hilda had prepared. It consisted of fresh tomatoes marinated in garlic, oregano and all kinds of flavors, and ingredients that looked very exotic to my small town sensibilities. My mom got the recipe and I was on my way to many culinary adventures to come. I've included an updated version of Aunt Hilda's recipe and hope you'll enjoy it as much as I do.
Of course, my favorite way to celebrate is to take the first tomato of summer and do as I have for the last ten plus years. Many moons ago, I was reading Saveur magazine's letter from the editor, and the editor described a tomato sandwich I still eat to this day. He suggested that as wonderful as a BLT is, the unaccompanied tomato sandwich itself is an even better way to allow the tomato flavors to shine through.
It is simple yet decadent; take two slices of hearty bread lightly toasted, slather liberally with butter and then with real mayonnaise, add thick slices of tomato sprinkled with kosher salt and fresh cracked black pepper, assemble and enjoy. One of my best friends from Virginia and I celebrate with this sandwich each year. We Facetime or Skype as we prepare "The" sandwich, and wax poetic about the rapturous delights of homegrown tomatoes. I dare you to try it and see if you're not hooked after just one bite. Viva La Tomato!
Aunt Hilda's Marinated Tomatoes
Layer in 9 x 13 glass dish:
Homegrown tomatoes, sliced ½ inch thick
2 medium onions, chopped fine
1/2 cup chopped Italian parsley
Mix together and pour over above:
2 cloves minced garlic
1/2 tsp each salt & pepper
2 tsp dried oregano
1 tsp dry mustard
1/2 cup red wine vinegar
3/4 cup extra virgin olive oil
Let marinate on the counter for at least two hours minimum and then serve at room temperature. Remember, refrigeration will ruin the flavor and texture of tomatoes.
Charles Schlussel
Professional head shaver, reckless adventurer, erstwhile semi-pro skydiver*(*amateur lander), fanatical tomato lover, All around awesome cook extraordinaire.
---
---
Related Articles
Over the past three decades (since about the Carter-era energy crisis) there has been a swirling whisper in this country
Omaha is definitely a burger town. Nebraska is famous for its beef, and the Metro Area boasts many restaurants that
When I order a cheeseburger, the waiter asks me how I want it. With cheese? What kind? Onion, lettuce, and
Only registered users can comment.