Why France?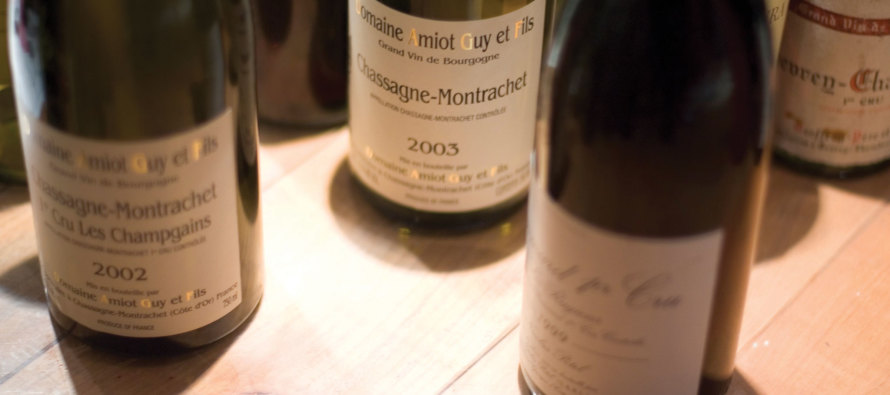 I recently ran into a friend of mine and our conversation turned to the topic of wine. He told me of his new wine cellar and how he and his wife often enjoyed spending evenings together sharing a bottle. He had become a true wine aficionado. And when asked what kind of wines he was stocking in his cellar, he proudly stated that his supply was exclusively American cabernet and pinot noir.
Now, there is nothing wrong with knowing what you like and enjoying what you know. However, in order to move beyond simple enjoyment one must frequently move out of their comfort zone. An admirer of fine architecture is missing out if he has no knowledge of the structures of ancient Rome or Greece. A music lover may certainly enjoy the hits of his era, but could discover much more by venturing a bit further. And if you really want to know wine, you must go to France.
Nearly all today's popular grape types originated in France. Cabernet is from the left bank of Bordeaux, and merlot is from the right bank. Sauvignon Blanc also comes from Bordeaux. Chardonnay and pinot noir trace their origins to Burgundy. Chenin Blanc is a Loire valley varietal. Even Shiraz, which is often assumed to be indigenous to Australia, and the increasingly popular malbecs from Argentina trace their roots directly to France. Want more? Grenache, mourvedre, gewurtztraminer, cabernet franc…..all French. And these French wines were the original benchmarks by which the rest of the world's wines have been compared.
In 1976 there was a famous and historic wine tasting which took place in Paris in which two Napa valley wines – Stag's Leap Wine Cellars 1973 Cabernet Sauvignon and Chateau Montelena 1973 Chardonnay – beat the finest of France in a blind tasting. In the wine world this was the equivalent of the U.S. beating Russia in hockey in the 1980 Olympic Games. Why? Because the wines of France were the most renowned and the standard by which all others were measured. Google "1976 Paris Wine Tasting". It's a great story.
Now if geography and history lessons don't get your pulse racing with excitement, there is a much bigger reason to venture into the world of French wines. They taste different. Surprised? Don't be. Granted, cheap wines from France are usually no better than cheap wines from the U.S., or anywhere else for that matter. But the good stuff is unique. While it is difficult to generalize about all such wines, it is safe to say that fine French whites can possess an elegance, acidity, and minerality that is all their own. Fine French chardonnay and sauvignon Blanc typically offer a taste profile that differs from their American counterparts. They can compliment fish, cheese, and buttery dishes beautifully, often with a less cloying mouthfeel, higher acidity, less sweetness competing with the flavors of the food, and beautiful lingering finishes.
Likewise, the best French reds can possess a quintessential 'old world' style. With less bright fruit and more dark fruit flavors, they may possess a richness and complexity that is revealed over a long, lingering finish. The characteristic barnyard, earthy, sometimes musty aromas are quite atypical of most 'new world' wines. One immediately senses that these wines are truly indicative of the land from which the grapes grew and not simply a manufactured, artificially manipulated product. Any discussion of the world's finest cabernet sauvignon and merlot would devote serious attention to Bordeaux. And any serious producer of pinot noir will tell you that those from Burgundy are the finest in the world.
If you love good wine and have yet to discover those of France, give them a shot. But be prepared. The good stuff is often of a completely different style than the American, new world wines to which so many of us have grown accustomed. And a randomly pulled ten dollar wine from the French section of your grocery store wine department probably won't knock your socks off. Quality is going to cost you. Also note that the labels of fine French wines can be very difficult to decipher, so get some guidance from a knowledgeable proprietor.
You see, the French know that they make wonderful wines. Their best are unmatched anywhere else in the world. Perhaps that is why they feel no need to make simplify their labels or compete aggressively price wise for their good stuff. But make no mistake about it – the good stuff is worth experiencing.
John Finocchiaro
John Finocchiaro is a former co-owner of Johnson Brothers Finocchiaro, LLC, a Nebraska wholesale wine, spirits, and beer distributor. Formerly the owner of Finocchiaro Wine Co., Inc., John has been in the wine distribution business for the past 25 years and the Finocchiaro family's association with the Nebraska wine industry has been continuous for the past 73 years, since 1935. John was a Certified Public Accountant before entering the family business and is a Certified Specialist of Wine.
---
---
Only registered users can comment.