Wine Recommendation: Barnard Griffin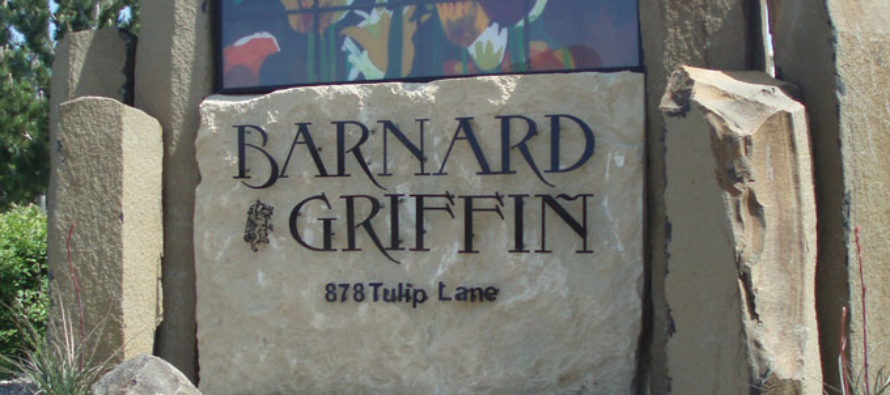 Rob Griffin graduated from the now-infamous UC Davis with the likes of Phil Wente and Tim Mondavi – names which, like his, we know from their wine labels, and having been advised by none other than the legendary Dinsmore Webb. Griffin was looking to make a name for himself in wine, and his pioneering spirit had him looking north. Webb advised Griffin against making wine in Washington's then unheard of Columbia Valley, citing erratic weather and a short growing season amongst reasons it didn't make sense. For a few short years after graduating, Griffin remained in California, working at Sonoma's Buena Vista from 1975 to 1977. That year, the year after the Judgment of Paris, sensing that opportunities were growing scarce as more and more people took note of California wine country, Griffin set out north, seeking better opportunities and greater autonomy than the Sunshine State could afford him. He valued the advice of his friends, but Griffin had always marched to the beat of his own drum, and he was looking for a place in which he could truly shine.
"I certainly moved here with some trepidation, based on Dinsmore's advice," said Griffin. But "There was an opportunity at the second largest winery in Washington, and I was anxious to be in charge of a winery, to actually make the wine rather than watching somebody else do it. I figured I'd be here for a few years and then go back to California. It didn't quite happen that way."
What did happen was that Griffin quickly made a name for himself as a talented and industrious young vintner in a region that at the time had fewer than ten wineries. "I had a missionary zeal for growing grapes in a cooler climate that has more in common with Europe than California," Griffin told me. He soon opened a winery of his own, producing elegant wines and selling them at a fair price, and made his substantial contribution to putting Washington wineries and the wines they produce on the map and on our menus. Today, the Columbia Valley has more than 800 wineries.
Rob's own winery, Barnard Griffin, is today a world-renowned producer of excellent wines, wines that can be found in many an establishment right here in Omaha. An entirely family-owned operation, Rob's daughter Megan serves as his assistant winemaker, and together they craft wines that offer an extraordinary QPR, or Quality Price Ratio. "We have always been value-conscious. We have taken opportunities by increasing volume rather than increasing price. It may have been a bad business decision, but it felt honest, and we were comfortable doing it," Rob told me. For my part, I've always appreciated the relatively low price at which I could pick up Rob and Megan's wines, and I especially appreciate the mark of quality that so clearly abounds from nose to finish.
As a huge fan of Rob's wines, I want you to try them for yourself. Below are my abbreviated notes on those available in our market, as well as a short list of places where you can expect to find them. Whether you're buying a bottle to take home for dinner, or out with friends and looking for a drink, I think Rob's wines will meet your needs in much the same way that they have always met mine. Here's what you can expect to find in Omaha:
Whites
Fume' Blanc: To be clear, "fume' blanc" isn't really a thing. It's a term that Robert Mondavi made up forty plus years ago to distinguish his dry take on the varietal from his sweeter one. Call it what you want, this is a really nice wine. The editor of The Omaha Wine Review blinded this one down to the varietal and region; I was impressed. A beautiful wine, it's available at:
Absolutely Fresh Seafood
Beacon Hills Aksarben Village
Cask Republic
Dennison Dahlman
Dundee Cork & Bottle
HyVee Linden Market
Jake's Cigars & Spirits
Spirit World
Vino Mas
Wine Cellar 510
Chardonnay: A deviation from the "cougar juice" that saturates our market, the varietal is evident in this one, but the Columbia Valley terroir lends it a subtlety you may not be used to. Definitely worth trying, you can get it at:
Corkscrew in Blackstone
HyVee Linden Market
HyVee at 180th and Q
HyVee at Peony Park
Reds
Rob's Red Blend: Rob Griffin has an obvious knack for blending grapes. While we can't get the incredible Cotes du Rob in our market (yet), this one will tide you over until then. In Omaha, it's easy to find:
Corkscrew in Blackstone
Dennison Dahlman
Dundee Cork & Bottle
EVEN Hotel Downtown
Holiday Inn Downtown
HyVee Linden Market
HyVee at 180th and Q
HyVee at Saddle Creek and Center
Wine Cellar 510
Wohlner's
Syrah: I always enjoy the unexpected notes of cola and spice that I taste on this wine. Full in body yet less robust upon the palate than many, this is a Washington Syrah through and through, and you can get it at:
Absolutely Fresh Seafood
Corkscrew in Blackstone
Dolce
HyVee Linden Market
Jam's
Nosh
Spirit World
Wine Cellar 510
Wohlner's
Cabernet Sauvignon: Typically, I shy away from budget Cabernet in favor of the pricier, often better stuff, but this one is truly outstanding despite its low cost. Soft in the mouth and teeming with classic varietal characteristics, it's a beautiful expression of the Columbia Valley that Rob helped to make famous. Available in Omaha at:
Cedar
Corkscrew in Rockbrook
HyVee at 156th and Maple
HyVee at 180th and Q
Jake's Cigars & Spirits
La Buvette
Noli's Pizza
Vino Mas
Wine Styles
Wohlner's
Others
Rose' of Sangiovese: This wine has become famous over the years for winning countless awards and for drinking well above its price point. Elegant and flavorful, it's featured on several local menus, often by the glass. Find it here:
Corkscrew in Blackstone
Corkscrew in Rockbrook
HyVee Linden Market
Jake's Cigars & Spirits
Spirit World
Wine Cellar 510
Wine Styles
Syrah Port: I love this one, and wish that more people in town were selling it. The younger vintages, including the current 2016 release, are inky-dark, rich, fruit-driven wines, but in time they take on more nutty, almost tawny characteristics. Utterly beautiful fortified deliciousness, you can't go wrong with this one. Available here:
HyVee Linden Market
Twisted Cork Bistro
The diversity of this portfolio has a lot to do with why I love it so much, but just as important in my opinion is knowing that these wines were made by someone I find relatable, admirable, and interesting. Rob Griffin rebelled against common assumptions and social constructs to found one of the first wineries in what today is a world-famous wine region. His rebellious nature and spirit of adventure are a big part of why today you and I can purchase Columbia Valley wines in a grocery store or wine bar in Nebraska, and in many ways I feel we owe Rob a debt of gratitude for the risks he took. Thank you, Rob.
One last thing before I wrap up: for the connoisseur of fine wines, Rob makes some tremendous estate wines that are available only from the winery. Reach out to him at www.barnardgriffin.com and order an estate Cabernet, Zinfandel, or Albarino. You won't be disappointed. My personal favorite is the Cotes du Rob, an elegant and easy-drinking blend of uncommon Rhone varietals. I already told you, this guy marches to the beat of his own drum. All we have to do is enjoy the tune and, if so inspired, sing along.
Mark Gudgel
Dr. Mark Gudgel is a wine writer and educator who holds credentials through the Wine & Spirit Education Trust (WSET) and is working towards becoming a Master of Wine. His interest in wine was sparked on his honeymoon to Napa and Sonoma. Gudgel and his wife, Sonja, have co-authored several articles as well as a book on the wineries of Nebraska, to be released in the spring of 2017. Gudgel is a regular contributor to Food & Spirits Magazine and American Winery Guide, as well as the blog he maintains with his wife, www.itheewine.com. Mark and Sonja live in Omaha with their children and their dog.
---
Related Articles
Purchasing wine can be a daunting task. Restaurant lists and store shelves are loaded with seemingly endless brands and varieties
This column will be an exploration of beer and brewing. To be clear, soon we'll begin to dive more deeply
I recently ran into a friend of mine and our conversation turned to the topic of wine. He told me
Only registered users can comment.