Wine(ry) Recommendation: Smith-Madrone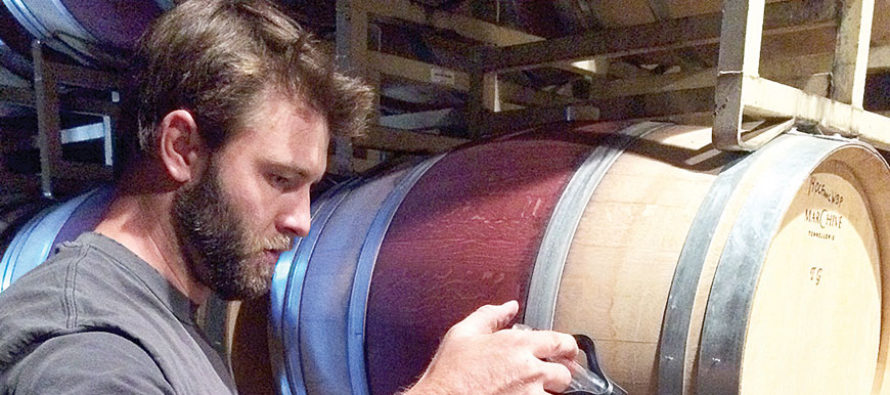 Charles, Stu, and Sam Smith have one hell of a good thing going high up in the Spring Mountain District of California's Napa Valley. Last month my friend Zach, who manages Corkscrew, and I had the opportunity to visit them at their winery, and we agreed that the experience set a new bar for future winery visits.  Normally I take this short spot to recommend a wine, but after a visit to their winery, I'm recommending the entire Smith-Madrone portfolio. The Smith's (a Madrone is a tree) just don't miss; their wines are some of the best I've had in recent memory, and if you haven't already tried them, I strongly recommend that you seek them out. 
Upon our arrival, Sam was outside cleaning up and Charles was inside putting pen to ledger. He stopped working when he saw us and immediately engaged us in conversation; he appeared as interested in us as we were in him, asking all sorts of questions about where we were from and what we did for a living. When Sam came inside, he, Charles, Zach and I each grabbed a glass of Chardonnay and struck out side-by-side to tour the 200-acre estate, 40 of which is planted.  Sam expertly navigated the rough, dusty trails, occasionally shifting into four-wheel-drive, while Charles pointed out the different vineyards, changes to the soil composition, and recognizable landmarks on the Valley floor far below. We maneuvered under stands of what he referred to as "young" redwoods, some 150 years in age, until we found our way to the spring. Sam stopped to pick fresh bay leaves and we chewed them on the way back, our Chardonnay long since having been imbibed or spilled.
Upon our return, we tasted different vintages of their wines and chatted about life.  Sam grabbed a thief and pulled a few tastes from a barrel that got us excited about the years to come. When the evening began to wind down, Charles checked the time. "No sense leaving now," he informed us. "The highway will be backed up for miles." We took the cue, and spent another hour out front in folding chairs, sharing stories.  We discussed everything from the season finale of Game of Thrones, to killing rattlesnakes, to Sam's post-LSAT decision to skip law school and join the family business.  All the while, Charles made a strong case for Hamlet as the best of the Elizabethan revenge tragedies, and we laughed and told jokes for quite some time. A new friend of mine often says that the personality of a winemaker invariably comes through in their wines. I would suggest that this is likely what makes the wines of Smith-Madrone so wonderful.
The best place to look for Smith-Madrone wines in Omaha is The Winery, where fellow Smith-Madrone junkies are known to congregate. Below is a brief run-down of what's currently available:
Riesling
Vintages presently available: 2013, 2014
Price: $29.99
Notes: Think Alsace. This is the kind of Riesling you can pair with steak, lay down to age for a few decades, or both.  I've had dozens of Rieslings from California, and this one is the best I've tried, period.
Chardonnay
Vintage presently available: 2013
Price: $34.99
Notes: Far more reminiscent stylistically of Chablis than of the Napa Valley from whence it hails, this is what subtlety tastes like. Lovers of cougar juice need not inquire.
Cabernet Sauvignon
Vintage presently available: 2012 just sold out. 2013 will be released this fall.
Price: $49.99
Notes: In a place where Cab of this caliber can easily cost over $100/bottle, this is a solid QPR. Thanks to the generosity of some wonderful people, I've tasted vintages dating as far back as 1995 and can attest that this Cab drinks very well now but is also extremely age-worthy.
Cook's Flat Reserve
Vintage presently available: 2009
Price: $200.00
Notes: Charles probably put it best: "We make this wine because it makes us really happy." It made me really happy, too. A blend of 64% Cab Sauv, 22% Cab Franc, and 14% Merlot, this wine gets the best of everything during the winemaking process, and you're sure to love it the next time you're splurging.
There were less than 25 wineries in the Napa Valley when the Smith brothers started theirs. There had not yet been a "Judgment of Paris" to put the valley on the wine world's radar, and the area was still planted primarily to fruit and nut orchards when their vineyards went in.  Today, the short drive up from the valley floor is barely enough time to forget that below, the glitz and glamour of the wine industry is in full bloom, but at the somehow timeless Smith-Madrone Winery, you can experience the Valley for what it once was, and what it still so clearly wants to be.
Stu typically comes to Omaha every spring for Vin Nebraska, but that's half a year from now. Until then, picking up a stock of their wines at The Winery would be a terrific introduction to Smith-Madrone (you'll have to race me to the rest of the '13 Riesling), however don't stop there. With flights in the $300 range right now, a visit to Spring Mountain would be the perfect fall getaway, and in case the Smith's outstanding wine isn't draw enough, they're pretty damn charming people to boot.  
Mark Gudgel
Dr. Mark Gudgel is a wine writer and educator who holds credentials through the Wine & Spirit Education Trust (WSET) and is working towards becoming a Master of Wine. His interest in wine was sparked on his honeymoon to Napa and Sonoma. Gudgel and his wife, Sonja, have co-authored several articles as well as a book on the wineries of Nebraska, to be released in the spring of 2017. Gudgel is a regular contributor to Food & Spirits Magazine and American Winery Guide, as well as the blog he maintains with his wife, www.itheewine.com. Mark and Sonja live in Omaha with their children and their dog.
---
Related Articles
Rob Griffin graduated from the now-infamous UC Davis with the likes of Phil Wente and Tim Mondavi – names which,
I imagine a lot of you clods are mostly familiar with sake as that stuff you drop into your beer
2015 Meadowcroft Russian River Valley Sauvignon Blanc – 93 Points I'm more or less a red wine drinker, full stop.
Only registered users can comment.