Your Own Personal Bistro: Thai Mussel Recipe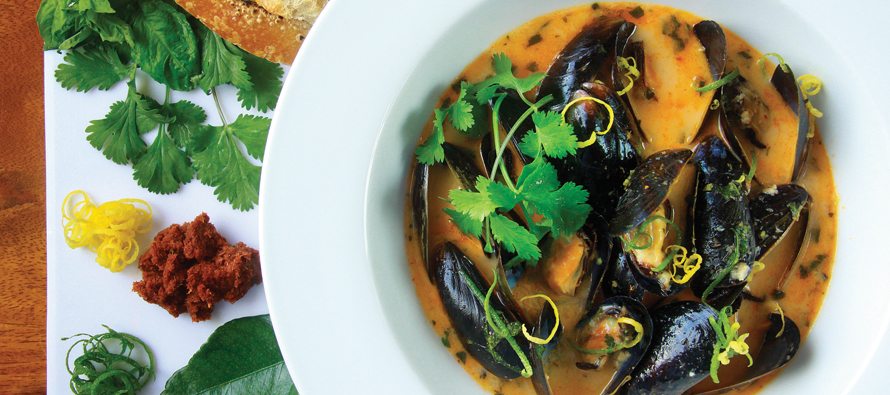 It's been many years since I've worked the line at a restaurant. For those of you who have never experienced the frenetically chaotic pace of working the line, let me say it is definitely a love/hate relationship.
There is nothing like the euphoric dance of all the crew on a line weaving in and out of each others way, sharp knives flashing, molten lava temperature pans flying through the air and beautifully perfect delectable plates going out all evening. Other nights bring back memories of a seemingly endless painful purgatory of flailing around in the weeds as we never quite reach critical mass for a successful lift off. In a word, it's chaotic.
That's why one of my favorite times of the evening was going out to the dining room for a few minutes of schmoozing with the guests. Who wouldn't love the accolades of praise rolling off the lips of blissfully satiated diners? I believe as human beings we all love to hear that we did good, that we made someone's day a little bit incredible.
As home cooks we all long to hear our loved ones wax poetic about the wonderful meals we have cooked for them in the past and how they eagerly anticipate the next invitation to come enjoy their favorite meals. A meal at our favorite restaurant can be sublime, but I know for myself there is nothing more satisfying than feeding friends a meal that lights up their eyes and fills their heart as well as their belly.
If you're one of those that read the articles and never try the recipe, I challenge you to try this one. It really is easy; the ingredients are relatively inexpensive and are readily available at most well stocked grocery stores. The lime leaves are a little harder to come by but are available at most Asian markets in the freezer section.
So go get in your car make a couple of stops to find the ingredients and make sure the mussels smell fresh and clean like the ocean. Grab a crusty baguette to sop up all the delicious brothy goodness and a bottle or two of good wine. Call a close friend or three, light a couple candles and settle in for cozy evening of wonderful food, stimulating conversation and heartwarming memories to last a lifetime as you schmooze with the diners at your own personal bistro.
Thai Mussels
Serves 4 as an appetizer or 2 as a main course
2 #s mussels
1 Tbsp butter
1 Tbsp finely minced garlic
1 Tbsp fresh grated ginger
1 Tbsp Thai red curry paste (Mae ploy is my favorite)
½ cup dry white wine
2 tsp finely chopped lime leaves
1 can (13.5oz) unsweetened coconut milk
1Tbsp fish sauce (Three Crabs brand is my favorite)
1Tbsp sugar
1Tbsp fresh lime juice
Zest of 1 lime &1 lemon finely chopped
2 Tbsp chopped fresh cilantro
2 Tbsp chopped fresh Thai basil (regular basil is also fine if Thai isn't available)
Scrub mussels and remove any beards. Most of the available farmed mussels will have few if any of the stringy, wiry beards still attached and any remaining beards will come off easily with a firm tug. If any mussels are open, tap several times and if they don't close discard them along with any that are cracked.
Melt butter in a large deep pan, sauté the garlic, ginger and curry paste for about 30 seconds to a minute over medium heat until fragrant. Add the wine and simmer for a couple minutes. Add the lime leaves, coconut milk, fish sauce, sugar, lime juice, and lime and lemon zest and bring to a boil for a couple of minutes. Add the mussels and cover with a tight fitting lid, stir a couple of times until the mussels open, about 4-5 minutes.
Pour mussels with broth in a large serving bowl, discarding any that have not opened. Sprinkle with the cilantro and basil. Serve with lime wedges and plenty of crusty baguettes to soak up the broth.
Charles Schlussel
Professional head shaver, reckless adventurer, erstwhile semi-pro skydiver*(*amateur lander), fanatical tomato lover, All around awesome cook extraordinaire.
---
---
Related Articles
The First Annual Omaha Doughnut Shootout was held February 13th at The Waiting Room Lounge, Krug Park and Reverb Lounge.
A journey around Omaha for those who've been away during the duration of our publication Hello my good friend. Welcome
A sandwich is defined by Webster's Dictionary as "two or more slices of bread or a split roll having a
Only registered users can comment.