Bacon: The Ultimate Ingredient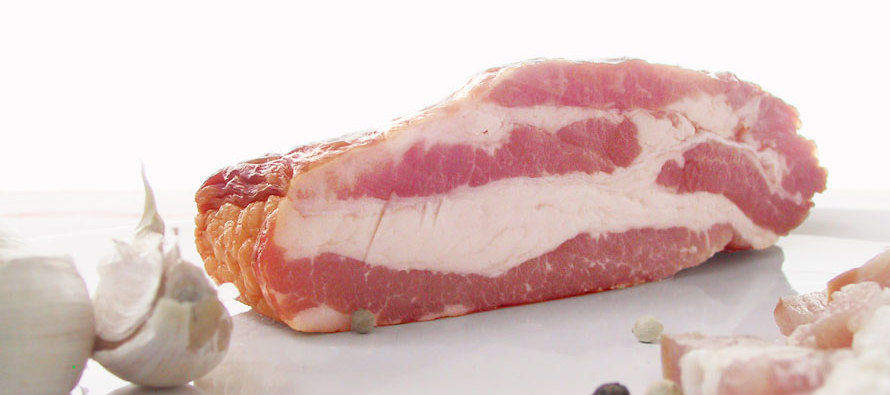 From jam to donuts, cupcakes to macaroni and cheese, to even Vodka, bacon is everywhere in food and spirits. Bacon has an amazing affect on the people on nearly everyone and in recent years bacon has influenced many culinary dishes.
Maxim magazine recently ranked Omaha as one of the "40 Best Man Cities in America." Can you think of anything manlier then a big stack of crisp delicious bacon? And what about women? Baconistas if I may, are women who love bacon, adore and need its crisp, sultry characteristics.
So, let's explore the local bacon scene in Omaha and look at the national bacon craze in the everyday products we use.
Here in Omaha, there are some great things happening with bacon. One restaurant in particular, is making headlines and friends across the nation. In only one year of operations, The Grey Plume has accomplished more than most restaurants will in 30 years of business. The Grey Plume is all ready an award-winning restaurant and the mastermind behind it all is chef and owner, Clayton Chapman. As a trendsetter and classically trained chef, Chef Chapman had a few things to say about how bacon works in his kitchen.
"Bacon, is the ultimate ingredient," said Chef Chapman. "We use bacon, or pork belly rather, in multiple facets and we serve house cured and smoked bacon on our burger. You can also find us eating it most days as part of a family meal."
"We routinely serve braised pork belly, which is cured for 48 hours and then braised for an additional 72 hours," Chef Chapman explained. "We then press the belly to shape it, sear it and poach it for the tables. So, in short, it takes about a week to prepare.  We make bacon ice cream from the rendered fat and we also sear most of our steaks and fish from extra bacon fat if we have it available."
Built inside the stunning Hotel Deco, the Zin Room is also offering a few menu items to satisfy your bacon fix. Maker's Mark, a delicious bourbon in its own right, is used by the Zin Room with their bacon to take both of those items to another level. Bourbon for Breakfast is bacon infused Maker's Mark served on the rocks with a slice of thick crispy bacon. If you are fond of bourbon on any level, this is a delicious drink to enjoy and take in the sights and sounds of the lounge.
As well, the famous bacon wrapped dates at the Zin Room are a wonderful offering of all the right reasons to enjoy bacon. The sweetness of the soft dates, the crisp, salty flavors of the bacon and the luxurious flavor from the bleu cheese make for a delightful dish. Finally, a hearty pour of balsamic reduction painted on the plate almost sends this decadent appetizer into the realm of a dessert. Served on a white porcelain dish, slightly curved to encompass the candy-store-like treats, be sure to box these up for your next movie and forget trying to sneak in a box of skittles.
Locally, you can find one hell of a sugar wizard using bacon in her daily offerings. Jeannie Ohira, co-owner of Ted and Wally's Premium Homemade Ice Cream in downtown Omaha, is serving up scoops of love and saltiness in the shop daily.
"At Ted and Wally's we do make several bacon ice cream flavors," said Ohira. "The first time I added bacon to ice cream, I added candied bacon to a buttery French custard ice cream but I wasn't really happy with it, so we ditched that recipe and started over. From there I worked on what we now call Buttery Maple Bacon, a very popular flavor. We also developed a Chocolate Nut Bacon recipe that has chocolate chunks, pecans and candied bacon."
Ted & Wally's also caters to bacon lovers with eating restrictions.
"Honestly, the turkey bacon ice cream is pretty tasty, because the bacon keeps a nice crunchy texture throughout the ice cream making process," Ochira explained. "We also have a recipe for Vegan Apple Spice Bacon and Vegan Maple Bacon made with, of course, vegetarian bacon."
Jeannie's favorite is the French Toast Bacon ice cream, and rightfully so. Preparing to take your first nervous bite, you wonder if this can be any good. As the ice cream moves around your palate the air hits your taste buds and releases the subtle spices of cinnamon and nutmeg. You can actually picture the essence of what you are eating; a giant plate of moist, buttery, slices of bread, topped with delicious maple syrup and a stack of bacon on the side, fashioned like Jenga blocks.
Even the corporate boys and girls had to get in on the bacon craze. Denny's debuted a bacon sundae this year. Brick House Tavern and Tap offers an appetizer of deviled eggs with smoky bacon and Tabasco. Then there is the long list of bacon-inspired products like mayonnaise, baby formula, dental floss, envelopes, lip balm, popcorn, rubs and salts. Bacon is meat candy and I am a fat kid in a candy store.
From ice cream and vodka, to cupcakes and bourbon, bacon is everywhere. Chefs and restaurateurs have long used the essence and physical nature of bacon in their culinary repertoire. Wrapped, rendered, seared and baked; great chefs are doing some amazing things on a daily basis to transform their dishes.
What is next? A bacon scented fragrance? Well, that too has been done. A Chicago-based company makes Bacon, a fragrance for both men and women. So, with no end in sight, bacon continues to be a driving force in food, drinks and other products. And, hopefully, will be for years to come.
John Horvatinovich
John Horvatinovich is a food industry warrior who has fought many battles in the culinary field, from ACF chef instructor, to manager and owner of numerous restaurants. When he is not thinking of the food and beverage industry he is playing dress up with his four daughters. John is also an accomplished air guitarist in his own right.
---
---
Only registered users can comment.