Barolo – a Place, a Wine, a Book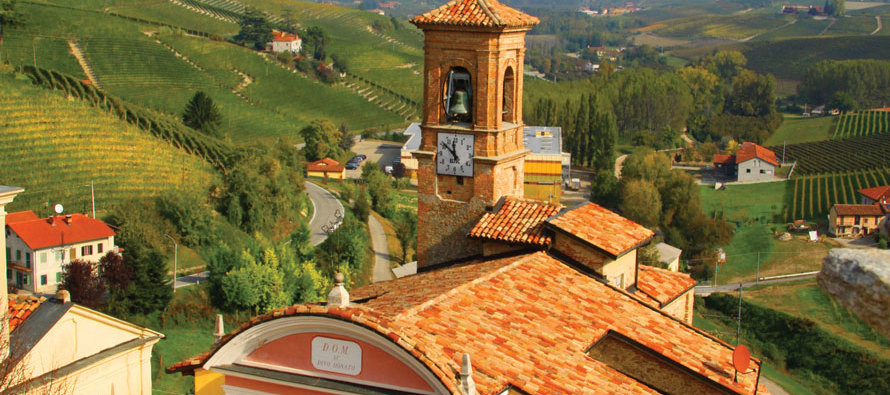 My wife, Karen, and I were at the Council Bluffs Public Library taking down an exhibit we curated, "Sixty Years of Iowa Jewish Cookbooks," (22 volumes), now on display at UNO's Criss Library, and traveling to Des Moines in the summer.
We lunched at Dixie Quicks. Their wine list had a Lebanese red mentioned in Divine Vintage (2012) and two Mexican reds, of which I sampled the admirable Zinfandel. I don't usually wine at lunch on workdays; during the afternoon I resisted dozing while digesting Rene's amazing cuisine and the Bekka Valley wine.
On DQ's bar lay Food & Spirits Magazine. Behind the bar stood Erik Totten, the publisher of FSM.
We schmoozed. He said there may be space for another story if it arrived within six days. I said, "I'll see what I have on my desk." I called the University of Nebraska Press, founded in 1941, and in the top ten of America's approximately 130 university presses, to identify recently released culinary books. UNP concentrates on the American West, sports history, Jewish studies, translations of French, German, and Spanish literature, and a series called, "At Table," about food, a portfolio containing about 22 volumes in print.
The next morning FedEx delivered three books. Excitement and wonder accompany a book shipment: Hoosh, Roast Penguin, Scurvy Day, and other stories of Antarctic Cuisine; At Mesa's Edge by Eugenia Bone; Cooking and Ranching in Colorado's North Fork Valley by Jason C. Anthony; and Barolo by Matthew Gavin Frank, a paperback edition of the 2010 hardback. Time did not permit reading and synthesizing all three, so I went with Frank's Barolo.
Matthew Gavin Frank, raised in Chicago, enjoyed Matzo ball soup cooked by Ruth, his paternal Jewish grandmother. Charlie Trotter's provided his seminal fine dining experience.
Matthew forsakes his restaurant job in Juneau, Alaska to pick the Nebbiolo dark-skinned red wine grape, the heart of Barolo, for Luciano Sandrone. Barolo is a village of about 700 inhabitants in northwestern Italy. He pitches a tent in a friend's back yard and embarks on a gustatory romp.
How do communicate when you only understand about a third of the Italian you hear? You start with prego and grazie and keep focused on food and wine, which is amenable to gesticulation and grunts, oohs and aahs.
Between bar snacks, home cucina meals, enotecas (cellars), cantinas (cellar, basement, winery), cafes, panetterias (bakery), macellerias (butcher) and gelaterias, he ingested a wide variety of traditional and exotic dishes including venison au poivre and kumquat chutney, prosciutto crudo, donkey, duck, truffled and wild boar salami, speck, raw tripe, pickled porcini, Barolo stewed rabbit, grissini breadsticks, panini, persimmon, figs, white truffles, melon gelato, cappuccino, Rosolio liquor employing rose petals, and observed cows head in a boiling cauldron.
These adventures were capped by attending the Salone del Gusto, Salon of Taste, Italy's Slow Food movement, in Turin, a city of 2.2 million, which included a vertical tasting of six Barolos.
Enjoying food lies in the anticipation, preparation, ingestion, participation and the libations. While reading Barolo I dined at V. Mertz, and drank the one Barolo on their wine list, a very enjoyable 2007 Albe G. D. Vajra.
Amazon states, 'people who read X also purchased Y': If you enjoy European rural ambience there is Pasquale's Nose: Idle Days in an Italian Town (2001) by former Nebraskan Michael Ripps, A Year in Provence (1989) by Peter Mayle, and Under Tuscan Sun (1997) by Frances Mayes. And for Nebraska, there is UNP's Cather's Kitchen, Foodways in Literature and Life (1987) by Roger and Linda Welsch.
Matthew Frank, a visiting assistant professor of writing at Grand Valley State University in Allendale, Michigan, has also published Pot Farm, set in California, with University of Nebraska Press.

Oliver Pollak
Oliver B. Pollak taught history at the University of Nebraska at Omaha for 38 years. He earned his doctorate at UCLA and law degree at Creighton University. He has published ten books and hundreds of scholarly and popular articles on many subjects including food and wine.
---
Tags assigned to this article:
wine
---
Only registered users can comment.