Barrel Aged Beer: Back to the Way It Was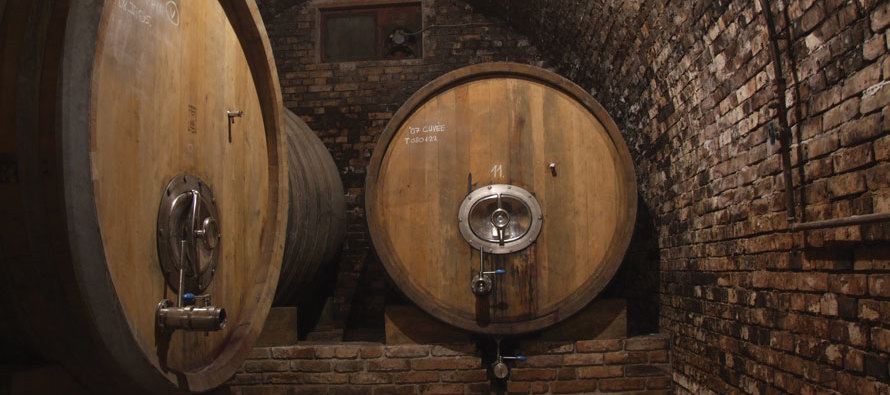 It's an unfortunate circumstance, but when forced to think of an image related to beer, I'm betting the images that most often come to mind are those from the countless hours of televised media depicting beer in the most basic of social settings. Sure, beer at a basic level is a great social lubricant – enjoyed at tailgate parties, picnics, outdoor events, and used to simply catch up at the corner bar. Beer is portrayed as a common beverage due in some part to its inexpensive and ubiquitous nature. But these are the scenes devoted largely to the beaten path – and if you've been paying attention to these articles – this is nothing about the road most taken.
Beer – and we'll draw a distinction between the mass produced products and Craft Beer – has found an incredibly interesting relationship with wood. Not your everyday beer factory dosing of beechwood, but one borne of a desire to drive character, to impart complexities in flavor, and to intertwine spirits with suds, and hops with oak. Barrel aging was a practice once common to both wine and beer, but is now more commonly associated with the former. There is a difference in today's experimentation with the barrel when it comes to Craft Beer.
In today's Craft Beer movement, it isn't enough to stop with a product of depth and character created through simple fermentation alone. Consider the complexities created through a union of beer with Bourbon, Whisky or wine. Aged oak and the dryness of tannins – and God forbid, the introduction of microorganisms whose prime function is to create sourness – almost bordering on the edge of ruin.
Some of today's most exemplary beers, and those not found in 24 packs, are the result of cellar aging – in nearly the same fashion as wine. Oak casks used to previously age wine or spirits can still contain a tremendous amount of "formerly-housed" product due to the permeability of the oak itself. In addition to the obvious character within a previously used Chardonnay cask for example, the simple fact that these barrels aren't exactly airtight opens the door (quite literally) for microbial exposure – and in some cases, that's exactly what the brewdoctor ordered.
Without delving too deeply into the exact microbes and what they do specifically, suffice it to say that they are more commonly controlled and eliminated rather than embraced. Sour, tart, astringent, or puckering are more mainstream flavor descriptors when encountering these "bugs".
So why do it? Let's take a look at the barrel itself for a moment. There is an interesting lineage – and actual law when it comes to the production of Bourbon, for example. New American White Oak must be used which, when emptied of Bourbon, can then be reused to age rum, other spirits, and in our case beer. While this first-use or maturation of the Bourbon actually removes some of the charred oak character, it also imparts bourbon essences into the oak which a subsequent maturation of beer will absorb. The same is in large part true for casks that have previously aged wine or other spirits. So, at a basic level, a beer that matures in previously used oak casks will take on a character, in measure, of the product once housed within the barrel. Fairly basic.
But what's not so basic is the effect of evaporation, pure age, oak tannins, the degree of charring upon the oak – or lack thereof, continued fermentation by those "bugs" other than yeast, and ambient temperature. There are other more scientific variables but I think you get the picture – there's a lot going on here!
Barrel aged beers may lie in state for short periods, but in many cases higher alcohol beers can withstand the aging process and press on for years where the transfer of character, and effects of aging compound themselves. It isn't much of a stretch to envision the evaporation (commonly referred to as the Angel's Share) and the subsequent concentration of product left behind.
And this is where the most difficult aspect of an article such as this develops – finding commercial examples where one can explore the fruits of labor in an industry that most often measures the lifespan of a product in months.
Are they worth the effort – to both create and to seek one out? Most definitely. A beer that has been barrel aged in Chardonnay for example finds fruit aromatics and exotic flavors in a beverage that would normally be more tightly confined to descriptors commonly associated with beer alone. Bourbon barrel aging of a darker ale finds a rich complexity that makes one savor the plum, the pear, and the warming effects of a rich, deeply intense experience. We don't find those terms too often when confined to beer alone.
To find one – you needn't go too far but one must know where to look, and Omaha and the surrounding area just happens to have some havens within which to score one of these experiences. But once you arrive at one of these destinations, you need to know what you are looking for. It's always best to ask a knowledgeable wait person, but when on your own look for phrases such as Oak Aged, Cask Conditioned, Barrel Aged, etc. Breweries that have taken the time to develop these time consuming and expensive beers will take the time to communicate the added value within the bottle.
So get out to your local brewery or beer emporium. Ask and you shall be rewarded.  Believe me.
Beertopia, Nebraska Brewing Company, and Upstream Brewing Company all offer oak aged products – get out there and live beyond the basic!

Paul Kavulak
Paul's first professional life was spent working in IT. Most recently as the SVP of Enterprise Technology Integration for West Corporation and while this occupied his daylight hours, most of the others were consumed by an immersion in beer. Not physically – his passion exists in beer and brewing. Prior to starting up Nebraska Brewing Company with his wife, Kim – Paul had been homebrewing for roughly 17 years. This passion formed the basis for a dogged pursuit of perfection in numerous beer styles and beer history. Livin' the dream
---
Only registered users can comment.