Beer Chat: Craft Beer Go Boom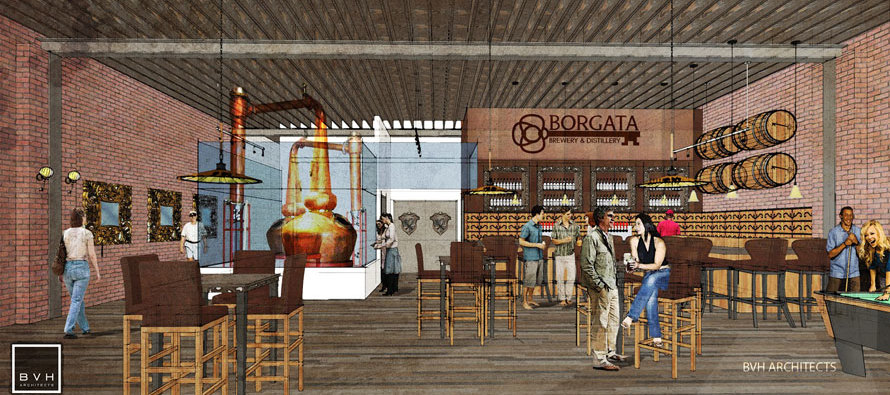 It's long been official that craft beer is a really big deal. There are more breweries in operation now than at any other time in our nation's history and the number of breweries currently in the planning stage are staggering. Too many you ask? Will the market become oversaturated?
Beer is not simply a fad. The proof is in its cultural history over the many centuries. We here in America are at the beginning of our own beer revolution. As the craze for beer with flavor rips across the country, Nebraska has found itself right in the thick of it. Several breweries have opened across the state in the past year and their beers have been nothing short of fantastic. The future of craft brewed beer is looking bright in "The Good Life" state. Let's take a walk through some of the Nebraska breweries everyone should be looking forward to soon.
Ploughshare Brewing Company – Lincoln

With plans to officially open in the spring of 2014, Ploughshare Brewing Company has a very interesting business model. Founder and head brewer Matt Sticnhfield is creating, as he explains, "a microbrewery that produces beer for sale to wholesalers."
Matt's brewery will be located near downtown and the University of Nebraska. It's going to sport a beautiful tasting area offering a limited menu of "locally-sourced wholesome choices created in a compact kitchen." The main idea of the taproom is to offer a place for beer lovers to come and "get to know" the Ploughshare line-up while not competing head-to-head with other local restaurants where he plans to have his brews offered. Matt further explained, "Our drink list will have Ploughshare beers, a few wine choices and a couple of gluten-free items. That's it. We're a brewery with a taproom, not a restaurant that happens to sell its own beer."
What can you expect to find on tap at Ploughshare? Matt said that several of the beers in their lineup are old school styles that resonate well with Nebraska's heritage. They include a pre-Prohibition pilsner and a cream ale, along with various traditional German, Belgian and Irish styles. In order to brew those to taste like the real McCoy, they must use traditional ingredients like six-row barley and local grains.
"We are having a special brew house engineered that allows us to brew authentic beers with body and substance," Matt explained. "The goal is for our beers to exude the character of the best traditional beers from Europe as well as those from America's golden years before Prohibition."
Matt is not exactly wet behind the ears in the craft beer industry. He has brewed professionally on and off over the past twelve years on top of his twenty years as an amateur homebrewer. Even just being an amateur homebrewer is a skill in itself, this interesting article explains the steps that he would have needed to have done to manage that. Pretty impressive right? He is also a Certified Cicerone (beer sommelier) as well as a professional beer judge that has helped choose the medal winners in the Great American Beer Festival and the World Beer Cup over the last eight years.
When asked what drives his passion as a brewer, Matt explained, "A lot of people can brew a decent beer, which is great, but few people achieve what I call 'the last five percent'. That five percent is where the mystery and the mastery lay. As a brewer, it is that last part that I'm always pursuing."
Goldenrod Brewing Company – Omaha

Named after the official state flower of Nebraska, Goldenrod plans to open its Midtown brewpub in early 2014. Living the brewers dream, Phil and Bernie Doerr, along with Tony and Christina Thomas, plan to create a fun and casual environment at their brewpub.
"We want a place where people feel welcome and appreciated, and where you can always have a lively conversation about beer," Phil said. "The décor will be based on a concept we call 'farm punk'. It's a cross between rustic farmhouse and steam punk. We plan to evolve that concept over time and to involve local artists we know to assist in creating some crazy stuff."
The main focus, beer-wise, will be farmhouse ales, lagers and barrel-aged beers, which will be brewed with their system bought from Thunderhead Brewing in Kearney, Nebraska. They take pride in keeping the brewhouse in the Nebraska craft brewing community. Phil explains his new system as "a precision stainless 12-barrel direct fire brewhouse that, with existing capacity, has the ability to produce more than 1,300 barrels of beer each year."
The four owners came from diverse backgrounds. Phil and Bernie were engineers working for the Department of Defense. Bernie was a software engineer and program manager and Phil was a physicist and mathematician. They began home brewing in the late 80's and over the years, toured breweries all over the world with good friend Bill Baburek, the owner of the Crescent Moon and Infusion Brewery. With Brett beers and Saisons being Phil's specialty, he has a lot of appreciation for all the help and knowledge he has received from breweries such as Crooked Stave, Funkwerks and Nebraska Brewing Company.
Over the course of about 15 years, homebrewing became a passion for Phil's new partner, Tony, and he decided to turn professional. Tony got his start at a brewery in Sacramento in 2005 and then migrated to work at breweries in Denver before moving back to Omaha to work at Upstream in 2009. Christina makes her career as a CPA and has traveled along with Tony to hundreds of breweries throughout the U.S. and Europe, learning about and sampling the many styles of beers over the years.
Scriptown Brewing Company – Omaha

Located in two adjacent Blackstone Place buildings on the corner of 40th & Farnam, Scriptown's owners John Fahrer and Scott Stephens plan to open their doors around the first quarter of 2014. The brewery gets its name from the first housing development in Omaha dating back to the 1850's. The brewery and taproom interior will feature 100+ year old exposed brick walls which they plan to keep as the theme.
"Scott and I want to keep as much of the existing building in play as possible… an urban, cool look is what we're after," John explained. "Scott lived in Portland, Oregon for seven years and has a remarkable eye for the type of aesthetic we're looking for."
Their brewery will consist of a two-vessel, 14-barrel direct fire brewhouse with the boiling kettle being used as their hot liquor tank. The initial plan is to offer four to six beers in their first year, which will likely include German, English – and John's favorite – Belgian style ales.
"We will distribute draft kegs to a few select bars and restaurants the first year while building our brand and we also plan to do some limited hand bottling of the occasional specialty beer," John said.
John has been a making beer since 1986 and is one of the most accomplished homebrewers in the area. In 1996 he became the first and only Nebraskan to win the AHA (American Homebrewers Association) Homebrewer of the Year award. He holds the rank of 'National' as a BJCP (Beer Judge Certification Program) judge.
"I attribute a lot of my brewing success to knowing, and brewing to style. Once you can master this, you can create anything," John said. "Over the years I've had the chance to brew with some great people, including Dean Dobmeier at The Jones Street Brewery, Trevor Schaben at the original Thunderhead in Kearney, the Modern Monks at both the Grand Island and Misty's location, as well as with Mike Cunningham at Lucky Bucket."
Borgata Brewery and Distillery – Omaha

With plans to be open late in 2013, Borgata, which is an old Italian word for family, will be located in the trendy Old Market area in the building previously known as Second Chance Antiques.
Owners Zac Triemert and Holly Mulkins are planning on creating more than just beer. They will also be producing distilled spirits, with the main focus being whiskey. The 9,000 square foot production brewery will show off its original brick interior and include a packaging and canning line, custom-made copper stills and room for whiskey barrel storage. The tasting room area will hold up to around 100 guests where they will offer a wide selection of beers and spirits that they produce. They also plan to offer a few quick bites supplied by selected local restaurants in the area.
The couple has purchased a new two-vessel, 15-barrel brewhouse with 45-barrel hot and cold liquor tanks.
"What I'm most excited about is that the mash tun has been rigged up with rakes," Zac explained. "This will increase quality, consistency and be easier on the backs of Holly and I in the brewhouse." As for the shiny copper stills, they will be placed in the tasting area for all to admire.
Zac's undergraduate degree was in microbiology and chemistry and he went on to earn his master's degree in Brewing and Distilling from Heroit-Watt University in Scotland.
On his brewing background Zac says, "I have been brewing commercially in Omaha for the last 12 years. Borgata Brewery and Distillery is the third brewery and second distillery that I have built from the ground up, but this time I'm lucky enough to do it with family."
With the ever-growing craft beer sector, there is also a renaissance taking place with craft spirits, and what perfect timing for Omaha to be a part of it all.

Jason McLaughlin
Jason is a Certified Cicerone, ranked National as a BJCP judge (Beer Judge Certification Program), is a craft beer aficionado, a writer for the Nebraska Beer Blog, and award winning homebrewer living in Lincoln. Jason spends time traveling around the country judging beer competitions, and attending related events. Beer tasting and evaluation is his passion, and he can appreciate a great example of any style regardless of hype.
---
---
Related Articles
Pouilly-Fume': Noun: An AOC established in France in 1937, composed of around 1,200 hectacres, and best known for producing Sauvignon
It never fails. The holiday season always makes me count my blessings. And tops on my list are family and
With people these days moving away from the generic and cozying up to the unique with just about all consumer
Only registered users can comment.