Beer Chat: Great Beer Fests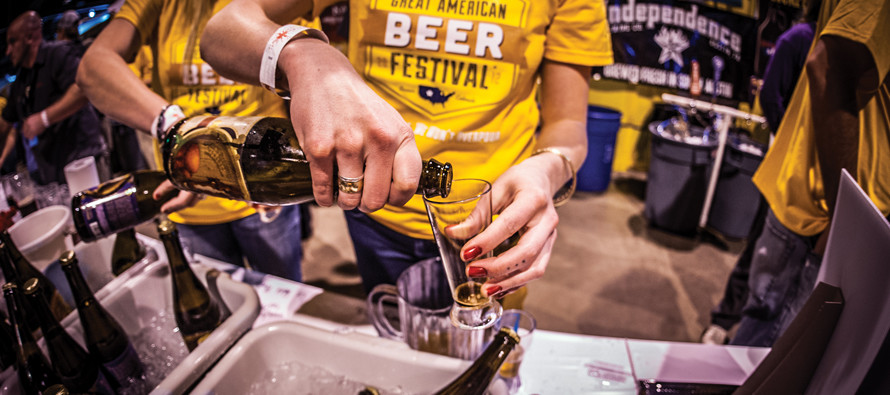 One of the best ways to throw yourself headfirst into the ever growing craft beer scene is to attend a well-run beer festival represented by some of the best breweries in the land. There are hundreds of great festivals to choose from each year and hundreds more are added annually. Most of these offer endless samples in an allotted time, or over the course of a few days.
Although this certainly sounds exciting, a tremendous amount of discipline is required to complete your journey while retaining the memory that you even showed up. A good event will have ample water stations to keep you hydrated and plenty of "dump buckets" to dispose of samples you don't feel are absolutely necessary to finish. Pro tip: Do not feel that you are insulting a brewer by dumping out a sample without completely finishing it. Rather, think of it as a means for you to try more samples without blasting through your sobriety with reckless abandon.
For beginners and novices, you might still end up heavily inebriated and hungover the next morning. So, it would be better to get yourself something like a hangover kit from business-owned sites such as kitshe or you could keep some antacids, electrolytes, and mints handy. Beer fests may be all about fun, drinking, and eating different types of beers and savories but keeping steady for the next day would be better so that you could enjoy the events that happen on different days. Of course, that would depend on the number of days of the festival and where it is.
Here are some festivals I'd like to recommend for your future beery explorations:
Great Taste of the Midwest (Madison, Wisconsin)
www.greattaste.org
The second longest running festival in the country takes place outside on the scenic shores of Lake Monona in Madison, and is hosted by the Madison Homebrewers and Tasters Guild. One of the best things about this particular event is the purposely low ticket sales which translate into short lines and a lot more opportunities to meet your favorite brewers face to face. One can expect more than 100 breweries offering over 1,000 different options to sample. Tickets can be a little tricky to come by outside of Madison and requires mailing a check or money order postmarked on a specific date.
Great American Beer Festival (Denver, Colorado)
www.greatamericanbeerfestival.com
Possibly the most well-known beer festival in the US, the Great American Beer Festival (also referred to simply as GABF) is absolutely massive in size. Founded in 1982, the event has grown by leaps and bounds over the decades. Last year's festival saw 624 breweries pour more than 3,100 different beers over the three-day event. In addition to the endless sampling being consumed by the public, the breweries beers are also being judged behind closed doors by panels of professional judges in hopes to take home coveted GABF medals. This also means all the beer gods are in town, in case their name is called to walk across the stage to receive their award. And if that is not enough to keep festival goers happy, the entire town turns into a beer party outside the convention center walls. Nearly every brewery and craft beer bar in Denver (and surrounding towns) is simultaneously hosting their own separate events over that week. Bring a spare liver and taxi-fare.
The Festival (Portland, Maine)
www.sheltonbrothers.com/festival
Possibly the simplest of all festival names, but it is hardly simple in execution. It's hosted by two of the nation's premier small batch brewery importers: Shelton Brothers and 12% Imports. This unique craft beer festival is packed full of eclectic breweries from outside of America as well as a few from within our borders. Most of the featured brewers make their way across the vast oceans to stand behind the table and pour your sample. Many of these guys hold rock star status amongst the hardcore aficionados. Brewers from Belgian's Cantillon, Norway's Nøgne Ø, and Denmark's Amager pouring in the same room as America's Hill Farmstead, Jolly Pumpkin and Prairie Artisan is a one of a kind experience. Lest you forget, it all takes place in beautiful Portland.
Big Beers, Belgians and Barleywines Festival (Vail, Colorado)
www.bigbeersfestival.com
Its name says it all. This yearly winter event brings the world's top brewers – along with their 7% ABV or above beers – to the snowy slopes of Vail. The fest is loaded with the top brewers in the craft industry working behind the taps for you, which makes this a rare winter chance to rub elbows with the legends. There's also a great lineup of seminars available for those wishing to learn more about the craft from the masters. With the ski season at its peak during the festival, there is no reason not to make this one into a full-blown winter vacation. Beware, the beers are strong and the altitude is high.
Great Nebraskan Beer Festival (Papillion, Nebraska)
www.greatnebraskabeerfest.com
One of the top festivals happens to be right here in our own backyard. In its sixth year of existence, the event has moved to its new massive home in Werner Park, home of the Omaha Storm Chasers. What makes this particular event stand alone in our region is their ability to draw breweries that are not normally available in Nebraska. With 80+ breweries serving over 400 different brews, past breweries have included Firestone Walker, Cigar City and Crooked Stave – just to name a few. For locals, this should definitely be a "can't miss" event. It requires minimal travel plans, but be sure to have a designated driver. Another option is to call it a night at one of the two hotels within two miles of the ballpark.

Jason McLaughlin
Jason is a Certified Cicerone, ranked National as a BJCP judge (Beer Judge Certification Program), is a craft beer aficionado, a writer for the Nebraska Beer Blog, and award winning homebrewer living in Lincoln. Jason spends time traveling around the country judging beer competitions, and attending related events. Beer tasting and evaluation is his passion, and he can appreciate a great example of any style regardless of hype.
---
---
Related Articles
This issue of Food & Spirits Magazine's bartender profile features Aaron Halbert. Aaron has worked at a variety of places
As I sat next to my father at the dinner table and stared at his glass of wine, I mustered
Closing one calendar year and transitioning into another seems to have a renewing effect on most of us. Many people
Only registered users can comment.