Beer Chat: Raising a Toast to Nebraska's A+ Offerings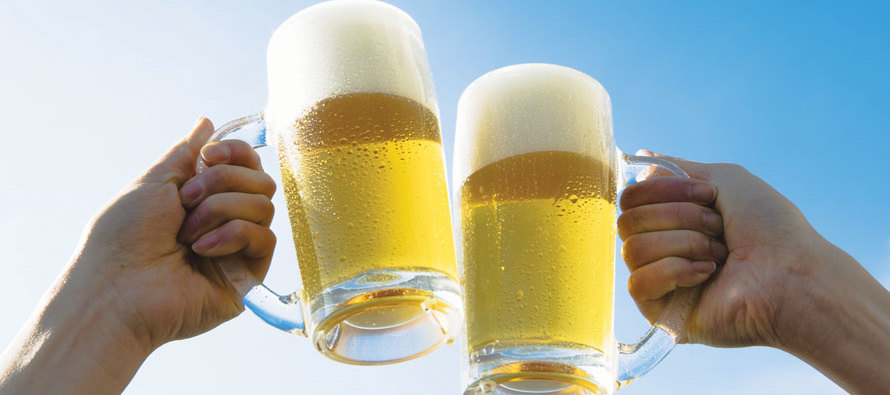 We are blessed in Nebraska – great beer is not in short supply here. Let's raise a toast to the Cornhusker State's A+ offerings.
For those who've been following this column through past issues, I'd like to announce a bit of a change in direction. Instead of descriptions of what the foamy head of a beer looks like, etc, we will take a closer inspection of beer lore. Beer is so much more than just sensory perception. Great beer took a magical and masterfully executed journey to get to your glass. Drinking beer is a sacred experience that we will seek to explore and fully celebrate.
In Nebraska, better beer has been on a rabid incline as of late. Gone are the days where a skunky European lager in a green bottle is the crème de la crème alternative to yellow club soda flavored adjunct pilsner. Welcome to a fast paced craft beer scene that has at least one better beer related event happening virtually every day, and often times more than one. We have heavily updated beer blogs, release parties, bottle shops focused solely on better beer, festivals with hundreds, sometimes thousands in attendance, and best of all… world class breweries right here in our backyard.
In case you have been in hibernation, we now have 12 breweries in operation, and another few in the works. Beer geeks around the nation are clamoring for what we have. Omaha/Lincoln have become an I-80 "must stop" for craft beer connoisseurs. What are they making that everyone wants? Practically every style imaginable, and doing a damn fine job at it.
Let's give a few props where they are deserved.
Lucky Bucket in La Vista got off to a thunderous start with the introduction of their Pre-Prohibition Lager, an ode to a time when American lager makers weren't afraid of flavor. Lucky Bucket also makes a solid IPA and a barrel aged Dark Strong Ale to round out their regular releases, which are currently available in six states.  Keep your eye out for their new barrel aged projects, they are destined to shine.
Upstream is home to two Omaha locations (Old Market & Legacy). Along with a solid regular lineup, they have also been cranking out dozens of seasonals every year, including a quickly rotating "Brewer's Whim" series that has showed off just what can be done with a little creativity.  They can certainly lay claim to the longest running barrel aging program, which has been pumping out phenomenal oak aged beers for almost a decade.
Nebraska Brewing Company in Papillion has been on an all-out rampage, distributing across both coasts, and winning medals in every major competition possible including the World Beer Cup and Great American Beer Festival. A well thought out regular lineup features their staple EOS Hefeweizen, and beer geeks across the country have been going berserk for their coveted "Reserve Series" line of barrel aged beers.
Down in Lincoln, Empyrean is celebrating their 20th anniversary, and carrying on their tradition of well crafted English-style ales that can be found in five states.  Empyrean continues to lead our region in producing cask conditioned beer, a technique for finishing a beer with live yeast that has historical roots in English beer society. Nebraska's "Real-Ale" scene is up and coming, and you can now find British inspired permanent beer engines installed in beer bars across Omaha and Lincoln to serve these artfully finished ales in the style they deserve.
The Modern Monks have been brewing in Misty's Steakhouse in downtown Lincoln for about a year and a half now. Keeping rich Belgian-style ales close to their hearts, the Monks also flex their muscles with top-notch German-style and classic American lagers. The Monks are focusing a lot of attention on their barrel aging program, which is turning out some world class oaked offerings that are becoming instant favorites in the area.
Let me assure you I have hardly scratched the surface of what makes these local breweries great, and they all come with my highest recommendations. These breweries are the ones that will be by the side of the Nebraskan better beer drinkers through thick and thin, and they are the ones that have put us on the map as a great beer state.
Lucky Bucket Company/Certified Evil (La Vista, NE) – 9.6% ABV
Co-founder and head brewer Zac Triemert has lots of practice aging beer in barrels. This is Certified Evil's third year of production, and the guys in La Vista have created a beer of no clear style, black as night, aged in Cabernet red wine barrels, with huge aromas of burnt toffee and cardamom leaping forward. Deep roasted espresso, red wine tannins, and dry pineapple show first with notes of cherry, blueberry and grapefruit cutting through the chewy body. What starts out with a light sweetness finishes dry with focus on citric aftertaste. Pure evil.
Upstream Brewing Company/Nebraska Coffee Imperial Rye Coffee Milk Stout (Omaha, NE) – 8.0% ABV
It's hard not to fall in love with this beer before it even hits your tongue.. Solid aromas of robust coffee and baker's chocolate dominate the nose. Deep notes of dark roasted espresso and spicy toasted malt are huge players in this thick and viscous delight. The rich sweetness is reminiscent of Belgian chocolate, and wonderfully balances the roast character. This beer is an epic adventure into the world of stouts with flavors so rich you can almost chew them. This bad boy has only been released once, so here is to begging head brewer Mike Hall to get this one brewing again soon!
Nebraska Brewing Company/Reserve Series Melange a Trois (Papillion, NE) – 10.2% ABV
When I tried the first batch years ago, then simply called Chardonnay Blonde, I was absolutely floored. A strong golden Belgian-style beer at heart, this symphony of wine meets beer is laid down in Chardonnay barrels for extended aging. The result is a beautiful harmony of biscuity malt character, hints of peppery yeast phenolic, and delicate light orchard fruit balanced perfectly with oaky wood tannins and an unmistakable Chardonnay wine flavor. Words do not do this beer justice. There is no wonder these guys just came home from the 2011 Great American Beer Festival with the gold medal in Wood & Barrel Aged Strong Beer Category.
Empyrean Brewing Company/Collapsar Oatmeal Stout (Lincoln, NE) – 5.7% ABV
Head brewer Rich Chapin has been crafting classic English style ales for a little over two decades now. This beer has everything you could want from an Oatmeal Stout with a nice but restrained coffee nose and a hint of toasty malts. If velvet were a liquid, this might be it, especially since the nitro version found on draft is so silky smooth. Pleasant notes of roasted malts will reassure drinkers intimidated by pitch black ales, and a nice underlying layer of chocolate and toasted bread make it hard to have just one.
Modern Monks/Templeton Rye Barrel Aged Imperial Stout (Lincoln, NE) – 9.8% ABV
This is a wow beer, and one that can get you into quite a bit of trouble if you are not careful. It's an Imperial Stout aged in barrels from the Templeton distillery in Iowa, made famous for their prohibition era whiskey loved by gangster Al Capone. Beautiful deep brown in color, this beer shows a nose with nice notes of whiskey surrounded by rich chocolate and hint of oak. The first sip is an explosion of deep chocolate fudge brownie and French pressed coffee with well balanced notes of sweet whiskey, oak and vanilla. Dark chocolate carries long into finish. Sinfully decadent and delicious.

Jason McLaughlin
Jason is a Certified Cicerone, ranked National as a BJCP judge (Beer Judge Certification Program), is a craft beer aficionado, a writer for the Nebraska Beer Blog, and award winning homebrewer living in Lincoln. Jason spends time traveling around the country judging beer competitions, and attending related events. Beer tasting and evaluation is his passion, and he can appreciate a great example of any style regardless of hype.
---
---
Only registered users can comment.