Bitter Little Fella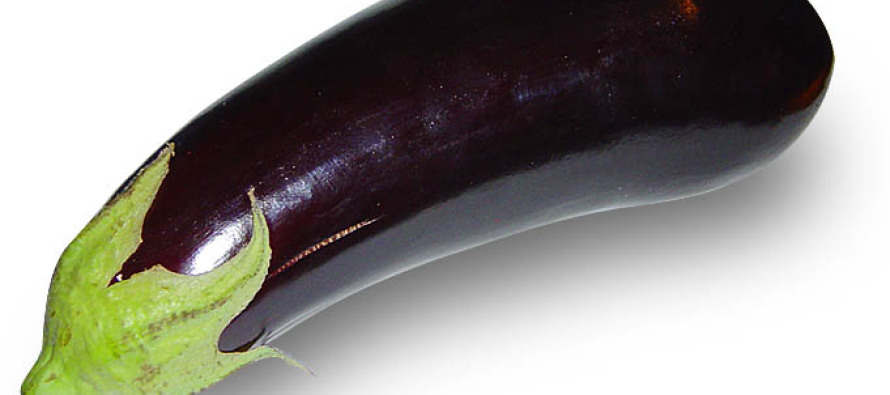 I frequently swear that I could never be a vegetarian. It is the "taking an oath" kind of swearing rather than the "embarrassing your mother" kind, but I am still pretty belligerent as it is happening. I do all sorts of jaw'n about growing up in Nebraska, and being on top of the food chain, and having canine incisors in addition to molars, and how I get along with my parents, and all other manner of irrational reasoning. In the end however, I am a strictly observant stage-seven omnivore for one reason alone: I find meat deliciously satisfying. Therefore, my construct for adherence crumbles as I eat other foods that are at once deliciously satisfying and meatless. Rare is such a dish in my world, at least until I met the grilled eggplant.
Upon arriving in Greece for a job several years ago, I would have considered myself a budding eggplant fan. Honestly, I probably considered myself an aficionado but in hindsight I prefer a little more humility. My world was about to change significantly. First of all, I learned that there are myriad varieties beyond the Common Italian and Chinese that I had known from living here in Nebraska. There are Japanese, Thai, the Indian-which we call baby, and Graffiti varietals. Additionally, there is the Santorini Eggplant: a straightforward, local, heirloom varietal of the now-elusive white-skinned fruit descended from the common Italian. The Venetians probably brought it to the Greek island of Thira (which they renamed Santorini) during their renaissance-era occupation. The Venetians probably discovered the eggplant through their trade with the Sicilians, who got it from the Tunisians who probably got it via the Arab nomadic traders from the Persians who learned how to grow it perhaps during the time they were under rule of Genghis Khan, who had been introduced to it by the Chinese, who most likely imported the first few seeds over the Himalaya from India where they were apparently dropped by fairies like pixie dust as they flew to Neverland. The skin was tough and the flesh extremely bitter when raw. The locals swear by it. The owners of my shop, Demetrius and Vasily, were adamant about its inclusion on any menu I wrote while it was in season. (Those of you that have worked for, under, with, or near Greeks in the restaurant business know that my use of the word adamant is an understatement.) Anyway, there are a whole bunch of kinds of eggplant. I also found out that there are a whole bunch of ways to cook it.
Here in the flatlands, we are used to seeing it two ways – fried and stir fried. That is to say: at Italian joints as eggplant Parmesan and Chinese joints hidden in other dishes. In my first three days on the island, Vasily took me around to every restaurant that he considered our competition.  I saw eggplant stewed, roasted, raw, used in stuffing, cut into "frites", as a wrap for vegetable terrine, as a pasta replacement for ravioli, pureed, and grilled. Grilled? Seriously? It was three slices of Santorini Eggplant, grilled and basted with lemon-scented olive oil. Served with stewed florini peppers and chickpeas. The experience of the dish was surreal. I looked up from my first measured, analytical bite to see that "I told you so!" look on Vasily's face. I ignored his arrogance in order to plow back into the beautiful, soft, fragrant eggplant that I had just discovered. I was hooked. I did not look up again until I had finished every last bit. Wringing olive oil from my beard into my hands, I said, "That's so f—ing good I could be a vegetarian." Vasily was satisfied. I may have been a wee bit under the influence of retsina at the time, so it may not have been worth disavowing my stage-seven status. But it definitely was worth cursing.
Eggplant Tips
Remove the skin before frying.
Salt and press heavily seeded pieces, then rinse and dry.
Baste during cookery (if using a dry heat method).
Buy firm eggplants without blemishes.
Smaller = Less Seeds = Less Bitter
Pair with Fat (rich) and Acid (sour).
Eggplants are in season locally from mid summer through early fall. That is like late July through mid September this year.
Nutritional Information: Nothing stellar other than fiber.
Soak peeled eggplant in cold water or it turns brown.
School House Gardens from Waterloo raises several varieties of eggplant – find them at the Village Pointe Farmers Market on Saturdays.
Eggplant Dishes – A Local Guide
Spicy Garlic Eggplant
Restaurant: Hiro  •  Varietal: Chinese
Definition: Classic Chinese stir-friend eggplant dish with minced beef and/or pork & Asian chilies.
Melanzane Appetizer
Restaurant: Vincenzo's  •  Varietal: Italian
Definition: Italian-American style eggplant Parmesan. Breaded & fried slices of eggplant topped with tomato sauce & cheese.
Ratatouille
Restaurant: Le Voltaire  •  Varietal: Chinese or Japanese
Definition: French stew of eggplant with assorted squash & tomatoes in olive oil.
Baigan Bhartha
Restaurant: Indian Oven  •  Varietal: Baby
Definition: Indian dish of Tandoori roasted eggplant with peas, onions, tomatoes & spices.
Baba Ganooj
Restaurant: Mediterranean Bistro & Bar  •  Varietal: Common
Definition: Middle Eastern puree of roasted eggplant with tahini, garlic & lemon. Kind of like hummus minus chickpeas plus roasted eggplant.
Grilled Eggplant
Restaurant: My House – and there is something like it on Vivace's menu.  •  Varietal: Common – White
Definition: Peeled & marinated eggplant slices, slowly grilled while being basted with oil – probably Sicilian origin.
Moussaka
Restaurant: Greek Islands  •  Varietal: Common
Definition: Greek dish of ground lamb & sauce béchamel baked on top of sliced eggplant.

Brian O'Malley
Brian O'Malley is a chef instructor at Metropolitan Community College's Institute for the Culinary Arts. A graduate from New England Culinary Institute and a member of the American Culinary Federation, O'Malley worked as the chef/owner of Spread. He was a manager/instructor at the New England Culinary Institute, head chef at Vanilia in Santorini, Greece, and BackNine Grille, assistant food and beverage manager at the Champion's Club and opening chef at BOJO. Brian O'Malley can usually be found in MCC's kitchens, teaching, creating works of culinary genius or debating the perils of out of season tomatoes.
---
Only registered users can comment.