Cold Weather Drinkin'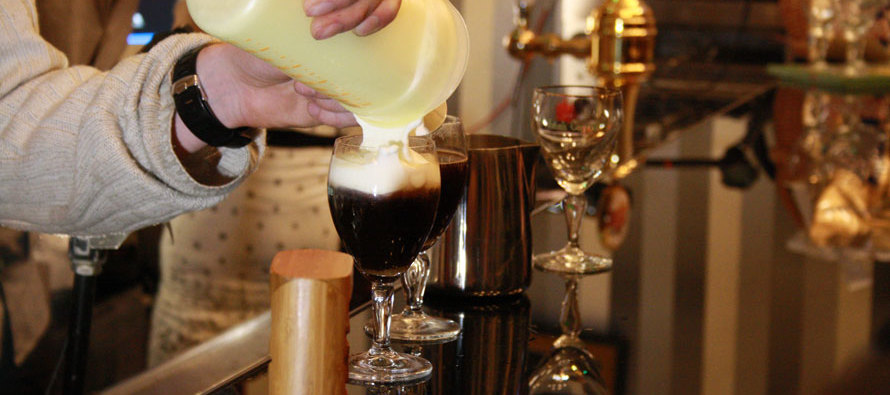 It's that time of year again when the cold weather adds extra incentive to warm the bones with some tasty spirits. It also means that our heating unit needs extra care and checking with https://burichvac.com/ so we don't have the cold weather shakes as we down our warming drinks. I'm a whiskey guy, but we all need some variety to break up the monotony of the fall and winter months. This issue marks this publication's fifth year. In honor of that milestone and in keeping with its numerical significance, here is a lineup of five delicious cold weather drinks sure to brighten the long dark hours ahead.
Since it's still early we'll get started with a True Irish Coffee. I'm not sure who all in town does it this way but when our (Jake's) owners came back from a trip with the recipe for a "real" Irish coffee, it was love at first sip and instantly replaced the staid Coffee-Jameson-Bailey's combo on our menu.
In a warm glass mug, add Irish whiskey (we use Jameson) and coffee (we use locally roasted Beansmith) to a packet of raw sugar and stir until it's dissolved. Then in a shaker "vigorously" shake (is there any other way?) heavy whipping cream and drizzle over the underside of a spoon to float about a half inch of cream on top of the coffee.
On first sip, the taste and sensation of the sweet hot coffee-whiskey coming through the thick cold cream is one to be savored and offers something that the pleasant and comforting other version just doesn't have. As you sip, the cream starts to get mixed in and the drink becomes cooler and creamier. Whether you've got to go grocery shopping, watching sports on TV or studying, this drink is a great way to start your day. Pair with bacon and eggs, birthday cake or a cigar.
Next on the menu is stout. Whether it's Guinness, the old dry Irish standby, or one of the many varieties of delicious stout being made by America's mighty microbrews, the dark, toasty flavors of stout are a great companion on a cold day.
In addition to the warming sensation the alcohol in stout provides, many are brewed with familiar, comforting ingredients like cocoa, coffee, milk and oatmeal. Some are aged in oak barrels, which provide additional woody, vanilla flavors. Though some consider Guinness a heavy beer because of its malty flavors, it's actually low in alcohol by volume compared to most American stouts on the market.
I prefer quite a bit of heft in a stout, and if it's really chilly, bring on those high ABV's. Old Rasputin Russian Imperial Stout is my first choice for this style. At 9% ABV, it is nearly pitch dark in color. The feel is thick and rich with a slight coffee bitterness. This is a top ten beer for me whether poured out of a bottle or from a silky smooth nitrogen tap. Other worthy brews for me include Great Divide's Yeti series, Tallgrass Buffalo Sweat oatmeal cream stout, and Brau Brothers' Moo Joos milk stout.
For me, stout is not really a dessert beer, but takes up too much room to go with a full meal. It goes well with sweet, simple, bread-based foods. Dip a hunk of pretzel bread in Nutella or whip up a peanut butter and banana sandwich.
Now we'll continue our journey into big, warming flavors with some single malt Scotch. While this is definitely the time for the smokiest of the smoke bombs (Ardbeg, Laphroaig), I tend towards something a bit more balanced. The Talisker 10 and the Bunnhahaibhan 12 are two reasonably priced single malts that tick all the boxes necessary for a great Scotch experience.
Talisker is one of the six "Classic Malts," from the Isle of Skye. It is abundantly smoky on the nose, but less assaulting on the palate. There's lots of pepper, rock, and a big, salty sea breeze. Sipped neat, a dram of this really situates the senses in a whole new place. Bunnahabhain 12-year is not a typical Islay malt. In other words, it doesn't smell like a hospital/medicine cabinet. This one is actually less smoky than the Talisker. It also tastes like the sea, but is lighter bodied with flavors of sherry, dark fruits, and some light peat smoke.
Both of these should be served neat. A drop or two of water may open a few flavors up in the Talisker especially, but any more will ruin the subtle balance of flavors you probably just paid good money for. I'll also pass on food pairings for this round. If you choose the right Scotch, its range of flavors will keep your palette occupied for as long as there's liquid in your glass.
Next we'll try an infusion or two. An infusion is simply any kind of liquor combined with some sort of organic matter, so the booze takes on some of the flavors of whatever material is chosen. Many bars are using infusions to put their own spin on familiar cocktails. It's also easy to do at home. Get a jar, some booze, and get creative.
Infusing is an easy way to make cocktails taste even more seasonal. Try adding your favorite variety of tea to a jar of easy breezy Old Overholt rye whiskey, or cinnamon sticks and apples in a nice, sticky bourbon like a Knob Creek or Maker's Mark. How about a movie night with buttered popcorn-infused dark rum? Whatever you choose, you don't need to use the whole bottle right away. Make several smaller test batches in mason jars to find out what works before you go dumping a whole bottle on a whim.
Some materials will impart their flavors quicker than others. Tea and coffee, like their non-boozy counterparts only take a few minutes to adequately impart their flavors on liquor, while tougher, less porous material like ginger, cinnamon, or spices may take a couple days. Consult your handy guide, the Internet for specific guidance and other wacky ideas. Food pairings here will obviously depend on what combination of flavors you've chosen.
As much as I love to bunker down with a blanket and a book on a cold day, we can't sit around brooding the whole time. As delicious and seasonally appropriate as this all has been, let's brighten things up with a lively, tart and boozy classic cocktail. One of my favorites is the Corpse Reviver #2.
If you are feeling low, this lively combination of flavors is sure to lift your spirits. It is equal parts gin, Lillet Blanc (fortified white wine), Cointreau (orange liqueur), and lemon juice shaken with ice and strained into an absinthe-rinsed glass. The absinthe in the glass imparts a nice, warm aroma almost like suntan lotion and the color is a cool smoky yellow. This boozy combination of citrus and gin botanicals is tart and enlivening. Actual corpse reviving properties are pending FDA-approval, but I guarantee this little drink to create a healthy, restorative buzz and break the monotony of the cold weather classics.
As with all adult beverages, the corpse reviver will have the opposite of its intended effect if too many are ingested. Be smart when you drink. Be nice to each other. Tip your bartenders and make sure you have a safe ride home.
With that said, we've passed doing just five cold weather drinks, but numbers now seem less relevant. Before I go, I'm going to have one more to settle the tummy. A digestif like an amaro is just the thing to end this cold day on a warm, natural note. An amaro is an Italian liqueur traditionally drunk straight as an after dinner drink. Unlike most spirits on the shelf, it is based in bitter herbs and roots, giving it an earthy sweet taste that is also said to aid in digestion. It is also lower in alcohol content than most base spirits, usually from 15-40%. Averna, Fernet-Branca, and Bitter Truth EXR are all delicious varieties.
So cheers! To Erik, for five years of putting Omaha's food and drink evolution in print, and to you, reader, hoping these drink suggestions help bring you some small warmth this winter.
---
---
Related Articles
Like food and beer, the cocktail scene has gone through some dramatic revisions over the last couple of years. Craft
The Scofflaw Cocktail. It sounds so dangerous and subversive! In fact, it isn't dangerous at all (in moderation), and since
As the colder weather sets in, the leaves change colors, we will change our T-shirts in for sweaters, and we
Only registered users can comment.