Counting Calories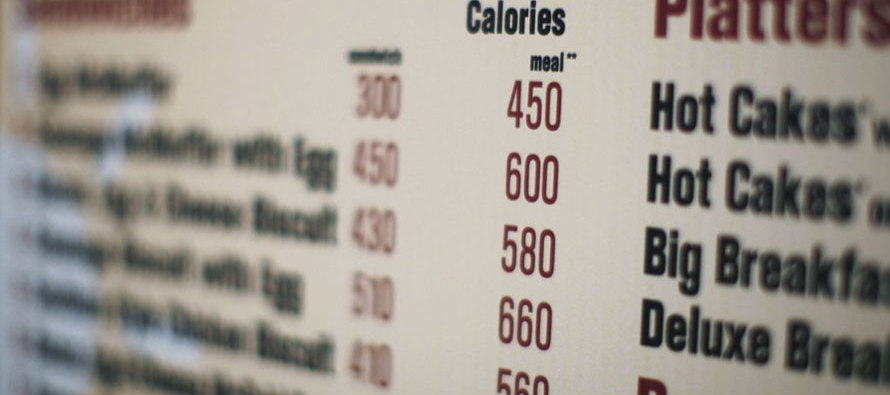 Diners who frequent Panera Bread restaurants may have noticed something new on the menu in recent months. No, it's not a new sandwich or salad. It's the calorie count of each item and it may surprise you. That Sierra Turkey on Focaccia with Asiago Cheese sandwich you were about to order … it's packing a whopping 970 calories, nearly half the daily recommended caloric intake for adults. Perhaps you would rather go with the Smoked Turkey Breast on Country bread, at a mere 560 calories, and save some room for desert. That is, of course, if you  noticed the calorie count next to the item you were about to order at all.
Panera Bread, a company which seems to pride itself on offering healthier, more nutrition-conscious options to its consumers, decided in recent months to preemptively begin posting calorie counts on menu boards in all of their company-owned locations. By next year, however, Panera Bread won't be alone. A provision of the health care bill recently passed by Congress requires chain restaurants with 20 or more locations nationwide to begin clearly posting calorie counts on menu boards. The law also applies to owners of vending machines with 20 or more locations.
Registered Dietitian Rebecca Beaudoin recently took a weight loss class she teaches to a local Panera Bread restaurant to see how her students responded to the menu labeling.
"They loved it," Beaudoin said. "You have to be informed, but if the information is there and you're looking for it, it's helpful. But these people are trying to lose weight. As for the average public, we'll see."
The new law comes as a reaction to the obesity epidemic in the United States. Nearly 34 percent of American adults and 17 percent of children are not just overweight, but obese, according to the Centers for Disease Control. Many nutrition experts credit the great increase in obesity among Americans over the past quarter century to the prevalence of fast-food in the American diet. And it's no wonder … when you add up the calories of a McDonald's Big Mac, medium french fries and a medium Coca-Cola you get a shocking 1130 calories, over half the daily recommended calories for an adult.
But will posting calorie counts on menu boards really make a difference? Most experts say … maybe.
"It will basically provide the consumer with more options," said Jim Partington, Executive Director of the Nebraska Restaurant Association, which supports the law. "I don't know if it [the legislation] will change much, but it will give the consumer more options and the ability to make an informed decision."
Some in the industry say the law won't make much of a difference in the fight against obesity, noting that calorie content and other nutritional information has been on food packaging in grocery stores for years. Beaudoin disagrees with this argument, saying she thinks people do pay attention to food labeling in grocery stores, but it's often confusing.
"I think people do pay attention [to nutritional information in grocery stores]," Beaudoin said, "but it's complicated. There's about a hundred things on the label and it's hard to look for."
On a nationwide scale, public health officials and others have been looking to the results of a similar bill, passed in New York City in early 2008, for answers. That law required chain restaurants with 15 or more locations to begin posting calorie contents clearly on menu boards, not stealthily placed on throw-away fast-food wrappers or in other places where consumers rarely noticed them, as before.
The journal Health Affairs has published several studies since 2008 on the effects the law has had on diners in New York City. One study surveyed 1,156 adults at fast-food restaurants in low-income, minority New York City communities. Of those surveyed, only 27.7 percent said they noticed the calorie labeling and it influenced their food choices. That study is just a snap shot of the overall effect of the food labeling laws on consumers in New York City, but it seems representative of the overall consensus that menu labeling has not made a huge difference in what diners consume.
Some say, however, there is evidence that food labeling influences healthier food choices. Another study, performed by the Rudd Center at Yale University and published in the American Journal of Public Health, was conducted of 303 individuals divided into three groups. One group was given menus citing calorie counts as well as a reference guide showing the daily recommended caloric intake for adults. A second group was given menus that cited calorie counts with no additional information referencing daily recommended caloric intake. A third group was given a menu with no calorie counts or other information. That study found that the diners in the first group, which received menus with calorie counts and a reference guide showing daily caloric recommendations, consumed fewer calories during that meal and in subsequent meals that day.
While Partington said he isn't sure whether the law will have an effect on consumer's food choices, he said the Nebraska Restaurant Association, as well as the National Restaurant Association, supports the bill, in part because it will standardize menus and make things simpler for restaurant owners and consumers.
"Some stand-alone and chain restaurants have been proactive and already do this sort of thing," said Partington. "One advantage [of the bill] is that it will standardize menus across the country."
Whether you're dining at a restaurant with menu labeling or not, Beaudoin has some recommendations for eating healthy when dining out.
"Research if you can," Beaudoin said. "A lot of restaurants have online calorie counts. I tell my clients if they know they're going to be eating out later, plan ahead. Don't skip meals, but be reasonable. And don't be shy. Ask your server questions about what's in the food if you don't know."
---
---
Only registered users can comment.