Craving Sushi? Omaha's Got You Covered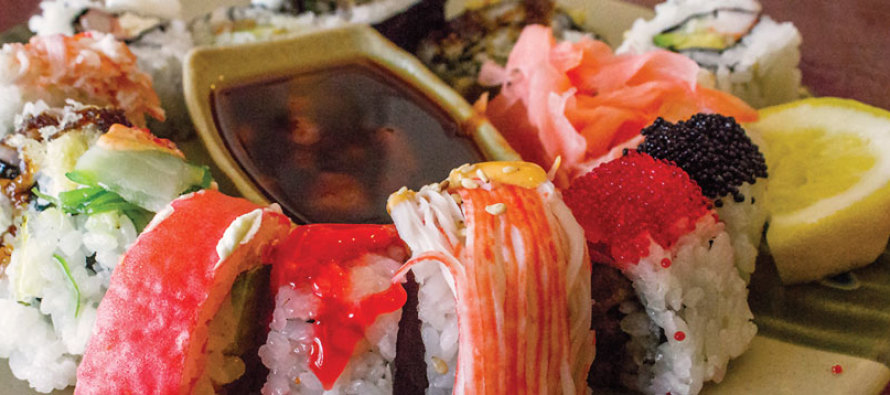 It's late in the afternoon on a lazy summer Sunday, that time of day between lunch and dinner that's typically a lull at most restaurants. A time to clean up after the lunch crowd has dissipated and get ready for dinner before the earliest patrons start slowly trickling in.
It is not, however, a lull at Blue Sushi & Sake Grill. The popular Omaha sushi restaurant features an all-day happy hour on Sundays that keeps the place buzzing from noon 'til night. Couples at the bar sip on martinis and munch on maki. At a nearby table, a family sits, a toddler in a high-chair nibbling bites of edamame while mom and dad share an order of sashimi.
Witnessing this scene, it's almost hard to imagine that sushi is a cuisine that has only been around in this country for roughly half a century, and even harder to imagine finding such a thriving sushi scene in a landlocked city in the middle of the country. Those who hail from other parts of the country (say, somewhere on a coast) might not expect to find a vibrant community of sushi and Japanese cuisine in Omaha, but they would be wrong. There is truly something for every kind of sushi consumer in Omaha, from beginner to connoisseur, raw fish purist to tempura-fried fanatic.
Whether you've never tried sushi before or you're an experienced eater looking for a new place to satiate your craving, read on for a taste of what some Omaha area sushi restaurants are offering. And of course, if you've had your eye on a Gluten Free Mixed Sushi Rolls recipe for a while, but want a taste of authentic sushi first, then exploring a few restaurants can really help you get closer to how the Japanese do it. But first, here are a few basic sushi terms to know before you crack open the menu.
Nori is the Japanese term for seaweed that most sushi is wrapped in.
Maki refers to rolled sushi. Maki is formed by placing a sheet of nori on a bamboo mat. The nori is covered with sushi rice and other ingredients (fish, vegetables, etc.) and then rolled into a cylindrical shape. The maki is then cut into six or eight pieces.
Nigiri consists of a mound of sushi rice topped with a piece of salmon, tuna or other fish. Certain nigiri toppings are bound to the rice by a thin strip of nori, most commonly tako (octopus), unagi (freshwater eel) and tamago (sweet egg). Typically it is served as one or two pieces.
Sashimi is simply very fresh, high-quality fish that has been thinly sliced. It is often presented as a first-course in Japanese cuisine and served with rice or miso soup.
Sakura Bana
www.sushiomaha.com
7425 Dodge St. #105, Omaha
Sakura Bana has long been a sushi staple in Omaha. It was the first sushi bar in Omaha when it opened its doors in 1986. In 1989, Ikuo "Tony" Asanuma took over the restaurant and operated under the assumption that if he served authentic Japanese cuisine, Omahans would like it. He was right. Omahans have been flocking to Sakura Bana to enjoy authentic sushi and Japanese cuisine for over 25 years. Their expansive menu features authentic and creative maki, teriyaki, udon and soba noodles, and much more. Diners who have a difficult time deciding what to order can try a dinner box containing a California roll, three main dish items, soup, salad, rice and fruit for $16.95. Take a seat at the bar and watch as your sushi is prepared with precision or get tucked away in one of their two cozy tea rooms.
Blue Sushi & Sake Grill
www.bluesushisakegrill.com
3 locations in Omaha
Northwest Omaha – 14450 Eagle Run Dr.
Southwest Omaha – 16939 Wright Plaza
Old Market – 416 S. 12th St.
Self-described as "Sushi with an American attitude," Blue is a spot for veteran sushi lovers and beginners alike. For those who are new to sushi or averse to eating raw fish, Blue has a variety of rolls prepared with cooked fish such as the crunchy blue (spicy crab, cilantro, crispy panko, eel sauce) or rolled in soy paper rather than nori such as the cowgirl (vegan tempura pickle, sriracha-fried onion rings, vegan mayo and bbq paper instead of nori). Sushi connoisseurs might consider trying the chef's tasting menu, featuring four different cuts of your choice of salmon, white fish or tuna. Blue's happy hour features $4 maki, a variety of small plates, $5.50 martinis and more. Happy hour is every day from 3-6:30 p.m., late nights Thursday-Saturday and all day on Sunday.
Taita
www.taitaomaha.com
6109 Maple St., Omaha
Taita, which opened in Benson in 2012, is an upscale, seasonally-driven sushi and seafood restaurant focused on sustainability. Taita inhabits a modern, but cozy space featuring stunning wall murals by Omaha artist Gerard Pefung on two walls. Chef Jose Dionicio crafts small bites of sushi made from the freshest fish available each day. The menu changes on a regular basis, depending on what fish is available. At Taita, you won't find your run-of-the-mill California roll. Instead, Dionicio's creations are meant to enhance and showcase the natural flavor of the fish, served as simple cuts with minimal embellishment. Taita is a great place to experience fine sushi in Omaha and a list of craft cocktails and wines.
Hiro 88
www.hiro88.com
2 locations in Omaha
Old Market – 1308 Jackson St.
West Omaha – 3655 N 129th St.
Hiro 88 is a don't-miss for sushi lovers who enjoy a contemporary, stylish atmosphere, a mix of Asian fusion dishes and both raw and cooked sushi. Hiro's menu includes nigiri, sashimi, over 40 maki rolls, Asian fusion cuisine and Asian-inspired tapas. Sake lovers will appreciate a vast sake menu, as well as an extensive wine and cocktail list. Happy hour at Hiro is every day from 3:30-6 p.m., late nights Wednesday-Saturday and on Sundays. Specials include discounted appetizers in addition to sushi and drink specials.
Okinawa Sushi & Grill
www.okinawasushineb.com
12240 L St., Omaha
Tucked away in a West Omaha strip mall, Okinawa offers a mix of classic and contemporary specialty rolls at good prices. Their menu features a variety of maki, nigiri and sashimi that will please sushi purists as well as those who prefer more Americanized sushi (cooked fish, tempura fried, etc.). Okinawa's menu also includes a large selection of entrées, bento boxes, noodle dishes and more. Enjoy food and drink specials during happy hour every day from 3-5 p.m. and late nights Friday and Saturday. Okinawa also offers delivery service within five miles.
Sushi Japan
www.sushijapanomaha.com
14134 W. Center Rd., Omaha
Sushi Japan offers a wide menu of authentic maki, nigiri and sashimi, as well as the popular Japanese dish yakiniku. Diners who order yakiniku will be presented with bite-sized pieces of raw meat (in this case beef, chicken or pork) and vegetables which they grill themselves at the table. Sushi Japan is also one of a handful of Omaha sushi restaurants offering omakase. Meaning "I'll leave it to you" or "entrusting" in Japanese, omakase is a way of asking the sushi chef to serve you whatever he or she chooses. It's a great way for experienced or adventurous sushi lovers to branch out. Sushi Japan offers omakase for between $50-100 per diner.
Matsu Sushi
www.matsusushiomaha.com
1009 Farnam St., Omaha
The first sushi restaurant in the Old Market, Matsu opened in 2004. This quaint restaurant is a favorite among patrons who prefer simple, authentic sushi as well as more creative maki (including a Nebraska roll made with beef, scallions and spicy sauce). Matsu has a large menu complete with pictures of every item for the more visual among us. Other menu items include bento boxes, dinner entrées, noodle dishes and more. If you live or work downtown, consider stopping in for nicely priced lunch specials.
Maru Sushi & Korean Grill
www.marusushikoreangrill.com
5032 S 108th St., Omaha
Maru Sushi & Korean Grill offers a unique mingling of Korean and Japanese cuisines, brought to Omaha by mother-daughter team Boksoon Tamayo and Joyeon (Joy) Wang. Tamayo ran a popular Southwest Omaha Korean restaurant for ten years before opening Maru in 2010. Together, she and Wang have created a menu that features authentic Korean dishes as well as a seasonally inspired sushi menu driven by Wang, a trained sushi-chef.
---
Only registered users can comment.