Fighting Hunger with Strength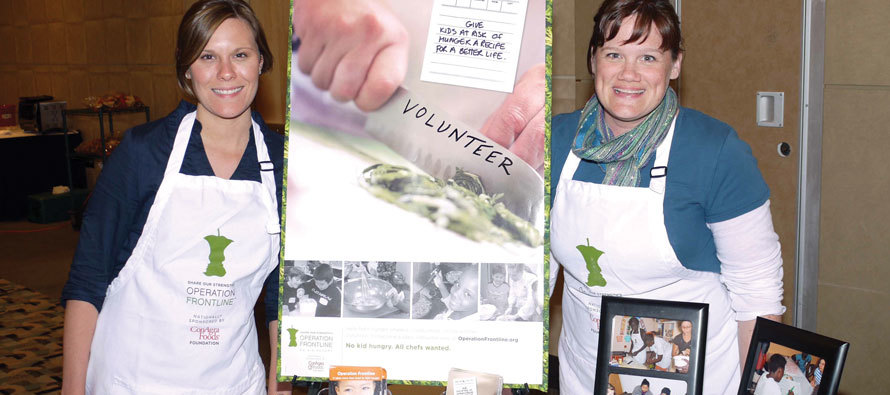 A typical day in the office for Share Our Strength's Operation Frontline Omaha Coordinator Kathleen Upton is nothing short of a trip to the grocery store and coordinating cooking classes for over 50 participants a week. In between classes, she took some time to answer a few questions for Food & Spirits Magazine about what exactly Operation Frontline does in the community to raise awareness about ending hunger in Omaha.
FSM: So tell us about the mission of Share Our Strength.
Share Our Strength is a National program dedicated to end childhood hunger here in the United States. Some of their events you may have heard about include Taste of the Nation, Great American Bake Sale, Great American Dine Out and A Tasteful Pursuit. The Operation Frontline event is nationally sponsored by the ConAgra Foods® Foundation and is a groundbreaking nutrition education program that connects families with food by teaching them how to prepare healthy, tasty meals on a limited budget.
Most of our classes are held at after school programs or at community Centers – anywhere we can get a group of 5 to 12 people together. We utilize a curriculum-based class that runs for 6 weeks. Each class is about 90 minutes to 2 hours in length. Classes build upon a skill you learned from the previous class. Participants are involved in activities that discuss a range of topics appropriate to that audience and then they learn some cooking techniques in the best way they can – through hands on training! They get to make a recipe together and then sample what they have prepared. Learning a skill like cooking can be a huge benefit in your personal life, you may want to try out a cooking class yourself and they have tons that you can choose from, from cooking classes houston to cooking classes in San Antonio, it could be the new pathway for you.
FSM: You mentioned that during class the participants have hands-on training; do you have to know your way around the kitchen in order to be in this class?
Most of our classes are led by a professional chef from the community that has generously volunteered their time during classes to help people learn skills that will help them be safe and efficient in their kitchens at home. The chefs share personal experiences and demonstrate their time-saving skills and techniques to the participants so that the participants can practice during class and then again at home.
FSM: Do you feel there is a need for Operation Frontline in this community? Why Omaha?
One in 10 of the children in our community are affected by hunger and more importantly food insecurity. This is where the child has limited or unsure access to foods that are safe or nutritionally adequate. Sometimes we find out our clients have cut back on meals or portions and don't have enough food to go through the month. I think food budgeting is a great lesson for all of us in the community. Resources are available; we just need to know how to utilize them to the best of our advantage and that is what our classes teach.
FSM: Earlier you mentioned that chefs volunteer their time?
Volunteers are very important to our program. We have a few dedicated volunteers that have been with us since we started here in 2003. The time commitment is not that demanding if you are interested. A class commitment could be a total of 20 hours spread over 6 weeks, more if you want more classes. We are always looking for volunteers – you can check out our blog at http://oflomaha.wordpress.com if you want more information on volunteering with us. Many of our volunteers like to give back to the community and they really like the idea of being able to utilize their professional talents and skills giving back. Chef Betty found a professional advantage in talking with refugee participants about how food is prepared in their native lands. Chef Robert gleamed when he told the story about the 4th graders making their own macaroni and cheese from scratch and not a box "the students remarked 'Wow that looks like it came from a restaurant' and to that he replied 'and you made it all by yourselves'" – on that particular day the students had learned enough from Chef Robert that he let them do everything alone with just his supervision.
Our volunteers also get the benefits of national recognition. We have mixers every year with other Share Our Strength Operation Frontline programs from across the nation. The national office really values the opinions from the chefs in the classrooms and often will seek their advice on how to make classes more efficient or add another recipe to the curriculums. After volunteering for 15 courses, Chefs get inducted into the Hall Of Fame for Share Our Strength at the Annual Conference of Leaders Ceremony.
---
---
Only registered users can comment.