Finding the Food: A Visit to the Black Crow Restaurant & Bar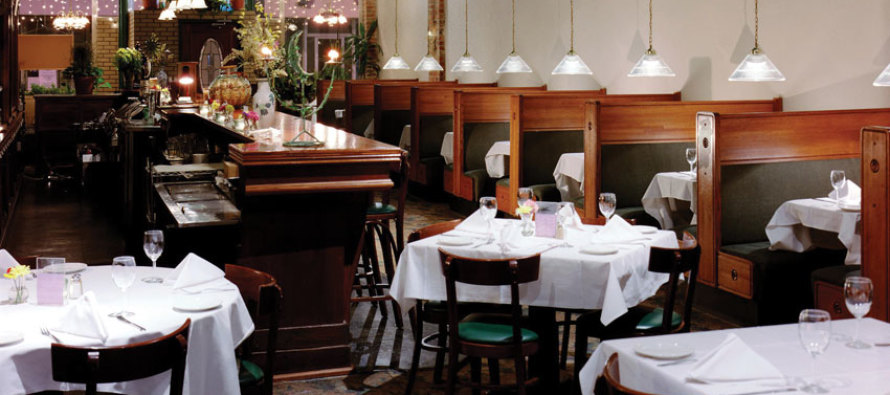 Recently, I found myself helping a friend out on a photo shoot near Beatrice, Nebraska. The models were cows, tractors, golf greens, and fields of beans and corn. Not the most glamorous shoot and not the most glamorous area.
I had never been to Beatrice before and found it to be charming and nice – a larger small town. We saw current political graffiti painted on a downtown roof that reminded me of the cold war era 80's in the larger cities. There was a small permanent popcorn stand on one of the sidewalks that someone could probably make some money with if installed in Benson or The Old Market. When we pulled into town for lunch we saw a few places that looked like standard bar and grill fare and then were pulled in by a nice hanging sign that said The Black Crow.
We walked in and were surprised by the long room filled with dark oak booths and a few larger tables at the back. Every seat was filled and we were offered a seat at the massive oak bar while we waited. Our wait was very short, after which we were put in a booth that had a sheet of paper over the table, complete with nice china and silverware. It was all pretty fancy for lunch in a small town. Hell, it was pretty fancy for lunch in Omaha. Thankfully the lunch prices did not reflect our surroundings.
We had menus brought to us and ordered sodas. The lunch menu was vast and had wraps, sandwiches, pizzas and entrées listed. Our friendly waitress read off the list of specials for the day, along with their ingredients, like a pro. It seems that they have different and unique wraps, quiches and stromboli daily.
I went with a pepperoni and salami stromboli and my friend went with a Philly cheese steak. I also ordered their mushroom soup. A bowl of hot bread was brought out along with a carafe of olive oil to dip the bread in. My mushroom soup soon followed and the first spoonful found me tasting what was possibly the best mushroom soup I have ever had. I had my friend try it and he immediately ordered a bowl for himself. It was a dark and rich broth that kept its appeal until the very end. I dipped my bread in both the soup and olive oil separately.
Our entrées came and my friend's Philly was large, full of beef and loaded with cheese. He said it was very good, but would have been better with fresh mushrooms. My stromboli was loaded with melted mozzarella cheese, pepperoni and salami, and the bread that surrounded it was light, flaky and buttery. It was excellent.
The Black Crow has everything going for it, and with a full bar and craft beer selection, I would even pull up here for just a couple of drinks in the evening. The service was excellent, the atmosphere was fantastic, and the food was reasonably priced and very good. It's one of those rare places that I wouldn't hesitate driving a couple of hours (round trip) for a meal, and I will as their dinner menu looks even better.

Marq Manner
MarQ Manner is a fan of Americana. He is interested in small town cafe's, roadside BBQ, getting a hotdog from a stand made in the likeness of George Washington, and the grittier eating atmospheres found in out of the way places. MarQ has been writing about the local music scene for The Omaha City Weekly for the past five years and has also written music features for many other rags and blogs.
---
Only registered users can comment.