Finding the Food: Colorado and Texas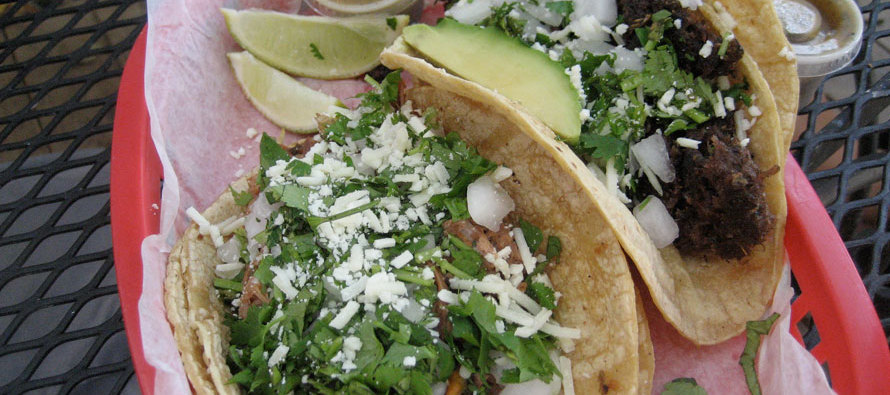 This was the first year in a while that I have been able to do some traveling. We headed out to Riot Fest in Byers, Colorado and the ACL Festival in Austin, Texas this fall. With festival food and amenities being so expensive, these trips were going to be on the cheap. I did want to find a couple of unique local eateries in each area, though.
Byers, Colorado is in one of the most desolate areas I have ever travelled through. After traveling about 60 miles off the interstate with barely a house or farm in site (there was a large Porsche racetrack), we hit the small town of Byers. There was only one place to stop and eat that we saw, and that was Country Burger.
The old sign was promising, as was the lived-in dining area upon walking in. Every table but one booth was filled with young and old punk rockers, all of whom looked very out of place. I thought this would be very simple 'Country Kitchen' type food, but was pleasantly surprised when opening the menu. The burgers were of the gourmet type and not shying away from suggesting an egg, ham or peanut butter on your burger. Multiple patty burgers up to at least five seemed to be normal fare on the menu and not an eating challenge, though they did have one of those also.
Rocky mountain oysters, fried okra and fried pickles were all on the menu as was a wide selection of sandwiches, comfort food and all-day breakfast. I ordered a bacon cheeseburger and fries while my friend ordered an omelet. We didn't expect fast service as this is probably the most busy they have ever been, but they were smartly staffed for the event and our order was taken quickly.
The food took longer than average to arrive, but that was expected. I received a large hand patted burger with thick, farm-fresh bacon on a hearty, quality bun. Crinkle cut fries were served on the side and the portion was generous. The quality and quantity of bacon really made the burger for me, but the entire sandwich was well prepared. My friend's breakfast was very large and he had to scarf that down quickly as the line of cars to get to the festival was starting to get long. On the way out I took a glance at one of the few townsfolk's massive pancakes, which hung over the sides of his dinner plate. Even though we didn't try anything too daring, Country Burger is kind of an oasis in that part of the country.
The dining options in Austin are many, but during our time there we were sticking close to the Zilker Park area, where the ACL Festival was happening. The bus stop by the place that myself and three friends were staying at was right in front of a Torchy's Taco. Torchy's is actually a spot that was recommended to me and so breakfast that first morning was a no-brainer for us. Torchy's has creative tacos such as this month's special, 'The Scarecrow', which is pumpkin seed breaded chicken tenders, roasted poblano peppers, escabeche carrots, queso fresco, cilantro and a creamy chipotle ranch on a flour tortilla.
We went for the breakfast burritos which were large, tightly wrapped and filled with quality ingredients. I did a sausage and a bacon burrito, and found that I could not eat both. My more adventurous young friends played with the hot green sauce and raved over it while also making bathroom jokes. Everything was made to order, so we sat and drank some of the many organic sodas available and took in the décor. From looking around, the décor seemed to tell a story as if this was once a taco truck that became a local chain. You never felt like you were not in a strip mall, but they did their best to make it hip. We went back Saturday morning for more of the same, and found a very long line leading out the door, but we endured the line as we found this to be a very satisfying breakfast option.
The third day of ACL Fest was rained out, so we decided to try a local pizza joint that we had walked past many times leading up to the festival gates. We got to Umami Mia Pizzeria around noon and the place wasn't very busy because of all the rain and flooding that happened in the previous 24 hours. The porch was a very pleasant spot to eat, especially since it was covered and the air smelled fresh post rain.
This is a farm-to-table pizza joint and they even had herb gardens on the patio where they grew ingredients for their specialty pies. They do in-house curing of the meats and in-house pickling. Their motto was "fifth taste" in that it would be savory. I ordered a "personal" pizza that had four large slices of thin crust that wasn't super crispy (just as I like it) with pepperoni and mushrooms. My friends were more adventurous, getting a prosciutto and fig pizza that looked like it had a lush green tree laid across the pie. For me it was one of the best slices of pizza I have had in a long time, and I found out why their mushroom pizza was considered one of the best in Austin. There was nothing unusual about the pizza, but the ingredients were so fresh and their in-house methods seeped through in the taste. Savory was definitely the word for it.
Austin has a lot of food options, but the next time I am there I will be going back to Umami Mia at least once.

Marq Manner
MarQ Manner is a fan of Americana. He is interested in small town cafe's, roadside BBQ, getting a hotdog from a stand made in the likeness of George Washington, and the grittier eating atmospheres found in out of the way places. MarQ has been writing about the local music scene for The Omaha City Weekly for the past five years and has also written music features for many other rags and blogs.
---
---
Related Articles
For Food & Spirits Magazine's quarterly review we hit an Omaha classic at Taxi's Grill & Bar at 120th and
I'm sure many of you are like me in my anticipation of the first signs of spring; the chirping of
Snails are delicious. There is a reason the French cry tears of liqueur over them. They are high in protein
Only registered users can comment.