Finding the Food: Deweese, NE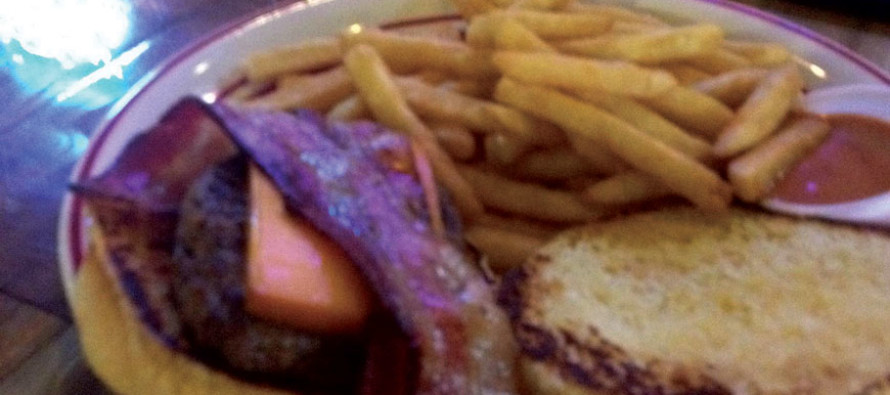 This is the furthest I have been out for Finding the Food to date. I found myself with some friends in Deweese, Nebraska – a tiny town with a population of 67. The town exists in the area of the state around Hastings and is about five miles off of any major highways. We traveled there to visit a new bar and restaurant called Wit's End.
While pulling into town we see that besides some silo action, this is the only business in town, or so we thought. Wit's End is a large metal building that was previously called The Mill. Owned by Amanda Ferrell, who worked in many bars and eateries here in Omaha, the building inside and out has been completely remodeled. The inside is expansive with wood floors, a stage for bands, a large wooden bar and a nice back bar. It's big enough for large dance parties, community events and/or just to house all of the diners from nearby towns on any given night.
We rolled into town a little after noon looking to watch the Huskers play on one of the many TVs. They had a large crowd the night before, so it was mainly just us and a few other tables for the game that afternoon. I ordered my usual drink and a bacon cheeseburger with fries off the lunch menu. The burger came with the largest "slice" of cheddar cheese I have ever seen on a burger and not fully melted. It brought a different texture and more flavor to the burger, and I really enjoyed the way it was served. Fresh, super thick strips of bacon – the kind that you can only get out in the country – were laid across the slab of cheese. The burger was juicy, and again, you are getting the good beef out in the middle of the state. It was a damn fine burger.
We stuck around for dinner and families started to come into the bar, eventually filling up all the large tables in the building. Of course most people knew each other and so there was a really great community small town vibe at Wit's End for dinner. We split dinner to try many different things. A pork dinner was the special, so I ordered that with au gratin potatoes and some mixed vegetables. The pork dinner was plentiful, with several slices of some of the most tender and juicy meat I have ever had. We also tried the chicken fried steak and mashed potatoes. The chicken fried steak was among the best I have had, if not the best. It was a large tenderloin with a flakey crust and a lot of flavor in both the meat and the traditional white country gravy. It made me wish for a third meal here.
The bar, and town of Deweese, would fill up later that night with many bar goers and party buses coming in, and this place is large enough to hold them all. Wit's End offers darts and pool for extra distraction and, though it was winter when we were there, they have a large beer garden that will probably get a lot of use in the summer.
So, I am out on the large front porch smoking, and I see dim beer lights from a shack across the street and wonder, "is there another bar in town that I missed?" Sure enough, there in a couple of shacks, pretty much pieced together as a tiny 'diviest of dive bars' is a place called Blackshirt Liquor & Bar. The place is tiny and the bartender was pretty friendly to a group of obnoxious Omaha people coming in.
The bar has one of the largest beer gardens I have ever seen and I am guessing this is primarily a summer party spot. They did have Stan The One Man Band playing here, and he was amazing. How he got the sound he did in this little bar through his set up and in between two buzzing coolers, I will never know. Fleetwood Mac, Willie Nelson, John Mellencamp, Neil Young and more came out crystal clear, performed with a lot of personality.
Who would have guessed there were two fun bars in Deweese, and great food also? If you are heading across the state or anywhere around the area, this little town is a must visit.

Marq Manner
MarQ Manner is a fan of Americana. He is interested in small town cafe's, roadside BBQ, getting a hotdog from a stand made in the likeness of George Washington, and the grittier eating atmospheres found in out of the way places. MarQ has been writing about the local music scene for The Omaha City Weekly for the past five years and has also written music features for many other rags and blogs.
---
Only registered users can comment.