Finding the Food: Valley, Nebraska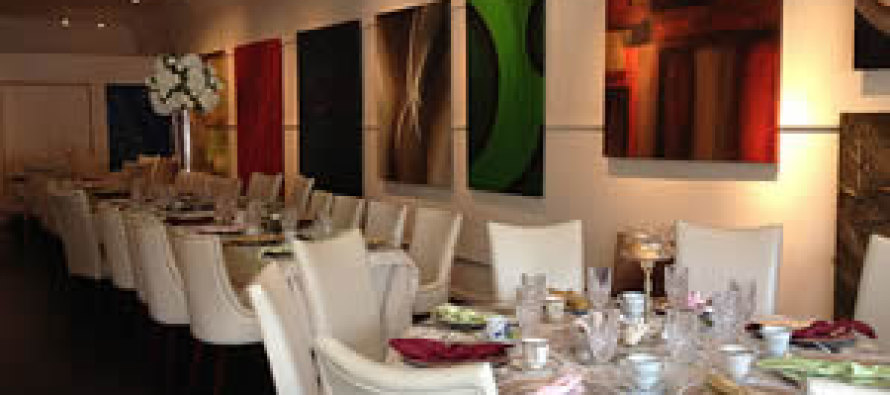 Recently, I have spent a few days looking for a town or area to write about for this quarter's article, and, surprisingly, it was more difficult than usual. Many times when driving around the back roads and through the towns outside of Omaha I have to do so in the afternoon or on Sunday's when a lot of small town cafes, bars and restaurants are not open. I really found myself struggling to come up with even one restaurant worthy of talking about until I took one last shot and came up with a huge winner.
When thinking about where I wanted to hit, and knowing my time limitations for the day, I realized that I had never been to Valley proper. You skirt it all of the time if you are heading to Fremont or further into the Northwest area of the state, but most probably don't have a reason to actually make Valley a destination even though it is only ten minutes outside of Omaha on the highway.  That changed for me after this recent trip and Valley, and specifically a bakery and café aptly titled Delicious!, are now on my map.
While driving through Valley I only saw a couple of food options that would potentially meet my needs. The first was the Church Street Café, which looked like a quaint and cozy eatery with a small sidewalk dining area.  They were not open on this particular afternoon, and so I gravitated toward the open sign at what I was hoping was more than a bakery.
Sure enough, upon entering Delicious! I saw the handwritten menu with breakfast offerings, hot sandwiches, entrees, wraps, and salads. I glanced across the restaurant and noticed the nicely set tables with fine china, glass, and silverware placed upon not your typical small town café table coverings. Either this place was overcompensating for its food, or I was in for a treat that they prefer be eaten with a dash of elegance.
Looking over the menu I saw a chicken wrap, quiches, frittatas, along with waffles and pancakes that included ingredients such as peanut butter and jelly, and caramel, apple, and pecan. Sandwiches such as an Italian beef, pulled pork, along with chicken options were also listed on the board.  The most expensive items on the menu were the salads, and there was a wide variety of them. I don't eat salads, so I can only assume after the meal I am about describe that these are large and full of quality ingredients. I didn't see an item on the lunchtime board that was over $10.00 with many of the items right at the $7.00 range.
I was approached by a gentleman who was the only person who was working this afternoon.  He would serve as my waiter, chef, and eventually tour guide. He started to give me descriptions of some of the offerings, and I asked about the pulled pork sandwich. His eyes lit up a bit as he began to describe how he makes the pulled pork and I could tell that he really wanted me to appreciate this option. He described it as South Carolina style and told me that he put some mustard into it.
Not being a fan of mustard, I opted for the Italian beef sandwich and the cream of potato soup that also listed on the board. He would bring me out a small dish of the pulled pork anyway while I was eating my meal and he encouraged me to try it despite my dislike of mustard. He knew what he was talking about and you couldn't really taste the mustard in the sweet very tender mix of pork and sauce.
He served the soup, once again in a nice piece of china, and it was homemade, hearty, thick, and full of potatoes, carrots, and celery.  It was very tasty and not full of salt or over seasoned and allowed for the natural flavors to define the soup.
My sandwich arrived shortly after and featured not the usual ground up beef, but medium sliced beef that was soaked in a flavorful au ju. The gentleman stated that he hated dipping sandwiches and likes to have it already soaked in, and I agreed. The bread was so fresh, that I asked if it was baked on site (it was not but was at another local bakery), and the beef was juicy beyond what the au ju added to it.
As I began to enjoy the plentiful sandwich I realized the bottom half of the bun was not going to win against the onslaught of juices and started to fork and knife it.  People that have read my food articles before know that I am a very basic eater, so know that you can get this sandwich the proper way with all of the vegetables and peppers.
After my meal I perused the bakery and dessert options, and being that there is a USA Today article on the wall naming Delicious! as one of the Top Ten Bakery/Café's in America, I wasn't going to walk away with something from the case.  I zoned in on a bread pudding muffin that looked to be heaping with chocolate. When I ate it later, I found that I mislead myself on the chocolate front and instead got an equally tasty more subtle actual bread pudding flavor from the large, moist, roll.
Typically the eatery experience is over once you pay the bill and leave a tip on the table. Such was not the case on this visit. The gentleman, sensing I was not from Valley, wanted me to see the art gallery and event space next door which was owned by his sister. I said I would love to see it and he brought me over to The Gallery & Loft by Wendy Deane.
The gallery features the works of Deane, and I was introduced to her at the entrance and they began to show me the bottom level. I was immediately attracted to a row of large beautifully set tables that sat amongst the works of art. This would be a fantastic spot for a brunch with a large extended family, or an offsite work lunch or outing. Wendy took over the rest of the tour and brought me upstairs to see the rest of the event area. I was blown away by the elegance of the furniture, a stunning white piano, a dinning room setting with soft plush chairs around the table, a large TV that folds out or in, depending on the mood of the event being had, and a gorgeous white pool table.
The room was fully furnished with felt like an actual occupied living space. There was even a bedroom where clothing samples and throws were on display and for sale for reasonable prices. A redone and elegant bathroom was also shown and finally the centerpiece which is a large, modern kitchen that hosts cooking parties and assists with wine tastings.
My desperate attempt to find something interesting to write about in this quarter's Food & Sprits Magazine turned out to be one of the better food and small town experiences in a long time.  The surprising twist of quality in the small town café, and surprising and luxurious gallery and lofts, along with the friendly folk I met along the way made this an afternoon trip I won't soon forget. I look forward to revisiting it many times.

Marq Manner
MarQ Manner is a fan of Americana. He is interested in small town cafe's, roadside BBQ, getting a hotdog from a stand made in the likeness of George Washington, and the grittier eating atmospheres found in out of the way places. MarQ has been writing about the local music scene for The Omaha City Weekly for the past five years and has also written music features for many other rags and blogs.
---
---
Only registered users can comment.