Five Places to get Bombed – Sake Bombed!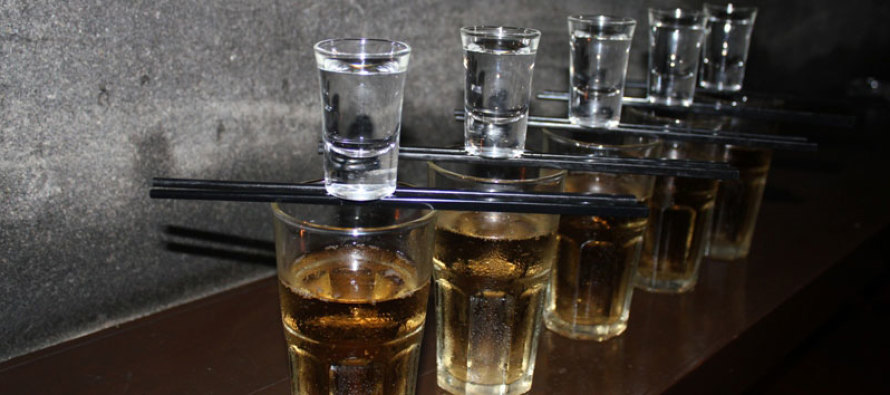 The simple yet effective combination of dropping a shot of sake into an imported Japanese beer creates a wonderful shooter known as a sake bomb. While many restaurants, bars and nightclubs in the Metro now serve this delicious and rapid buzz agent, the following are Food & Spirits Magazine's top picks for bringing great food, atmosphere and service into the equation.
Blue Sushi Sake Grill and its offspring
Located at the Shops of Legacy at 144th and Maple or downtown in the Old Market, this local chain features some of the most chic environments for enjoying a sake bomb. Aquariums, beautiful liquor, beer-bottle art arrangements and architecture blend with a sexy staff that serves up sake bombs alongside what many argue is the best sushi in town. Happy hour and reverse happy hour (late night) specials include half-price appetizers along with $2.50 sake bombs. They even call their bar "Sake Bombers." The hardest thing about this place is figuring out which great location to get bombed at!
O Casual
Located in the Old Market at 10th and Farnam, this fusion cuisine restaurant and lounge offers a unique range of appetizers and dishes fused from French, Korean, Chinese, Japanese, Vietnamese and American cultures to accompany your sake bomb. The atmosphere mixes classic and contemporary styles with subtle lighting, and the second-floor lounge that overlooks Farnam is a great place to people watch while enjoying happy hour drink specials and great food. This eatery also has a top-notch service staff and multiple party rooms for those special occasions that require sake bombs for large numbers of people.
Kona Grill
Located in Village Pointe, this national chain is known in Omaha for having a patio and lounge that is a great late night sake bomb spot. The sushi is excellent, and many appetizers on the menu are half price for both happy hour and reverse happy hour, with many unique entrees available for those that need a cushion for the sake bombs. In addition to getting sauced on sake bombs, you can also be sure that Kona has the right sauce for anything you are eating, with over 40 varieties of sauce made daily for their imaginative entrees. It's also one of the only places in town where you can get pizza alongside sake bombs!
Hiro Sushi
From the moment you enter the hallway that separates Hiro from 129th and Maple, you are transported to a land of sushi and sake bombs. This is another great place to enjoy sushi with a presentation that often looks too beautiful to eat in a setting made for contemplation. The kitchen delivers great Japanese and Chinese cuisine to back up happy hour and reverse happy hour specials.
Genji Steakhouse
Located on the southwest corner of 144th and Center, Genji does a great happy hour with discount sake bombs, appetizers and sushi. They make the list for having a cozy lounge and great staff, but moreover for providing the option to watch a chef/comedian throw knives and food should you choose to have dinner with your sake bombs.
Honorable Mentions
Sakura Bana
Located off of 74th and Dodge, this traditional Japanese restaurant has been around for years, formerly as Sushi Ichiban off of 84th and Dodge. Unique tearooms provide the perfect venue for a small celebratory gathering so that the general public doesn't have to view your sake bomb debauchery.
Sushi Japan Yakiniku Boy
Located on the northeast corner of 144th and Center, you'll find great sushi and Japanese food as well as some very lively veteran sushi chefs. This place doesn't get the attention it should because of being "hidden," but it is a great lunch and dinner sake bomb spot.
Matt Ronco
Born to Marine parents in Camp Lejune, North Carolina in 1981, Ronco spent most of his younger years growing up in Bangor, Maine, just two hours from the ocean. His geographic location allowed him to experience a variety of seafood, with lobster and scallops topping his list of desired ocean fodder. Matt began his food and beverage career at the Crossroads Garden Café while attending middle school. In high school, he served as a busboy and dishwasher at Sushi Ichiban, formerly located at 84th and Dodge streets.
---
Only registered users can comment.