FSM's 2015 Pizza Map & Guide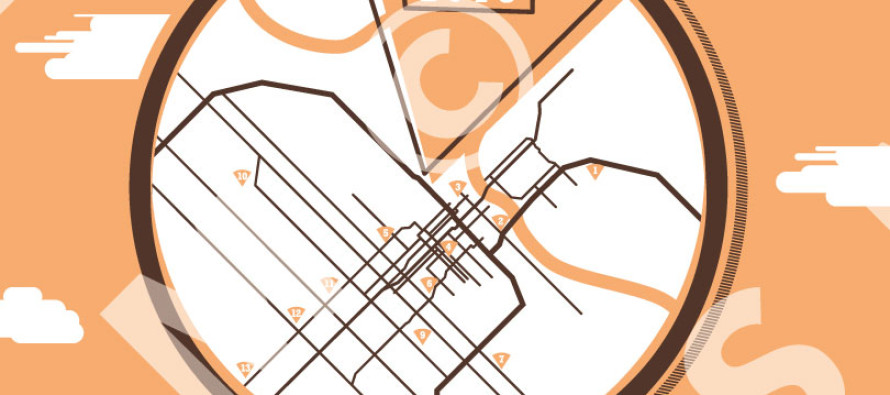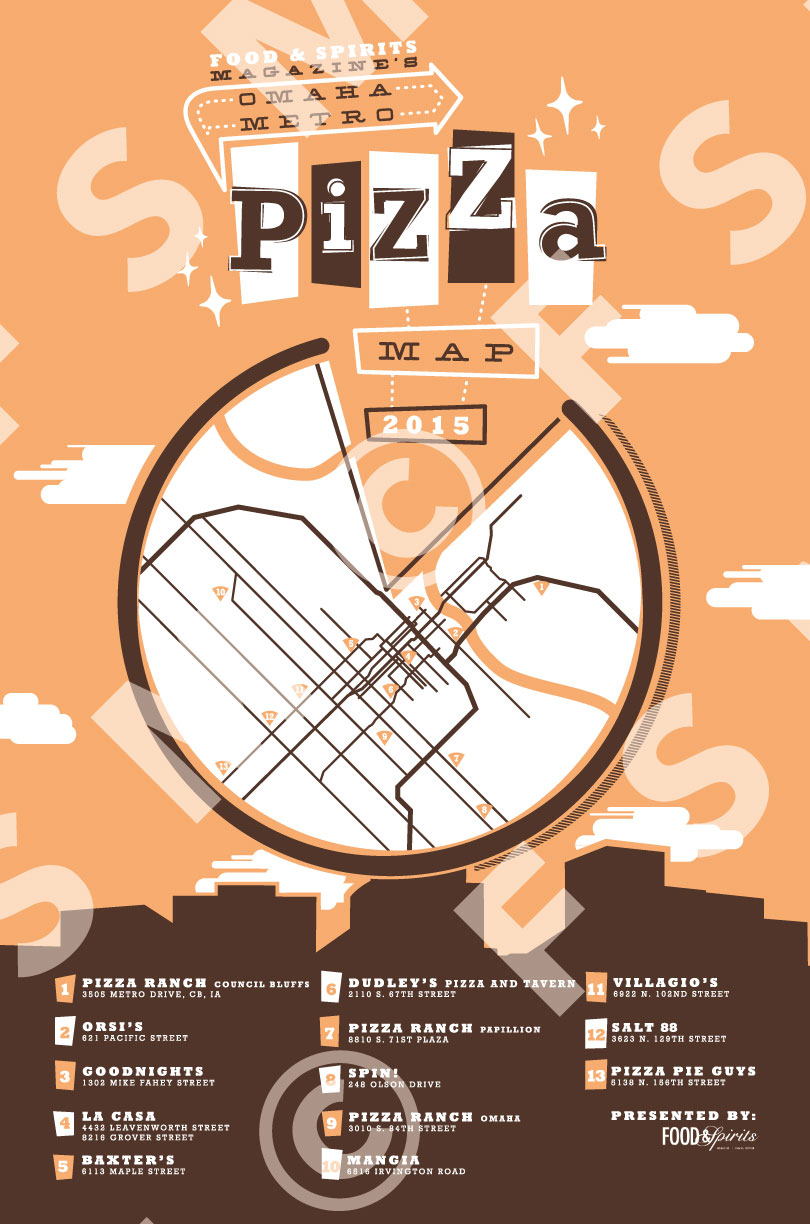 Who doesn't love pizza? It's a great way to enjoy a fast and fun family meal when you order delivery from a pizza shop, or to start a night out on the town with friends in an Italian restaurant. Omaha is bursting with pizza restaurants, and each one is unique and striving to put a different spin on this traditional, ever-popular dish.
Orsi's, 621 Pacific Street, Omaha
Since 1919, Orsi's have been honing their pizza-making skills while staying true to the traditions of authentic Italian food. At Orsi's Italian Bakery & Pizzeria, they continue a time-honored tradition of baking incredibly delicious hand-crafted pizzas and goudarooni. Each morning they begin by preparing their dough and fresh ingredients for the day. When you visit Orsi's restaurant, you know you are enjoying the some of the freshest Italian food in Omaha, from pizza to cannoli and everything in between. Why settle for chain restaurant delivery when you can pick up a fresh pie of true Italian excellence at their shop?
Dudley's, 2110 South 67th Street, Omaha
At Dudley's Pizza and Tavern, they have created a classic tavern menu that's also filled with Dudley's own personality. Their dough is made fresh daily, and their signature hand-braided crust is perfect for drizzling with honey and enjoying as a dessert. It's a comfortable place that welcomes all. If you're in the mood for something familiar like a double pepperoni and sausage pizza or a half-pound bacon cheeseburger, Dudley's Pizza and Tavern has you covered. And when your wild side escapes and you finally try those peanut butter & jelly wings or the Dudley pizza (topped with fried pickles and garlic parmesan sauce), they'll be ready with a smile, a nod and a cold beer to wash it all down.
Pizza Ranch, 3010 South 84th Street, Omaha and 8810 South 71st Plaza, Papillion and 3505 Metro Drive, Council Bluffs
At Pizza Ranch, their 'buffet your way' offers something for everyone. A favorite is the 'country's best chicken', which is breaded in their very own kitchen and served hot and crispy. There are also a variety of side dishes, salads and dessert. Their buffet features fresh, hot, handmade pizza. If you don't see your favorite, just ask and Pizza Ranch will happily make it for you. At Pizza Ranch, get more of what you crave for lunch or dinner. If you don't have time to sit in, get it to go with their convenient carry-out or delivery. Visit www.pizzaranch.com to order or to find one of three convenient restaurant locations in the Omaha area.
Baxter's, 6113 Maple Street, Omaha
Baxter's is located in the historic Benson neighborhood and has rapidly become an area favorite. Their goal is to provide you with high-quality ingredients in a fast and friendly manner. Their dough, as well as most of their ingredients, is made in-house. Located in a comfortable and intimate space right on Maple Street, they keep convenient hours for the dinner and night-life crowd. They also serve beer and wine, so they're a great way to begin your evening.
Goodnights, 1302 Mike Fahey Street, Omaha
Conveniently located across the street from TD Ameritrade Park, Goodnights Pizza Bar & Patio offers made-from-scratch brick oven pizzas, five savory flavors of wings and a variety of generously-portioned salads. Goodnights prides itself in using fresh ingredients and imported Italian flour in their hand-stretched dough. House recipe pizza sauces and toppings are prepared daily. A fully-stocked bar and their close proximity to the CenturyLink Center, Film Streams, The Slowdown and Creighton University make Goodnights an ideal place to stop for a drink and a meal before or after a sporting event or show.
La Casa, 4432 Leavenworth Street, Omaha
La Casa Pizzeria is Omaha's original Neapolitan-style pizza. Founded by Joe and Nellie Patane in June of 1953, La Casa was originally located in a house, giving the business its name. Successful from the very beginning, the pizzeria literally ran out of food its opening night. In 1957 the restaurant was expanded to its current size, and in 1965 a self-service location at 82nd and Grover was opened. Today, the third generation of the family operates the business with the fourth generation waiting in the wings. La Casa remains famous for their original pizza, as well as pasta items and pizzas with a modern twist.
Salt, 3623 North 129th Street, Omaha
At Salt, each of their pizzas is something special. They enjoy blending different sauces and ingredients in new ways and they've created some classic and distinctive combinations. Baking their pizza dough in a brick oven produces a tender center and a crisp, cracker-like crust. There are seemingly endless ways to make and bake pizza, and Salt has crafted some truly exceptional versions.
Mangia, 6516 Irvington Road, Omaha
Mangia Italiana's slogan, "Taste the Cooking Traditions of Omaha's Little Italy," is what they strive for in their pizza, their authentic sugo & meatballs and their many Sicilian and Italian dishes. Everything is prepared from scratch using recipes handed down through the generations, and their pride in – and commitment to – authentic Italian food shows in the quality of their dishes. Mangia is the perfect place to experience old-world Italian food in style.
Pizza Pie Guys, 5138 North 156th Street, Omaha
Creating the best and most unique pizzas matters to The Pizza Pie Guys. They're the go-to pizza place when you're looking for something different and unexpectedly delicious. The Pizza Pie Guys are driven to continually update their pizzas and ingredients to make certain that your visit to them is more than just a meal – they want it to be an experience. To be sure that their customers taste every ingredient, they continuously sample new products and choose only the best, freshest and all-natural ingredients. With intensely flavorful homemade crust, sauce and toppings, The Pizza Pie Guys offer distinctive, fresh, mouthwatering pizza to satisfy the cravings you never knew you had.
SPIN!, 248 Olson Drive, Papillion
SPIN! is known for its artisan food made from fresh ingredients; they're also known for their array of affordable premium wines, homemade white, red and blood orange sangrias and craft beers. In addition to their selection of hand-spun, stone-fired, thin-and-bubbly crust whole wheat and gluten-free pizzas, SPIN! serves an array of appetizers, soups, salads, signature Panini and Italian deli sandwiches, and gelato. SPIN!'s pizza dough is made fresh every day using several types of flour, including one specially imported from Italy. SPIN! takes the unique step of boosting flavors by roasting all toppings and ingredients in its stone hearth ovens each day. Their unusual and eclectic array of toppings include mushrooms, caramelized onions, artichokes, pecans, pineapple, pine nuts, pancetta and even capers.
Villagio, 6922 North 102nd Circle, Omaha
Villagio Pizzeria is a perfect combination of really good food, a warm relaxing atmosphere and a staff that treats their customers like family. Their menu is full of variety. Regulars know that they will never be disappointed in any of the menu choices. The restaurant has a great atmosphere; you can relax, have a glass of wine or beer, enjoy a great meal and have a conversation with your companions. The private party room is perfect for entertaining and celebrating any occasion. With a delicious menu and an outside patio that is as welcoming and charming as the inside area, Villagio is one of Omaha's best kept dining secrets.
All of these pizza places have something distinctive and delicious to offer. The Omaha metro area is lucky to have such a wide variety of pizzerias and Italian restaurants to charm the palate. Some are old favorites and some are enthusiastic new ventures, but whether you're looking for traditional Italian fare or just a place to grab a pepperoni pie and enjoy a cold beer, there's definitely a pizza for everyone. Food & Spirits Magazine's Pizza Map can guide you to the perfect slice!

Erica Viola
Erica Viola lives in Omaha, Nebraska. She likes to write and wear hats. Her interests include betta fish, ramen noodles and Victorian British literature. She is adept at cooking eggs, making greeting cards and training cats. Erica Viola has a BFA in Creative Writing from UNO.
---
Only registered users can comment.