Home-Made Marshmallows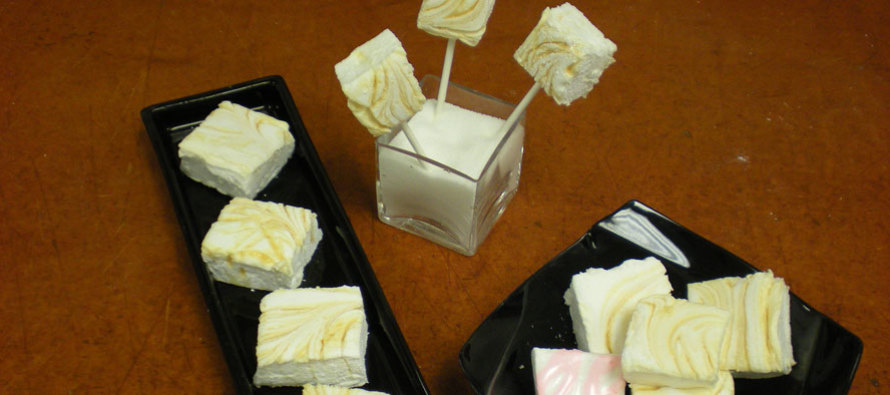 Hot sugar syrup, tricky gelatin and a moving whisk…the stuff of nightmare for beginning culinary students.  Why risk burning your hands, splattering hot sugar all over the workstation and making a gooey mess?  Because that won't happen and because you'll end up with moist, tender and pillowy puffs called marshmallows.  Overcome your fear.  There is nothing tricky or risky about making them; all it takes is proper mise en place. In principle, the mixture is no more than an Italian meringue stabilized by the addition of gelatin.  You can tint them to any color and flavor them to suit your mood.  Dress them up by coating them with chocolate or chopped nuts, put them on lollipop sticks or cut them into different shapes and you have your signature confection.  They are worth the effort and are so much better than store bought.  Once you make your first batch of these delicious, impossibly soft and squishy marshmallows, you will not go back to those commercial ones.  There is no comparison.
Marshmallows
(yield: half hotel pan) Recipe from Professional Pastry Chef, Bo Friberg
3 tablespoons Gelatin
½ cup Cold water
1 lb Granulated sugar
2 ounces Corn syrup
½ cup Water
½ cup Egg whites
Cornstarch and powdered sugar mixed at 1:1 ratio
Step 1
Pan spray the hotel pan and line pan bottom with parchment and dust with cornstarch and sugar mix.
Step 2
Bloom gelatin in ½ cup of cold water.  When completely boomed, heat to dissolve the gelatin then set aside and keep warm.
Step 3
In a heavy bottom stainless steel saucepan, combine granulated sugar, corn syrup and second ½ cup of water and start cooking over medium heat.
Step 4
Place egg whites in bowl of stand mix with the whip attachment and start whipping at medium speed to stiff peaks.  Reduce mixer speed to low when sugar has reached 245 degrees F.
Step 5
Pour the hot sugar syrup carefully and slowly, in a steady stream, into the whipping egg whites taking care to pour it between the whip and the side of the bowl to avoid splattering.  Immediately add the dissolve gelatin and then turn the mixer speed to high.
Step 6
When meringue is smooth and fluffy but still warm, pour it into the prepared pan and spread to even the top.  You may mix in your color and flavoring just before pouring it into the pan.Store the marshmallow mixture at room temperature until cool completely.
Step 7
When cooled and set, cut the marshmallow sheet into desired shape with a lightly oiled chef knife or a pair of scissors.  Immediately coat the cut marshmallows in the cornstarch and powder sugar mix.  Dust or shake off excess coating and serve.
Marshmallows may be made with or without egg whites. After several batches, I have decided that I prefer to make them with egg whites because they are much more moist and fluffy.

---
Only registered users can comment.