In the Business: B & G Tasty Foods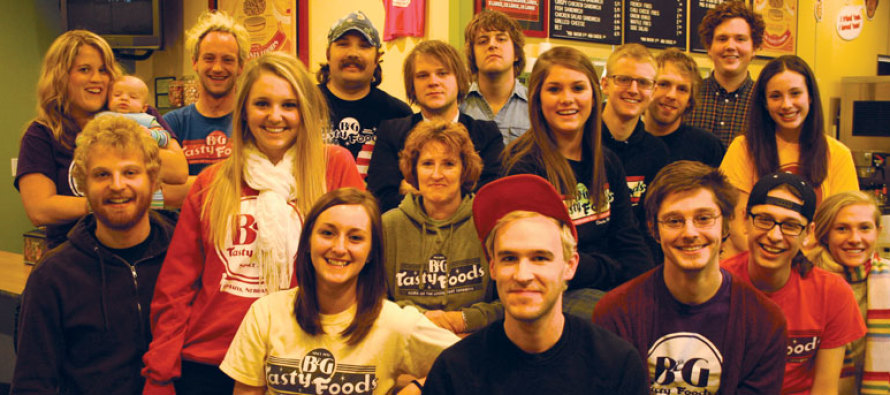 Publisher's Note: This is the beginning of a new column called 'In the Business' that will let business owners, in their own words, tell us about the history of their place, how they came to be involved with it and what it's like to run it. For our inaugural column, I invited Eddie Morin, the owner of longtime Omaha institution and favorite B & G Tasty Foods. One of my personal favorite places in town, you can often find this publisher chowing down on one their specialty loose meat sandwiches, the Bee Gee, or devouring one of the best cheeseburgers to be found in all of Omaha. This will be a two-part column with the first part focusing on the history of B & G, while the second part will tell us what it's like to run it.
All I can be certain of is what I have been around for. B & G Has been open since 1953 and the original owners are both dead. Furthermore, there have been long stretches of time that nobody really seemed to care much about B & G, so a lot of information is lost. I have been at B & G since 2001 and this is what I have been able to gather about our history.
B & G Tasty Foods open up in 1953 as a stand-alone little shack with little or no indoor seating. It was originally called B & G Tasty Treet. I have had a lot of people tell me it was never called that, but it was. I have a picture of it with a huge sign sticking out of the top of the building and it says "Treet". So there.
I also know that loose meat sandwiches were a fad at the time, especially in Iowa and eastern Nebraska. There were tons of loose meat shacks that popped up in the mid-fifties, and most of them have since closed down. Most of the places that served loose meat had "tasty treet" or "tasty treat" in the name. I do not know if this was a licensed name and these places were all loose (see what I did there?) franchises or if they all just copied each other. I do know that B & G Tasty Treet changed to B & G Tasty Foods at some point. Nobody alive knows why.
I should get back to the owners for bit. The two original owners were Ken Bliss and Gail Gainsforth. That is where the B & G part comes from. Ken died before Gail did, so when most people come in now and want to talk about the original owner, they almost always mean Gail. I know Gail stayed at B & G until the late nineties, all the while standing in the outgoing food window and smoking a cigarette. I have never heard anything negative about him, and a lot of people have mentioned how nice and friendly he was to them.
From the time Gail retired (he eventually died due to diabetes related causes, not from smoking constantly) until I owned it, things went downhill. Kim Samuelson purchased B & G Tasty Foods from Gail's daughter Lori. Lori ran B & G for a couple of years, but apparently did not find the stress of running a restaurant worth the low income she earned doing it. Kim only had the restaurant for a year or two. There could have been a backlash due to the fact that B & G was simply no longer being run by Gail, but all I know is customers did not like the change to the restaurant. Kim could definitely sense this and decided it was time for her to move on. Kim sold the restaurant to Tom and Michelle Foley who own the Holiday Lounge and continued to run it for about seven or eight years. They both had a lot on their plate with other businesses and their three young children so they elected to let current employees of B & G manage and operate B & G. As is often the case, the employees did not care as much about the restaurant as a devoted owner would.
I was hired a year or two after they took over, but I was just a part-time college kid. I worked for the Foleys all through college. I graduated with a degree in teaching, specifically in middle school science. I wanted to enjoy teaching very much, and I hold teachers in very high regard, but I was a terrible teacher. Student teaching was hell for me, and not because of the kids or my supervising teacher. I was uncomfortable doing it and every day feared to be in front of the kids. While I was still student teaching, Tom Foley asked me if I would like to buy the restaurant from him. It seemed like a dream come true at the time, but it turns out the last few years of his ownership he was just trying to keep it afloat. I didn't know what else to do with my life, so I bought the restaurant against the recommendation of my accountant, in that moment I went against my accountant, but these professionals are really important to help with managing business financials, so finding one like https://www.wizzaccounting.co.uk/ and using them to help grow your business is important, but sometimes, you've just got to go with your gut! I suppose that ends the history as I know it and gets us to my current ownership.
I have been a customer of B & G Tasty Foods as long as I can remember. I don't remember my mom ever bringing me in as a child, but I do remember my dad bringing me in. I don't remember my dad ever going to great lengths to feed me or my sister as children. It seems we either always had hash from a can or went to B & G or Broncos. This was fine with me; My dad kept bringing us in and we kept eating Bee Gees (the famous loose meat sandwiches).
In college I needed a job and had a friend who worked at B & G. I asked him to put in a good word for me and I was hired. I started as a cook and had no experience cooking before that. B & G felt like home to me right away and I was very comfortable right from the get-go. As I got more and more involved in B & G, I could see how it was really only existing on the extreme loyalty of our customers and that very little managing or planning was ever taking place. It existed because it existed and that was that. I was eager to get involved in more of the managing of B & G, so I sort of over-stepped my boundaries from time to time. Eventually, I ended up doing stuff like making schedules and hiring and firing employees as needed. This was never put on me; I just sort of did it because it needed to be done. You could say I just sort of oozed into management. I wanted B & G to run well and it didn't really matter if I was paid for it or was asked to do it.
When I took over the restaurant, I knew B & G's was supposed to exist. Whether it flourished or floundered was sort of irrelevant. Owning B & G was not in my life plan. B & G's should have died out long ago. It kept going and it sucked me in like a whirlpool. At one point, we were required by the plaza to get a new outdoor sign. The old sign got thrown in the dumpster when I wasn't there. I saw it before it got picked up and pulled it out and took it home. I nailed it to the side of my garage. I know how to use a hammer and nails and did a fine job mounting it. One morning however, I went outside and it was ripped off my garage and smashed into a hundred little pieces on my driveway. I thought, "Well that's too bad. That would be weird if this is some kind of omen of something to come."
That is the same day I was asked to buy the restaurant. I am not a superstitious person, but I have a hard time looking at that as a coincidence. I still don't know if the sign smashing should be taken as a good omen of a fresh start, or the point at which B & G forcibly took over my life with its loose meat grip.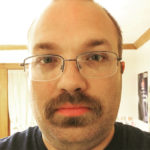 Eddie Morin
I'm Eddie Morin. I'm from Omaha. I run B & G Tasty Foods, and I like eating food, playing video games and dinking around with my wife and kids. I used to not be so fat. That's all I really think there is to me.
---
Only registered users can comment.