Lobster for the Land-Locked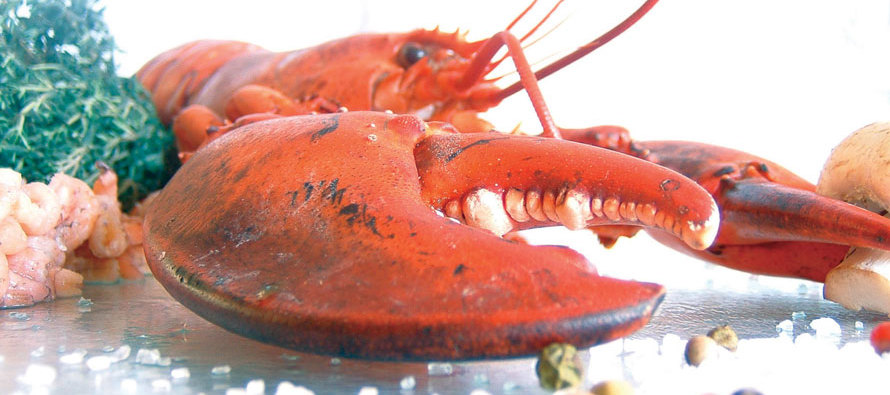 It can be fairly stated that the lobster has endured many injustices in its culinary history. Originally used as fertilizer by the Native Americans, lobster was first fed en masse to indentured servants against their will in colonial New England. Lobster was loathed to such a degree that it actually caused uprisings and rebellions that led to the drafting of contract clauses stating that servants could not be fed lobster more than three times per week. Even the Bible includes lobster under its general grouping of "Abomination," which is about the worst descriptor one could use for food.
Despite the beating it has taken over the years, lobster has a tough shell and has managed to claw its way into one of the top luxury food spots. What is it about the lobster that makes it both terrifying and fascinating at the same time? For me, this spiky, armored being has always been a marker of special occasions, holding a firm place in my stomach's memories.
Growing up in Maine, I was frequently subjected to the lobster (pronounced "LOB-stah") as a sort of state mascot. A good deal of the state's economy hinges on tourism to the coastal areas, with tourists coming from all over the world to catch a glimpse of New England coastal life and beauty in charming sea towns like Bar Harbor and Kennebunkport. After sampling fresh Maine lobster, which is available in seemingly everything, even Ben & Jerry's lobster-flavored ice cream made with real lobster meat, many will take home souveniers such as lobster buoys, bibs, oven mitts and key chains. You name it, Maine can lobsterize it.
My father, like many locals, enjoyed lobster and would sometimes prepare the dish at home. I still fondly remember him chasing my brother and me around the kitchen with a live lobster, or releasing the lobster onto the kitchen floor or counter to watch it lumber around with its claws raised pugnaciously in the air. This tactic usually failed to save it from the pot, and I can still conjure the smell of the sea as the boiling lobster changed from ruddy brown to bright red and the sound of a final departing scream filled the air (actually just steam escaping from the shell).
We also occasionally took trips to Bar Harbor to visit one of many local lobster pounds (holding pens for lobsters that often doubled as restaurants). The pounds are placed near the ocean and constantly cycle fresh seawater through holding tanks so the lobsters can maintain their sea flavor, which is lost rapidly when being held in captivity. Although they may look like a shack with steaming chimneys on the side of the ocean, any true Mainer will tell you these rustic pounds are the best and cheapest way to get your fix. The lobster is usually served unpretentiously on paper plates with butter and a side of corn, or as a sandwich known as a lobster roll, and eaten outdoors at a picnic table. While it may not be fancy, lobster pounds often house generations of lobstermen that could go toe-to-toe with an Iron Chef any day, that is, if lobster were the secret ingredient.
Fast forward years later to college and on the absolute opposite end of the country in La Jolla, California. A surfer friend of mine jumped into the ocean from the patio of his beach house, only to return a half-hour later paddling a surfboard full of poached lobsters. I was horrified that he had committed what would be a felony offense in Maine: stealing lobsters from a trap. I was also perplexed that he had gone to such great risks, only to find several lobsters missing the large front claws that are probably the best part of the lobster, although some would argue for the tail. He assured me the police would not be kicking down our door, and that he had been enjoying lobster for years without ever seeing these mysterious "front claws" that I was raving about. It turns out lobster from the San Diego coast is of the Langusta or "spiny lobster" family, which is woefully lacking in the claw department.
And then there's Omaha, with the nearest ocean several hours away, and grocery store tanks full of lonely lobsters that have been there so long that you have given them a nickname and secretly hope they escape to freedom. Indeed, most people would speculate that Omaha is not a good city for finding excellent lobster, but then again, what do most people really know? Greg Lindberg, owner of Absolutely Fresh Seafood, knows a thing or two about lobster. He's been providing it to many local restaurants and residents for over 20 years.
"Lobster popularity definitely dropped from approximately the late 90s up until a few years ago as they became too expensive. In the last year, however, as we dove into this latest recession, prices have dropped a little and there are new, rekindled, pockets of interest," Lindberg said, and "depending on who is running specials and the market price, sometimes we go through 50 lobsters in a week, other times a few hundred."
Lindberg's own restaurant, Shucks Fish House & Oyster Bar, keeps lobster bisque as a permanent menu item. This rich and creamy dish is great, but connoisseurs should keep an eye out for the New England style lobster rolls that often appear as a daily special. Cooked lobster knuckle and claw meat is pulled, tossed in a citrus mayo dressing, and placed in a toasted hoagie with shredded lettuce for a delicious sandwich that can probably compete with your traditional New England lobster pound.
If you prefer to prepare your own lobster but are balking at the price of having one flown in from hundreds of miles away, Absolutely Fresh provides live Maine lobster by the pound as well as frozen lobster meat and tails. "Lobster tails, frozen immediately after processing, have a very good texture and flavor, and do not have the mortality problem of live [lobsters]. The bulk of lobster business in the area, as well as the nation, is in frozen lobster tails and frozen lobster meat," said Lindberg. "Usually the freight will be prohibitive to buy just a handful of lobsters from the East Coast via telephone or Internet, so I always recommend buying them from us," he said.
For those that want a full-service lobster meal, Omaha definitely has no shortage of chefs willing to step up to the armor plate. I caught Chef Cedric Fichepain in the middle of a recent "Lobster & Champagne" special event at Le Voltaire in West Omaha. The event was scheduled for one day only, but the very reasonable price of $25 for a lobster meal and a glass of champagne saw such success that Fichepain extended the special for a second day and invited me into his busy kitchen to experience lobster in action. Known for his French cuisine, Fichepain talked about running the event for the first time and his preparation.
"This is a special I've wanted to do for a long time, but only recently have prices agreed," exclaimed Fichepain, while preparing to drop yet another lobster into a boiling pot. "We serve the lobster traditional with sides of rice and veggies along with a glass of Brut champagne. This is different and more popular than European style Langusta, which is generally cooked, cooled and served with mayo," he said.
Wandering into the kitchen to catch his father at work, six-year-old Julien Fichepain was quickly presented a live lobster, straight from a box of seaweed. Much like I did in my youth, he curiously eyed the lobster and kept a respectful distance—the beginning of another long love affair with lobster.
Experienced lobster lovers would be well advised to keep an eye on Le Voltaire for this event in the future and be sure to book in advance. Like many of Le Voltaire's special events, this one fills up quickly.
Downtown Omaha is also no stranger to great lobster venues, although most hide their reputation behind a great steak. Sullivan's delivers a wonderful fresh Maine lobster in a unique atmosphere that has been lauded as one of the metro's best places to have a business dinner. Don't be afraid to go for non-business reasons, though, because the atmosphere is great for wooing a date or for special occasions with friends. Those booking reservations for their lobster dinner at Sullivan's should request to be seated down the escalator in the wine cellar where they will be able to view Sullivan's extensive and award-winning wine collection in full view as they eat.
General Manager Hal LaPonsie describes the lobster preparation and a few good wines: "Our Australian cold-water lobster tails are deshelled tableside and served with drawn butter. The Maine lobster is split down the middle, basted in heavy cream and broiled. Both are great with the Newton Chardonnay 2005 or white burgundy like the Chassagne-Montrachet, Joseph Drouhin 2004." For the not-so-faint of wallet, this author recommends dessert of Louis XIII Cognac in a snifter and a fine cigar from Sullivan's humidor enjoyed on the patio.
For the ultimate in local lobster, the Paxton Chophouse has to take my Golden Claw Award. Executive Chef Zeb Rogers and Sous Chef Brian Langbehn do things with lobster I've never heard of but desperately want to try.
"We keep a live lobster tank here with fresh Maine lobster flown in two to three times weekly and we do go through quite a bit of it in many variations," Rogers said. "While classic style is the most popular, we do a variation where we cut the lobster in half, fill it with Maryland crab and broil it," he said. "Some other dishes we are known for include lobster Thermidor, lobster pot pies and even lobster corndogs. We are also willing to deshell lobsters by request for those that aren't ready to get their hands dirty," he said
The Paxton encourages diners to try lobster by offering it as a regular Friday special for only $19.95 when added to two entrees as a centerpiece. This is a great way for lobster newbies to split a lobster and try it for the first time while enjoying an entrée they might be more comfortable with, such as one of the Paxton's flavorful aged steaks.
Lobster cannot be mentioned without bringing up a staple of lobster dining: Red Lobster. While this national chain is not going to wow you with amazing wine selections or exotic variations of lobster preparation, there is something to be said for their consistency of flavor and pricing as well as a family-friendly atmosphere. This is another great place for a first-timer to crack some claw and earn their lobster bib.
Wherever you decide to enjoy that next land-locked lobster dinner, remember not to wave the lobster around like a toy or chase small children around with it unless you are at home.
Matt Ronco
Born to Marine parents in Camp Lejune, North Carolina in 1981, Ronco spent most of his younger years growing up in Bangor, Maine, just two hours from the ocean. His geographic location allowed him to experience a variety of seafood, with lobster and scallops topping his list of desired ocean fodder. Matt began his food and beverage career at the Crossroads Garden Café while attending middle school. In high school, he served as a busboy and dishwasher at Sushi Ichiban, formerly located at 84th and Dodge streets.
---
Only registered users can comment.