More Bang for Your Buck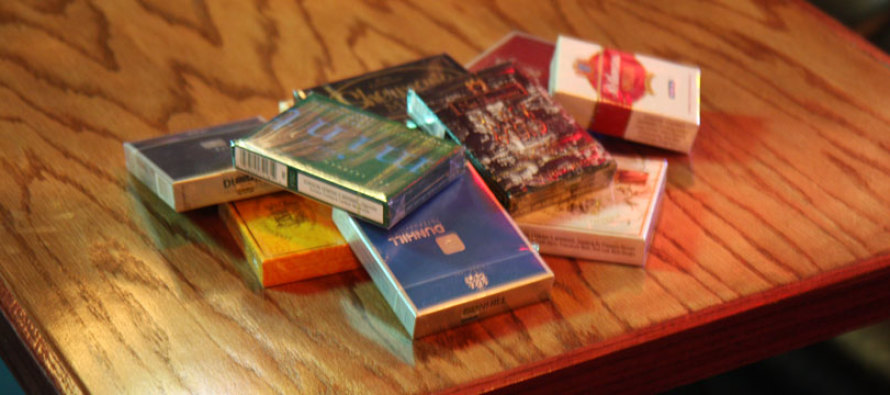 With people these days moving away from the generic and cozying up to the unique with just about all consumer products, I thought that I'd deviate from my normal topic of cigars and try to educate the public on another major smoke shop product: luxury cigarettes. I realize that most of the readers of this publication probably aren't smokers, and I am by no means suggesting you start, (that shit can kill you for hell's sake) but I think that both smokers and non-smokers might find this article interesting.
You've probably bought some craft beer recently. You might have tried a new wine varietal that you've never heard of. If you're reading this magazine, you most likely have quite a few different styles of cuisine that you enjoy. So why, if you're a smoker, would you continue to just burn down the same old heaters every day? There's quite a variety of great options in the premium/import cigarette category, and by variety, I don't mean Wild Horse and USA Golds.
Furthermore, vaping – the use of electronic cigarettes and other similar devices – seems to be seeing a surge among smokers all over the world. Popular sites such as this one: https://slickvapes.com/collections/dr-dabber offer vapers a variety of different ways to enjoy nicotine in a unique and are always coming up with ways to stay ahead of the trend by providing products to suit the market. Those who make the various vaping products know that it is a particularly lucrative industry at the minute. From empty vape cartridges to coils, to the actual "juice" that goes into it and gets vaporized, there are new products appearing on the market at a fairly rapid rate. The vape has become so popular recently due to a number of factors. Not only can users control their nicotine intake, they can also reduce the harmful effects for people around them. For people thinking of switching to vaping, they'll probably need to research different brands and equipment, but it's important that they don't forget to purchase a reliable atomizer, such as one of these DTL tanks for example.
Now I have to tell you that we smokers here in America used to have it much better. When I started my career as a death merchant at the tender age of 18 you had approximately 100-150 brands and 350-400 different packs of premium/import smokes available to the retailer. 10 years later there are around 25-35 brands and 100-150 packs to choose from. This is the evil by product of the Master Settlement Agreement. You might remember that this bill passed in 1998 and the "Big tobacco Companies" had to pay billions of dollars to the states, ostensibly to pay for healthcare tied to smoking related diseases. The law made all cigarettes from tobacco companies that don't pay large sums of money into the MSA illegal to sell, essentially forming a monopoly for Phillip Morris, R.J. Reynolds, and a few other big players. For most foreign tobacco companies this new law made it unprofitable to sell their cigarettes in the U.S. So over the last 10 years some of the best and most desirable import smokes have become no longer available including: Gauloise (France), George Karelias (Greece), Majors (Ireland), Turkish Specials (Netherlands, go figure), and John Player Specials (England). Next time you're at a duty free shop in the airport, pick up one of these brands and thumb your nose at the tax man because I doubt they're coming back any time soon.
Now that I've mentioned some of what we've lost I can tell you about all that we still have. Dunhills, Nat Sherman's, Djarum, Botchafter, and Springwater – among others. Dunhills have been a staple for quite a long time with their classic packaging and smooth taste. Originally manufactured in Great Brittian, Dunhills are made with all Virginia tobacco and less additives than most grits. Dunhills continue to be seen as the flag bearer for luxury cigarettes throughout the world. When I was driving fuel trucks into Iraq in 2004 we used to stop at a Kuwaiti truck stop near the border. I could buy Cartons of Dunhill Lights for $15. Not bad when the army was charging us $30 for Marlboros.
Von Eicken is lesser known manufacturer from Germany that makes the excellent aromatic cigarette brands Springwater, Shepheard's Hotel, and Botschafter. The original Springwater cigarettes have a wonderful vanilla pipe tobacco aroma while being exceptionally smooth. They also make a fine cherry version of the Springwaters. Shepheard's Hotels are named after a historic hotel in Cairo, Egypt. They have a fragrant taste and smell that's hard to put your finger on and are great for occasional smoking. Botschafters come in both original and a vanilla flavor. The originals are a favorite of mine. While I'm not positive, I would assume that these cigarettes are made predominately with a Turkish blend of tobacco. This imparts an earthy smoothness that Turkish tobacco is known for.
For those of you who've ever smoked or heard of American Spirits, Nat Sherman is their higher quality predecessor. Nat Sherman began as a cigar manufacturer based out of New York City in 1930 and broke into the cigarette business after a loyal customer complained that they would not allow cigar smoking on commercial airlines. Since then they have made the cream of the crop in 100% additive-free natural tobacco cigarettes. Here at Jake's Cigars we carry 18 different types of Nat Shermans. Most come in a queen size which is slightly thinner and longer than the traditional cigarette. That's not to say these are just for the gals. As it clearly used to state on the box of a type called Cigarettellos, "FOR MEN AND WOMEN". With other tag lines such as "The World's Most Elegant Cigarette" you can't go wrong with a pack of "Natty's." My favorite of the bunch would be their Hint of Mints. They are a brown papered cigarette that has mint crystals in the filter that give it a nice after dinner chocolate mint sort of flavor. Remember that Shermans are 100% additive free meaning that nothing, including flavorings, is bastardizing your tobacco. The other bonus of smoking Nat's? They last a lot longer than commercial cigs. Because they don't treat their tobacco they have to put more into each cigarette to fill it up. Meaning you're getting more smoke for your buck and you can prolong heading back to your cubicle for at least 15-20 minutes.
So what I'm really trying to say is that if you've ever ordered a Sierra Nevada, a Fat Tire, or a Chilean Carmenere instead of a Bud Light or California Cab, then next time you're out of heaters, stop by a good smoke shop and treat yourself to something tastier. While you might pay a little more for your pleasure, remember, life's too short to smoke bad cigarettes.

John Larkin
John Larkin is co-owner of Jake's Cigars & Spirits in both Omaha and Lincoln. He's been smoking and selling cigars for close to 15 years, having begun his career as a tobacconist right out of high school in Salt Lake City. John moved to Lincoln in 2002 to run Jake's for longtime friend Alex Roskelley. After serving a tour in Iraq with the Army Reserve. he came home and bought into the original Jake's in downtown Lincoln. In August 2006 John and Alex opened a new shop in downtown Benson, where he now resides with his wife. John spends much of his time in business meetings (golfing), smoking cigars, and questing after the best beers bourbons and wines he can get his hands on.
---
Only registered users can comment.