Omaha Standard: Upstream Root Beer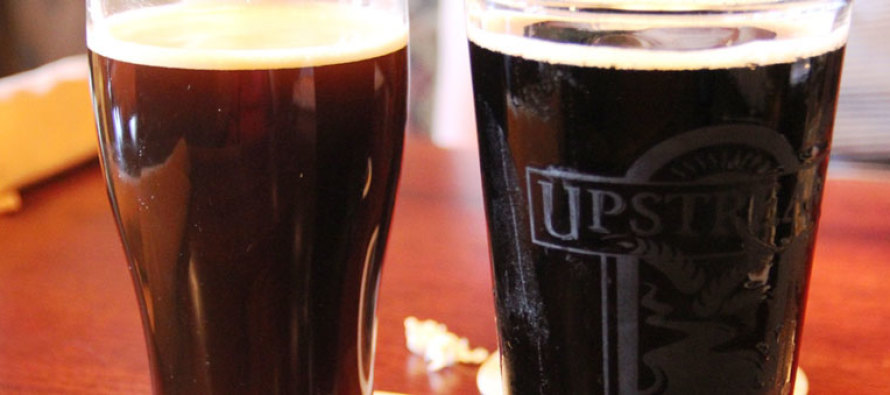 There are only a few places in the world that get to lay claim to being the spiritual home of an entire beverage segment. Kentucky has bourbon, France has wine, Atlanta has Coca-Cola—heck, Hastings even has Kool-Aid. We here in Eastern Nebraska and Western Iowa, however, are decidedly dry in our association to a given beverage. I would like to place an elixir into nomination for that role: Upstream Brewing Company's Root Beer. I have no idea the magical chemistry required to concoct this brew, but I know this—it contains love. Therefore, it must be shared with love.
I shared my first sip of an Upstream Root Beer from the frosty glass belonging to my mother. I was trying to be cool and drink a more spirited beer during a lunch we had there several years ago. I was a fool. It was midday, warm, we were beat down from jockying a stroller through the farmer's market. We ducked into UBC to have lunch and talk about the rest of our day. She twinkled with excitement when the server reminded her that they had "housemade root beer" and I knowingly nodded along as I ordered a Dundee 90 Schilling.
It was almost noon on a Saturday. My beer was delicious, if a bit alcoholic for the hot day. I was definitely sipping. My mom however, took a gulp of her root beer so big that she could have placed in a fraternity chugging contest. I had never witnessed such consumptive prowess from my mother. I had to try it. I asked for a taste. She sneered! I knew that it had to be good; my mom is the consummate sharer. So if she was willing to be a little over-possessive, it had to be delicious. That, or she just hates that it is not refilled for free.
She reluctantly slid her half-gone glass across the table. I took a thoughtful double-sip, relaxed, let the sweet and heady flavors swirl into a tingly bitter finish, and then slammed the rest of it like I was the anchorman in the chug boat race.
I bought the next round, and assured my mother that I was sorry for making her wait for another taste. The next round arrived. We raised our glasses to salute this newly discovered gem of artisan craftsmanship, this young yet stalwart member of the family of products so valiantly setting, then upholding, the Omaha Standard.

Brian O'Malley
Brian O'Malley is a chef instructor at Metropolitan Community College's Institute for the Culinary Arts. A graduate from New England Culinary Institute and a member of the American Culinary Federation, O'Malley worked as the chef/owner of Spread. He was a manager/instructor at the New England Culinary Institute, head chef at Vanilia in Santorini, Greece, and BackNine Grille, assistant food and beverage manager at the Champion's Club and opening chef at BOJO. Brian O'Malley can usually be found in MCC's kitchens, teaching, creating works of culinary genius or debating the perils of out of season tomatoes.
---
Only registered users can comment.