Rock, Paper, 'Dinermite' Eating On the Road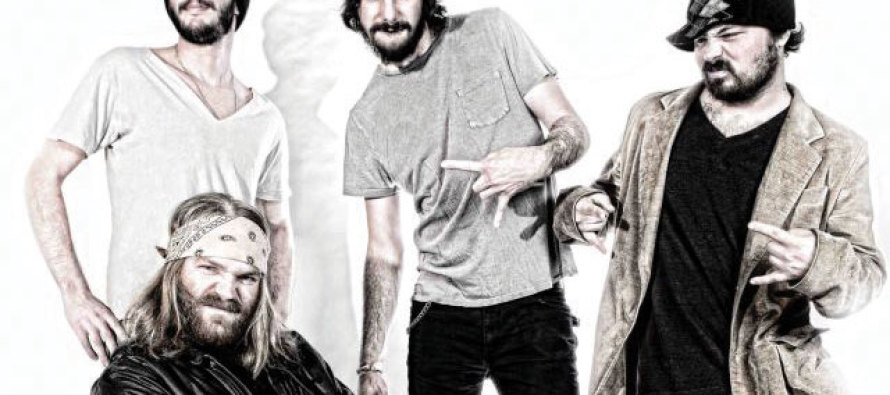 Editor's Note: Omaha has developed a reputation as a 'music town' around the nation so we figured a good way to visit some of the food our community encounters was to talk to one of the finer bands in Omaha as they hit the road. Scott Zrust, drummer for 'Rock, Paper, Dynamite' shows us some of the food their band ate on the road. Besides being a kick-ass drummer, Scott has a Culinary Arts degree from Johnson & Wales and has been cooking for 14 years professionally.
A tour of cheap eats, as seen through the eyes of Omaha band 'Rock, Paper, Dynamite', reveals that life on the road for touring bands may not always be as glamorous as you may think. However, aside from our late night, fast food pit stops and gas station grub, we did find a few tasty gems.
You might think that when the entire town shows up to see you play, that your food budget would be limitless but, I can tell you with some authority that is not the case in the highly populated metropolis of Imogene, IA (population 37). Fortunately for us, our good friend and fan, 'Nurse' Abbey, has such wonderful parents; biscuits and gravy, bacon, eggs, freshly baked cinnamon rolls and cookies, and plenty of fluids rehydrated our impoverished bodies after our show. The lesson? Sometimes you can score some great food by finding a sweet place to crash.
Our next stop was in Kansas City. And, as everyone must know, when you're in Kansas City you eat BBQ. BBQ at its absolute finest can be found in a gas station in a place called Oklahoma Joes. I've never wanted to cry after eating a meal until I sunk my teeth in a 'Z-Man Sandwich.' It was a heaping pile of smoked beef brisket, smoked provolone and topped with two onion rings on a toasted Kaiser bun. I can't think of a better way to describe how amazing this sandwich is other than abso-damn-lutely delicious, and the fries are no joke either. When in Kansas City, eat here.
Coming south to Tulsa brought us to a specialty sandwich shop called Dilly Deli. We all agreed that there wasn't anything special happening here. Joe had the 'Cynn 2.0' which was roast beef, provolone, an onion ring and horseradish aioli. The beef was dry, the cheese was crusty, and the bread cut my mouth 'real-proper-like.' Moving on.
Zombie Burger in Des Moines, IA was recommended to us by several people and I can now understand why. Other than having really cool zombie décor and an extensive zombie-themed burger menu, there is also a fantastic beer selection that is very reasonably priced, especially considering that there is a good amount of Belgian beer on it. I ordered fried cheese curds and the Trailer Trash Zombie Burger simply because it sounded like the 'fattest' thing on the menu. It was house ground beef, American cheese, fried pickle, chicken-fried bacon, cheese curds and ranch and it was as good as it sounds. It did the trick and I was disappointed I couldn't force myself to gulp down one of their 18 milkshakes that are on the menu. If you find yourself in Des Moines, Zombie Burger has RPD's seal of approval.
We've been to Topeka a few times and this time around we gave the Celtic Fox a try, mostly because we were playing a show there that night. The majority of us ordered the Rueben Sandwich with fries. For as busy as the place was, our food was delivered quickly. This was one of the better Ruebens I've tried and I've had a few. I'm pretty sure the fries weren't house-cut, but they were seasoned well and cooked to crispy perfection. If you are in Topeka, it's worth a try. When in Omaha, our favorite place for a Rueben is Crescent Moon.
A short 12-hour drive south landed us in Fort Worth, TX. We checked into our hotel just in time for breakfast. We smashed a couple of Texas-shaped waffles and slept for the next six hours before heading to Azle, TX for our show at the Nos Bar. When we woke up, we headed to San Antonio for the SXSW Spillover BBQ Music Festival at the Night Rocker. I was expecting higher-quality BBQ since it was delivered to your plate directly from the smoker. But, even with weak results, we were all famished so we all went back for seconds and I suppose that says something. The house-made beef sausage was tasty but so greasy I had trouble wolfing down even one. The slow roasted flank steak wasn't cooked correctly for the cut of meat and ended up tasting and chewing more like BBQ meat-flavored bubble gum. On the plus side, the slow roasted chicken was tender and delicious.
Our final stop on the tour was Austin, TX where we played at Lambert's BBQ which is a sister restaurant of the famous Stubbs BBQ and live music venue. The food smelled like heaven but was somewhat pricey for our little-to-no food budget, which can often happen at the end of a tour. We strolled down the legendary Sixth Street in Austin and stopped for a slice of pie at Sixth Street Pizza. $5 for a giant slice of 'za and a soda left our wallets and bellies happy. Before heading home the next morning, we stopped to stuff our gullets at La Mexicana Bakery, just outside of Downtown Austin. We each ordered an array of tacos; linguae, barbacoa, and al pastor filled our table. These were (and I hate saying it because South Omaha has some pretty amazing Mexican restaurants) the best tacos I've ever had. House-made tortillas, fresh cilantro, onion, pickled jalapeno and a squeeze of lime was all that was needed for us to unbuckle our belts and order more – simply delicious.
My final thoughts about eating on the road on a broke-rock-band-budget: No matter how much money you have in your pocket, there is always a way to find cheap and satisfying food in almost every city. Unfortunately there are also many eateries that you are very disappointed you never got to try, but there's always next tour.
---
---
Related Articles
Valentine's Day is almost here, the day to celebrate your love. It's a wonderful thought to cook a gourmet meal,
Omaha is a city with more than its share of bars and dining establishments. There's something to accommodate every taste
Having grown up in a small town in Northern Minnesota, I always remember going out to eat as getting in
Only registered users can comment.