Seasonal Wines & Outdoor Cooking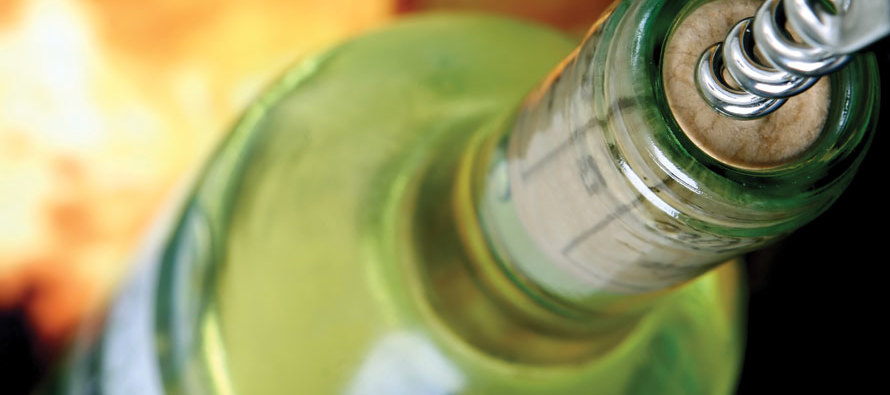 There is nothing better than sipping a cool refreshing glass of German Riesling while lounging about on a hot summer day. Indeed, light bodied white wines are the beverages of choice on such occasions.
The gentle sweetness and clean, fresh acidity of a Riesling Kabinett are uplifting and energizing. What's more, you are not likely to get tipsy, as the alcohol content is low, usually between 7-10%. This is in contrast to the alcohol content of most red wines, which range between 12 -16%.
Tart, light-bodied wines, such as Riesling, Pinot Grigio, Chablis, and Pinot Blanc are great accompaniments for cheeses, hors d'oeuvres, or mid-afternoon snacks. Their light unencumbered character and flavor supporting acidity are ideal for such fare. Nonetheless, there is a definite place for big, rich reds. For most outdoor cooking, especially barbecuing, big hearty red wines have a clear-cut place. Indeed, they are the perfect match for most barbecue dishes. If the meat is cooked (barbecued to be exact) in custom stone fire pits, on a hot summer day, it tends to bring out the flavors more! Ah! The simple joys of life!
However, there seems to be a little bit of confusion in regards to the terms grilling and barbecuing, so let's first start by defining our terms. Barbecuing is a cooking method that employs indirect heat and smoke from wood or charcoal in a barbecue pit, smoker, or stone fire pit. It is a method for slow cooking and smoking of tough cuts of meats. This process also usually entails steeping the meat in a rich flavorful marinade prior to cooking which further tenderizes the meat and enhances its flavors.
Grilling is used for cooking hamburgers, sausages, and more tender cuts of meats, as well as fish and vegetables. In this method the food product is placed on a grill directly over the heat. The cooking time is quicker and the item is stamped with characteristic grill marks. For example, you would employ grilling when cooking a filet of beef, but for a brisket, the method of choice would be barbecuing. If you are trying to decide which way to do your outside cooking, its crucial to know how to do it safely. Check out these outdoor grilling safety tips! It could save you from burning food and causing chaos.
Both of these cooking methods will enhance and fortify food products making them heavier and richer. The full-bodied nature of such foods call for a similar styled wine. Wines such as Zinfandel, Cabernet Sauvignon, Syrah, and wines from the Rhône Valley (such as Châteauneuf du Pape, Côtes du Rhône) might seem a little heavy for summer, but in the environment of such rich foods, certainly have their place. Many of these wines have smoky, peppery, meaty flavors that pair seamlessly with similar flavors in the food.
Malbec, a grape variety from Argentina, is beginning to become popular in this country. It is a food friendly wine that is a great match for barbecue, but also works well with grilled meats. Beef reigns supreme in Argentina. The classic method of cooking beef is called asado, which translates to barbecue. The meat is lightly seasoned and slow cooked over an open pit fire fueled with wood. In addition to a complex variety of fruity savors, the wine has good flavor supporting acidity and a smoky, meaty flavor which reflects back to similar flavors in the meat.
Barbecuing usually imparts a more casual ambiance than grilling and calls for less formal wines, especially when such foods are served in a "picnic" styled environment. However, the matching wine also depends on the character of the food product. Barbecued chicken or ribs are informal foods; however, barbecued shrimp can be served in more sophisticated surroundings.
You certainly would not consider grilled hamburgers or hotdogs formal, but a grilled filet mignon can sit with ease at a formal dinner party and demands high quality rich wines such as Cabernet Sauvignon or red Bordeaux.
Although barbecued fish and shellfish are cooked by the classic slow indirect method, cooking time is much shorter than for meats. These items have more smoke and a bit more flavor than grilled seafood. White wines are the best options for smoked seafood. Try these items with a good Brut Champagne, New Zealand Sauvignon Blanc, Pinot Grigio, or Riesling Kabinett. If there is any accompanying sweetness, such as a sweet fruity barbecue sauce, a German Riesling is a wonderful choice.
Pulled pork, barbecued chicken, brisket, and ribs by their very nature are informal. Bring on the beer, or less formal wines such as Zinfandel, Australian Shiraz, Malbec, Beaujolais, or Côtes-du-Rhône. That is not to say that Cabernet or Bordeaux would not match with such foods; however, the finer nuances that these up-scaled wines have would be somewhat obfuscated by the powerful flavors in the food.
There is little doubt that foods grilled or barbecued have their flavor enhanced by the cooking process. They are more flavorful than foods cooked in the oven or in a fry pan and require similar styled wines: rich, flavorful, and full-bodied.
Summer is suddenly upon us, and my mouth is watering for some untroubled outdoor cooking. There is nothing better than the alluring flavors of dishes prepared from the grill and barbe. Nevertheless, these cooking methods are a year-long attraction and never go out of style. It's just a little more challenging to fire up the coals on a cold winter day.

John Fischer
Dr. John Fischer is a member and two-time president of the Omaha Branch of the International Wine & Food Society, past director of the Nebraska chapter of LADV, and the founding member of the Council Bluffs Branch of the International Wine & Food Society. He teaches a course on matching wine with food at the Institute for the Culinary Arts in Omaha and is the author of the books, "The Evaluation of Wine – A Comprehensive Guide to the Art of Wine Tasting" and "Wine and Food – 101."
---
---
Only registered users can comment.