Spring BBQ Review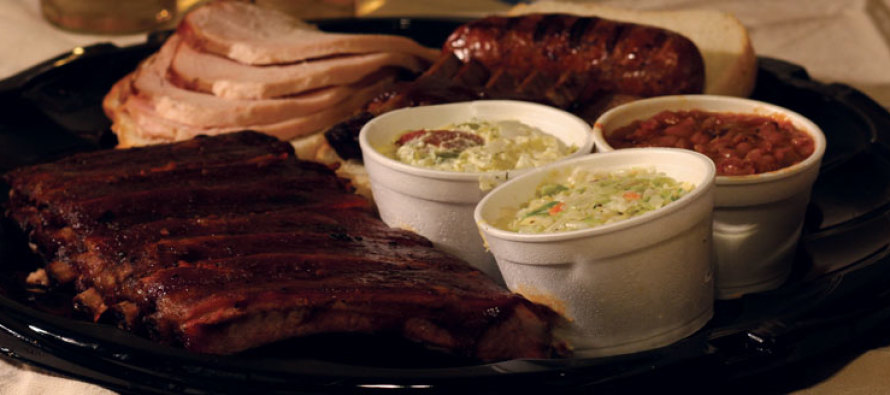 Considering that the summer is nearly upon us and nothing speaks to the summer like the smell of pellets burning, especially the different varieties from places like Bear Mountain BBQ, and taste of kick ass barbecue. So, we thought the next food review for Food & Spirits Magazine should have at least something to do with barbecue and the awsometastic food that goes with it.
So we changed up our format a little bit, invited as many barbecue restaurants that we could think of from around town to participate, bought a load of paper and plastic utensils and got down to work.
And things got out of hand.
Looking back, I probably should have planned a little better and taken into consideration the enormous amount of food we were going to receive and invited all my friends and half of China to participate in the review. The initial thought was to have about ten people on hand and get ribs, brisket, pork and sides from any restaurant that wanted to be a part of the review. We hoped for the most comprehensive barbecue review that Omaha had ever experienced – each and every item, from each and every location reviewed and rated for the pleasure of our readers. What we got was one worn out publisher, a bunch reviewers stuffed to the gills, a lot of left over food and some items that didn't even get tasted by everyone (because they would have exploded if they tried).
And a very, very messy kitchen.
Realizing that there was no way the reviewers would be able to eat all the food that was available, we had each participant at least try a rib from every location. Beyond that, it was a free for all with waistlines expanding everywhere you looked and food being consumed in mass quantities – just like a real barbecue.
The offer was made to nearly every barbecue place in town to be included in the review – some elected not to participate and some we couldn't get a hold of. The restaurants that were included were Bones, Brew and BBQ, Big Horn Mountain Barbecue, Doc and Eddie's BBQ, Famous Dave's, Hartland Bar-b-que, Harkert's BBQ, Jim's Rib Haven, McKenna's Blues, Booze & BBQ, Red Zone BBQ, and Skeets Ribs and Chicken.
As in past reviews, we invited a wide spectrum of eaters representing different levels of the culinary food chain, to give us their take in a round-table sort of discussion. We did this because, while we also wanted the high-end and very-knowledgeable food consumer to be represented, we wanted the more average or general eater to have a place at the table and in an atmosphere that was close to the same way we all eat with friends and family. Our hope is that the different perspectives provide a more-rounded review of the experience while also giving you, the reader, a chance to see what someone who might be similar in their tastes said about their meal. With that in mind here are some of your reviewers.
Bill MacKenzie: Bill is better known to many in Omaha BBQ circles as "BBQ Bill." For the past 15 years he has been a member of the Greater Omaha Barbeque Society (GOBS), including serving a recent stint as president. BBQ has been one of Bill's food passions since his college days in the 1980s. As a certified BBQ Judge under rules of the Kansas City BBQ Society, Bill has judged sanctioned barbeque contests in 5 states.
Brian O'Malley: Brian is a chef-instructor at the Institute for the Culinary Arts at Metropolitan Community College. As President of the Heartland Chapter of the American Culinary Federation, Coach of the Junior Culinary Competition Team, Board Member of the Nebraska Food Cooperative and the Nebraska Sustainable Agriculture Society, Father of two, and Muse Extraordinaire for Sage student bistro, O'Malley spreads his passion for local and sustainable cuisine liberally throughout the community.
David Ahlquist: David Ahlquist has lived in the East, South and West in between stints in his native Omaha. He imagines himself a man of many talents and interests, but currently spends his time working as a computer programmer and watching television. Dining out, he tends towards the familiar – a filet, shrimp or the unadorned sandwich (meat, cheese and bread please.) His favorite food is the Philly cheesesteak from Doc's in Atlanta. David's brief vegetarian experiment ended when he realized there wasn't a very exciting menu for someone who dislikes tomatoes, mushrooms and squashes. Soups, frozen entrees, Almond butter and fruit spread on toast make up the bulk of his diet. He occasionally envisions a lifestyle change involving healthier eating with fresh foods prepared in interesting fashions. These daydreams inevitably end with the spoiled food from his impulsive grocery shopping spree in the garbage and an ever increasing collection of exotic, unopened condiments and spices in the cupboard.
Derek (aka Snekse@GastronomicFightClub.com): Derek was a picky eater as a kid. Oddly, he always liked to cook and fancied himself a chef, but his list of acceptable ingredients was fairly short. Meeting the woman he would marry, and moving to California changed all of that. His wife was a budding foodie when he met her and they explored the nooks and crannies of the food world together. Doing so forced him to learn to appreciate all tastes and textures regardless of his initial impression. He's gone from a person who dislikes fish so much he wouldn't even eat a fish stick to a person who thinks there is no better way to eat fish than a gleaming plate of sashimi. Because food for Derek is about experiencing new things, he's been drawn primarily to fine dining and regional cuisines. Both have great potential for challenging him with dishes he never would have conceived on his own. As for that kid who aspired to be a chef, he's contentedly abandoned that dream. He still cooks occasionally, though not nearly as often as he'd like – but when he does cook, he cooks with reckless abandon.
1 – Top Ribs
Ribs were the only item that everyone was able to try. We asked the reviewers to rank the ribs on a scale on 1-10 (with 10 being the highest). Hartland was the only restaurant to receive perfect '10' scores (from three separate people) while Jim's, McKenna's and Harkert's all received scores in the nines from different reviewers.
Here are our top finishers and their scores for ribs.
Hartland – 9.3
Jim's Rib Haven – 7.4
Skeets – 6.4
McKenna's – 6.4
Harkert's – 6
Famous Dave's – 6
2 – Top Finishers for Brisket and Pork
Although all the reviewers weren't able to try brisket and pork from every restaurant, there were some favorites that stood out (in no particular order)
Brisket
Bones, Brew and BBQ
Doc and Eddies
Famous Dave's
Harkert's
Hartland
Pork
Big Horn Mountain
Hartland
Harkert's
McKenna's
Red Zone
3 – Favorite Unique Items
We also told places that, if they felt they had an item that was fairly unique to their restaurant, they were welcome to send it along. We got some great entries and these were our favorites (in no particular order)
Bones, Brew and BBQ – BBQ Spaghetti
Doc and Eddies – Sausage Link
Harkert's – Carolina Pork Sandwich
Harkert's – BBQ Burrito
Red Zone – Turkey Drum Stick
4 – Favorite Side Dishes
What's barbecue without some great sides or fixins? We had a ton of them and the reviewers picked these as their favorites (in no particular order)
Big Horn Mountain BBQ – Coleslaw, Baked Beans
Bones, Brew and BBQ – Baked Beans, BBQ Spaghetti, Cornbread
Doc and Eddies – Coleslaw, Baked Beans, Potato Salad, Cornbread
Famous Dave's – Corn Bread, Baked Beans
Harkert's – Coleslaw, Cornbread, Macaroni Salad, Potato Salad
Hartland – Cucumbers, Green Beans
Jim's Rib Haven – Potato Salad, Baked Beans
McKenna's – Red Cabbage Slaw, Jalapeno Cornbread, Baby Red Potato Salad
Red Zone – Cheesy Potatoes, Coleslaw
Skeets – Macaroni Salad, Potato Salad
5 – Favorite Desserts
While their weren't a ton of desserts available these two were the ones people made room for after a huge meal (in no particular order)
Red Zone – Apple Crisp
Jim's Rib Haven – Peach Cobbler
So there you have it. While not as comprehensive as we would have liked, it's still a fairly robust review of a lot of the barbecue places in town. Next year we'll do this again and try to open it up to more people and more restaurants. This should get you through your summer barbecue fix though.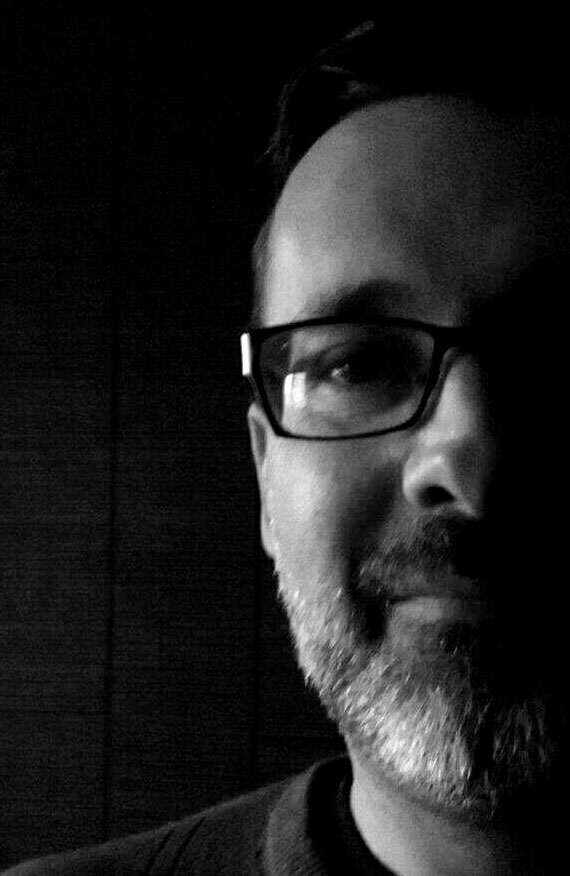 Erik Totten
Erik Totten is the founder and publisher of Food & Spirits Magazine in Omaha, Nebraska. He's worked in publications for the last 21 years at all levels. As well as serving as a writer, designer, photographer and editor, he's also founded two publications which have allowed him to grow into being a publisher, which he would describe as his 'true calling'.
---
Only registered users can comment.