Still We Rise: Celebrating Omaha's Food Scene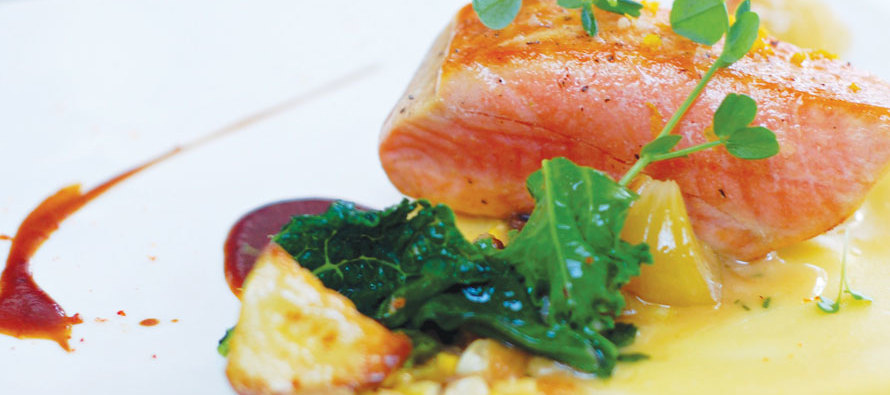 Creativity is an act of problem solving, defined by how well the immutable constraints of the problem are met, mitigated or massaged. Innovation – real innovation – is different; it is the ability to change the parameters altogether.
Omaha's restaurant scene has always been creative. Chefs, restaurateurs, servers, hosts and busboys have labored tirelessly to solve the problems that have been thrown at them within the means they were given to address them. In the last generation or so – since Mercer's sprinkled their eau de vie like pixie dust all about the intersection at 11th and Howard – there has been a palpable renaissance of dining innovation here in River City.
Disclaimer: My birth brought me to Omaha a good five years AFTER this middle-of-the-night-pagan-ritual that I have imagined into existence for storytelling purposes. I am not a historian, I have done no research – except for asking Chef Mar (Janet, not Joel, he is Mahr) – what she thought about the Omaha Food Scene since her arrival in the late 90s. I will make claims that have little to no resonance in the physical world. If you are put off by such things, perhaps now would be a good time to flip over to Ann Summers' brilliant and factual article while enjoying a pickle.
Early Labor
My first contribution to the Omaha food scene was not a brilliant one. It was 1988 and I was a "busboy" at the Blue Fox, the ridiculously well-polished haven of Continental Cuisine nestled in the evening shadow of the Bronco's on 120th. My very first night was also the night of the Marian High School Prom. I would say that I was "smitten" by all the pretty girls in their dresses, but Vivian would probably remember it as "distracted."
Case in Point: my first 12 (make that 11) glasses of water to be delivered to the thirsty table of beautiful ladies – and their dorky dates – were promptly poured down one of their dresses. One was in my hand and I was leaning over to deliver it, but I got a bit "distracted" and the remaining 11 on the tray followed my aim. I was 13 years old.
A lot has changed, but a lot remains the same. Those were my introductory days; I didn't know what food we served; I barely understood the dance of service that I had a part in. I just labored on. So did Omaha, but somewhere in the midst of that labor, a gentle and genuine maturity emerged. Me? I'm still just laboring.
Beyond Laboring
Maturity is a slippery ability to make decisions against the prescribed expectations for your behavior in full awareness of the consequences. For our scene to have "matured," many different, divergent, and downright disagreeable streams of operation and consciousness have had to converge. It has been tumultuous for sure, and the ride isn't over.
The great upheavals in our community will continue. The roads we travel on the other side of each upheaval will be less straight and less comfortable; Perhaps more richly scenic and interesting, but frightening nonetheless. Maturity will see us through. Our own willingness to be brave in the face of fear will both increase the certainty that change will come, and that we will be able to manage the path on the other side of it.
There have been some pioneers. The intent of the remainder of this composition will be to recognize those operations and individuals whose creativity, labor, maturity and innovation have lead us here. I intend it as a thank you – from those of us more inclined to spill water down the front of a cute girl's dress – to those of you that are there to pick us up on the other side to teach us anew how to walk back to the same table and finish the night.
20 of the Most Important Innovators, Innovations and Contributions in the History of My Awareness of the Omaha Restaurant and Food Scene in No Particular Order – and with Apologies
Haukur ?lafsson (otherwise known as Jim ) of H. Olafsson International Specialty Foods
Without this crazy Icelander, our access to Foie Gras, amazing chocolate, magret duck breasts, and all other manner of unique, rare, exotic or foreign products would be seriously diminished. Jim started out of his house as a relative unknown; pedaling caviar, truffles and smoked salmon to restaurants in the old market in 1996. Today, there isn't a receiving clerk in the city that doesn't know Jim's phone number by heart – 402-342-2770, by the way. ?PHOTO: Jim at Olaffson with a tin of caviar and a lobe of foie
The Nebraska Food Cooperative
The NFC has deepened and broadened access to local food with integrity perhaps more than any other single enterprise. A real co-operative between producers and consumers, 'the co-op,' which defines itself as "Nebraska's online year-round farmers' market and food distribution service," has provided a lasting and innovative marketplace for local food. www.nebraskafood.org
Making a huge financial bet on the Old Market's economic staying power – perhaps the biggest since the Mercer's – Upstream Brewing Company ushered in an era of absolute pandemonium in the Market. They believed in 'big time' and beer in a way that Omaha had never seen. The transformation of the Old Firehouse Dinner Theatre was magnificent. The food was good and hearty, the scene was fun. The beer however, was the real transformation. So unique, delicious AND local – most of Omaha spent 1996-1998 on a perpetual tasting flight. ?PHOTO: the beer tanks at upstream downtown
This is a long and oft-retold story in the Old Market Encounter, so no need to rehash the whole thing here. But as an indicator, I was with Chef Kulik the other day discussing the new opportunity that is being taken in the old French Cafà© space and I asked, "how much remodeling do you think you'll need to undertake before you're ready to open… how LONG till the world gets a shot at this new place?" Paul responds lovingly, "I live on 'Planet Mercer' – time is not consequential." Quite beautiful.?PHOTO: Aerial view of the old market
While the market in the Old Market seems to have been around forever, it was really brought back to life in only 1994 after a 30-year hiatus. That's right, before 1994 there was almost no access to local fresh produce in the city, aside from the random farm truck here or there. In 2005, the food and health sage Michael Braunstein brought the Village Pointe Farmers Market to life. This doubled the numbers of markets in the metro. Since then, depending on who does the counting and where you draw the line, we have added 3-9 more. ?PHOTO: Crowded Market Picture
The birth of an artisan craftsman of the caliber of George Johnson of Cody, Nebraska's George Paul Vinegar is usually directly related to their actual birth. I mean, people that make world-class, hand-crafted, à¼ber-polished specialty foods are USUALLY the son, grandson and great-grandson of some redonkulously good craftsmen. But George brought us this silly-deliciousness as a first generation prodigy. If you have not yet tasted it, it's all over the menus at The Boiler Room and The Grey Plume. Order from www.georgepaulvinegar.com. ?PHOTO: the reader owns this photo,
Nebraska not having a solid artisan dairy and cheese scene is was a great catastrophe of agricultural evolution. Artificial selection notwithstanding, Krista Dittman of Branched Oak Farm's cow-based operation and Charuth Van Beuzekom of Dutch Girl Creamery's goat-based operation, decided to play Mendel with their respective output. The resulting cross has given Nebraskans a new, local source for Old-World style cheeses. www.farmsteadfirst.com ?PHOTO: this is off the Farmstead First Website
Restaurant "Neighborhoods"
I understand very little about commercial property development – or maybe "re"development in some of these cases. Whatever or whomever it is that causes the rise of areas like Dundee, South 24th Street, the Old Market, Aksarben Village, Legacy, Benson and Midtown Crossing; thank you. Walking out of Dario's after dinner, strolling down to the Dell for a scotch-or-two worth of spirited conversation and then wandering down the street, looking at all the amazing storefront doors of successful businesses before grabbing an order of curry fries from AFK after midnight for the trip home is to discover the Essential Omaha – for Omahans and visitors alike. ?PHOTO: Looking down mainstreet dundee
Professional Organizations
The culinary and hospitality industry is now a respectable career. It used to be considered only a hold-me-over-through-college-til-I-can-get-a-job-with-benefits option for anybody that could get out. Today, people choose to be a professional cook for life with all the pros and cons included. They do not think about having to curate dishes or pick out the right replacement Hobart slicer parts for their meat slicer. Why? Because they enjoy it. They decide to stick with it for life and turn their passions and dreams into a reality. And with that professional longevity comes the opportunity for trade organizations to make a real contribution to the members of this industry. The industry's craftsmen, managers, and owners to find real benefit from being engaged with the likes of the Omaha Restaurant Association (ORA), American Culinary Federation (ACF), National Association of Catering Executives (NACE), Chef's Collaborative, Nebraska Sustainable Agriculture Society (NSAS), etc.
People are hated, ostracized, and outcast by society at large for doing something that they love. The American Dream is supposed to be wrought through tireless days of slaving away at a job you hate. People that give themselves to the world of food love their jobs, therefore making a membership at the Country Club or Kiwanis a little less comfortable (and honestly, less likely financially). But sittin' around talking shop at an ORA social – that's like discovering a gold mine already dug in the backyard.?PHOTO: something from jenny warren maybe?
Artisan Beef, Lamb, Pork and Chicken… oh yeah, AND TROUT!!!
The world seems to be clamoring for greater connectivity and integrity in their protein sourcing. Omaha's restaurant scene is perhaps a bit behind in both supply and demand compared to the rest of the country. It's sad given that we are in the heart of cattle country, however, the availability of artisan meats like heritage pork, grass fed beef, free-range chicken, cold water steelhead trout and local lamb has been on the rise in recent years. This is in no small part due to the incredible work of the individuals willing to be the change they want to see in the world.
Chicken: Dean Dvorak Plum Creek Farm, Burchard, Nebraska
Pork: Travis Dunacacke TD Niche Pork, Elk Creek, Nebraska
Lamb: Ken Thilges Bluff Valley Farms, Rulo, Nebraska
Beef: Paul Rohrbaugh of Pawnee Pride Meats and Luke Jacobsen of Range West
Trout: Jeff and Amber at Blue Valley Aquaculture, Sutton, Nebraska
Ashley Jacobsen, cheeseburger eater
As we Rise, it has been essential that we all remain constantly connected to the core definition of who we are. Ashley, a lone, random Omahan, keeps us faithful to the truth that we must still care deeply about our cheeseburgers, coconut chicken salads, Ruebens and ice cold American pilsners. An innovation that is about staying the same at the same time as you change.?PHOTO: Any random girl eating a cheeseburger at an Omaha Joint on Wednesday
The Strength of the Non-Restaurant Business Community
Some years ago, TD Ameritrade moved hundreds of people from its offices in NYC to our fair city. They brought a taste for sushi and wallets to pay for it. ConAgra Foods sponsors stuff like the food bank's annual fundraiser where a chef of international consequence comes to our city to contribute a little to all of us, and in the process takes a little of our story forth to the chef world elsewhere. Try to get a reservation in any awesome restaurant during Berkshire Hathaway weekend; shall I continue??PHOTO: None
James E. (Jim) Trebbien?Dean, Institute for the Culinary Arts at Metropolitan Community College
Before Jim, culinary education in Omaha was not connected and integrated into the community. So hyper-connected, well-respected and tenured is Trebbien now, that I would happily give $100 of my wife's money to anyone on this list that can prove that he has not positively affected their enterprise. [Legal disclaimer: that was a joke to prove a point. I can't really afford to give away my wife's money.]
Fierce Integrity – The Grey Plume
While there are quite a few restaurant/game-changers that have come on the scene in the last few years, each with a deep commitment to upholding their self-defined and crystal clear ethics, nobody landed with quite as much of a splash as "The Grey Plume." Acclaimed as the greenest restaurant in America, mentioned in James Beard and other massive award conversations, home to Culinary wà¼nderboy (now 25ish) Clayton Chapman AND downright delicious. TGP is as important to the Omaha scene today as Maxine's was a generation ago and the Crystal Tree Ballroom a generation before that – the benchmark by which other contemporary operations to measure themselves. No pressure, chef.
Dell + Stella's + M's Pub
If the contemporary operations measure themselves against The Grey Plume, everyone else should measure themselves against joints like these. Decades in business, still true to their word, and growing up every day. If new operations are the tides that raise all boats, these three are the rest of the water in the ocean. Being different by being immune, maybe better said as 'above' the trendy, hip, or fleeting (these are the places Ashley does most, but not all, of her eating – see #11).
I believe in storytelling. We are flush with good outlets and growing. Some will survive, some will change, some will fade away. One thing is for sure, the Omaha media consumer WANTS food coverage. ?I also believe in critique. Like Ray Zalinsky says, "sometimes you gotta take a [restaurant] out back, tie 'em to a tree, and bash their head in with a shovel." Not that I ever want anyone I love to bash or be bashed, but there are runts in our litter that have survived for reasons past understanding. I commend, admire, and fear those brave and educated members of media that are willing to use their keyboards like shovels.
A cured meat and cheese shop in Dundee. In a great demonstration of charcuterie karma, they are in a space formerly occupied by Subway. That last sentence is the short version of this entire article. Omaha's Rise: National Sandwich Chain Closes – Space Now to be Renovated by Locally Driven Artisan Charcuterie Shop. Welcome to 2012, or back to some other halcyon time as you prefer.
The Bread Oven might be to blame for the contemporary re-emergence of proper artisan baking in the city, but now they have companions. Le Quartier in Countryside Village and La Buvette in the Old Market, to name a few. On the Italian side, let's not forget what we get from the still-hand-crafted Orsi's and the nationally-recognized, powerfully consistent Rotella's. Both use the best rmachinery ovens for their products, and the quality really shines through in their artisinal bread.?PHOTO: The baguette bin at the bread oven
When Whole Foods and Wild Oats came to town a few years ago, there was real buzz. The truth is, we already had some legit outlets for specialty provisions when they got here and now we have even more since Wild Oats folded up their tent. I love me some Hy-vee for broadline shopping, but you cannot be connected to the Omaha food scene if you are not at least a semi-regular at one or more of the following shops:
Jacobo's, Wohlner's, Broadmoor Market, Patrick's Market, Tomayto Tomahto (phonetics weren't ever my strong suit), Trader Joe's (Not local but awesome)
Culinary Genealogy–Lionel Have'
Where you're from and who you are matters most when your tree is respectable. In Omaha, for years we have promoted and proclaimed that the "self-made chef" was to be most highly elevated. That's until we all realized that most of us share an uncle on our mother's side and his name is Lionel Havà©. Omaha Country Club beware, the last place to lose Chef is vacant.
There are so many more things to put on this list. Given the amount of amazing things that weren't even mentioned here – Buy Fresh Buy Local Nebraska, Dante Pizzeria, the new Food Truck rodeo-thing-a-ma-bob that they just threw, TD Ameritrade Park, The Flagship Restaurant Group, – there are perhaps another 20 deserving of mention right now. Oh yeah, what about all the amazing chef-round-up events that solidify the camaraderie amongst the pros? Things like Art and Soup or the March of Dimes Great Chef Event, or the Emerging Terrain blowouts these last two years or, or… it will continue forever.
By the time everyone that is at it now is recognized for their work, another 20, 30, maybe 50 new things will have happened that deserve announcement (like whatever Alexander Payne is gonna do now that he supposedly owns King Fong's). It's bigger than a food "scene"; a scene you can understand through a couple of well-conceived snapshots. This here is food "culture", an "Omaha Food Culture"; a culture that is set to produce more and more innovation, a culture that holds on.

Brian O'Malley
Brian O'Malley is a chef instructor at Metropolitan Community College's Institute for the Culinary Arts. A graduate from New England Culinary Institute and a member of the American Culinary Federation, O'Malley worked as the chef/owner of Spread. He was a manager/instructor at the New England Culinary Institute, head chef at Vanilia in Santorini, Greece, and BackNine Grille, assistant food and beverage manager at the Champion's Club and opening chef at BOJO. Brian O'Malley can usually be found in MCC's kitchens, teaching, creating works of culinary genius or debating the perils of out of season tomatoes.
---
---
Only registered users can comment.