Sunrise Starters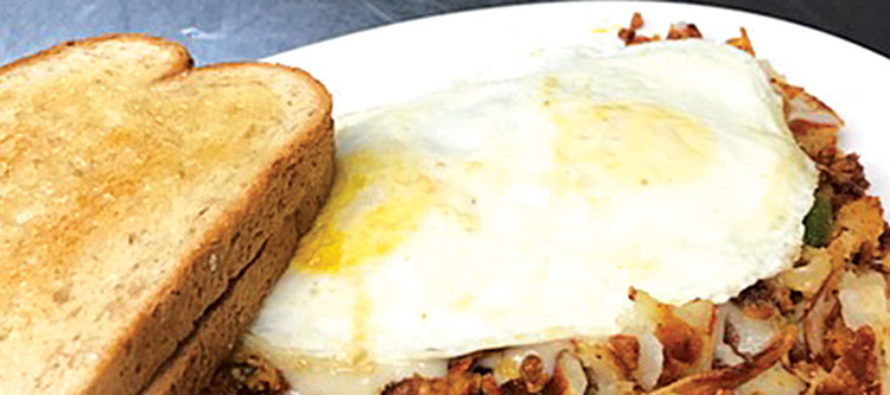 You just walked into one of your favorite restaurants with family and friends. You're hungry and a tad indecisive as the menu has so many good choices. You decide to buy some time to peruse, but also satisfy your demanding appetite and select an appetizer. It's a perfectly normal thing to do at a restaurant, except this time it's 10 a.m. and it's breakfast. Yes appetizers can be ordered for breakfast.  My friends and I regularly go out to breakfast all over the Omaha Metro. We often find our eyes too big for our appetites, or we just can't quite make up our mind on our breakfast choices. By ordering an appetizer for breakfast, we get to sample and share one of the restaurant's specialties, share the cost of it, and buy ourselves a little more time to make the perfect choice for our main course.  While there are few true breakfast appetizers on menus today, a search of several eateries in the area gives diners a multitude of ways to enjoy them. This article will show you how to do just that.
Railcar Modern American Kitchen on 144th and Blondo is where our breakfast appetizer was born. Most of us had been there before, but not for brunch. Their ample menu with creative combinations made decision making difficult.  We were intrigued by their chiliquiles. It's the equivalent of a breakfast nacho plate and it was terrific. A mix of pork, chicken, homemade salsa, avocado, eggs and more create an enjoyable dish to pass around the table both before and during breakfast.
If you'd like to explore another tasty Mexican breakfast item to start your meal, then head across town to one of Omaha's classic breakfast stops, the 11-Worth Café at 24th and Leavenworth. Their menu is loaded with comfort food classics, but they also offer a breakfast quesadilla. These tortillas are grilled to perfection and filled with eggs, cheese, onions, tomato and your choice of meats: steak, sausage, ham, bacon or chicken. 
The Farmhouse Café is on 84th Street between Center Street and Interstate 80. They are not shy on their serving sizes. "Our portions are more than shareable for two, and if you add a couple of our cinnamon rolls you can feed four pretty happily" says Matthew Brewer, quality control and social media manager at the Farmhouse. Brewer is right. It's hard to pass up their cinnamon, pecan or caramel rolls. Their muffins are both big on size and flavor, and are an excellent starter to a breakfast. Brewer encourages guests to check out their specials. Past specials include breakfast burritos and nachos, pancakes/French toast smothered in various fruit glazes, plus stratas and quiches whose ingredients vary daily. Their German potato pancakes are a fine choice to introduce yourself or your company to old style, German pancakes. They serve it with bacon and applesauce. It's warm, tasty, and comforting. Take your time upon entering the Farmhouse, as your best breakfast appetizer may be looking at you as you walk through the door. One glance at the Farmhouse pie counter and I think your table could easily justify a slice of pie for breakfast, too.
Harold's Koffee House on 8327 N. 30th Street has been serving Florence and everyone who comes their way since 1958. Harold's has a couple delicious options for those interested in breakfast appetizers. The baked goods route is one avenue. "I would suggest one of our cinnamon rolls or pecan rolls, topped with our whipped bacon butter, or our homemade cake donuts made in house every day" says Matt Bohenkamp, general manager of Harold's. "The whipped bacon butter is good on pancakes, waffles, or our French toast too" Bohenkamp added. If a shared plate is your table's choice, Bohenkamp would recommend a couple unique Koffee House creations: the 2onTop or the chorizo hash. The 2onTop is a bed of hash browns piled high and mixed with sausage, their own cream gravy and two eggs served any way you like, on top. The chorizo hash is their own chorizo mixed with the hash browns, cream gravy and eggs, but they'll add your choice of toast, pancake or biscuit as well. Guests looking for a lighter choice to share can split their Veggie Scramble. It's a fresh mix of zucchini, green pepper, and tomato sautéed with two eggs. It comes with a choice of biscuit, toast or a pancake.
Duggar's Cafe at 4950 Dodge Street is a busy, happy eatery every time I visit. Duggar's offers a few perfect choices for breakfast appetizers. "People could start with our homemade donut holes with berry compote" says Rhonda Dugge, co-owner of Duggar's.  These donut holes are terrific, and the berry compote is exquisite. I strongly encourage one order for a small table, and if you have four or more people, two orders is probably best. "If people would like to split something more like a main item I'd recommend our banana bread French toast with homemade maple syrup, our lemon pancakes with homemade raspberry syrup, and don't forget to ask about our seasonal pancake choices "added Dugge. Guests should heed Dugge's advice and always ask the name of the seasonal pancake. I've had the pumpkin and gingerbread seasonal cakes and they were wonderful. Capturing seasonal flavors at breakfast can be challenging, but the Duggar's delivers with this gem. Their homemade sauces, glazes, and syrups add a flavorful, comforting element to an already top notch breakfast. The February pancake was red velvet, and I saw several coming out of the kitchen on my last stop.
Full disclosure, the only thing I've ever ordered at Amato's Cafe at 6405 Center St. in my trips there are the ricotta pancakes. People may be a bit hesitant to try ricotta cheese in a pancake so a breakfast appetizer would be a fine way to introduce them to it. Order the pancake triple berry style with their homemade sausage, and don't be shy with the maple syrup. The syrup fills the small craters where the ricotta resides. I like the chances that your guest's first ricotta pancake won't be their last.
Whether you live in Downtown Omaha, Bennington, or Gretna, Dixie Quicks on 157 West Broadway in Council Bluffs is always worth the drive. Their menu is vibrant, fresh, and filling. My favorite is a plate or two of their French toast to be passed around the table. I prefer the toast straight up, but you can't go wrong with the sexual chocolate rendition that includes bananas, walnuts, chocolate and whipped cream. If fruit fits your fancy, you can also have a mixed berry plate with whipped cream.
If you and your crew enjoy all foods that originate from a pig, then Bailey's Porkasaurus is the perfect way to start your day. Bailey's is at 1259 S. 120th St.  It's a heaping smorgasbord of ham, bacon (both Canadian and regular), three types of sausage, link, patty, and Andouille, served on top of red potatoes, jack and cheddar cheese. They throw in three eggs, a buttered biscuit and toast to help you strategize your consumption of this magnificent breakfast monster.
Biscuit and gravy enthusiasts in Omaha should venture to Leo's Diner in Benson at 6055 Maple Street. Be ready to explore a next level rendition and order their fantasy island. Their biscuits and gravy is served on top of hash browns and this impressive mountain of toppings: two eggs cooked to order, bacon, sausage, ham, green pepper, onion, and tomato. I'm not sure how they keep it all on one plate, but keep your napkins handy for this breakfast heavyweight.
If you've grown up on potato casserole, have never tried it, or would like to introduce friends to it, then head to Petrow's on 60th and Center. Their bed of potatoes is a canvas for three meats, three vegetables, two cheeses and two eggs. Pass it around the table and it's easy to understand why it's an Omaha favorite.
Walk into any Wheatfields' location and their menu takes time to absorb the vast amount of choices.  Buy yourself some time and appease your taste buds by ordering an assortment of cinnamon rolls (small or large work), you can order the traditional, pecan, orange, or gluten free choices as well.
If you can't make up your mind between having a cinnamon roll or French toast, then collaborate with your guests at Vidlak's Brookside Café on 156th and Center to order up their cinnamon roll French toast. Our server said it's like having dessert for breakfast, which is true, but we ordered it to start our meal. Cinnamon roll French toast as an appetizer is a perfect answer for the savory breakfast eaters that also enjoy sweets for breakfast.
Another dish that could be dessert but more than qualifies as a breakfast appetizer is at Mantra at 6913 Maple Street.  Mantra's vibe matches its menu.  It's a fun, flavorful place to be. Their pistachio French toast served with ice cream is that sweet treat that also hits a savory note.  If you're breakfast company has pistachio lovers in their midst like me, there won't be anything left on the plate when your main courses arrive.
Breakfast is hailed as the most important meal of the day. Whether you're coming from a race, church service, an early morning fishing trip, or just trying to rustle the kids out of bed; a gathering of friends and family at a local eatery's breakfast table should be cause for celebration and the sharing of good food. Appetizers are often reserved for dinner but appetites can be just as demanding at breakfast. The menus at these places make our choices quite difficult. Appease both the appetite and the decision maker by choosing one or two breakfast appetizers. You may try something new, something good, and you're sharing it with family and friends. It's hard to imagine a better way to start your day.

Kent Cisar
Kent Cisar searches the local and national scene for unique ingredients and flavors to bring to the table here in Omaha. He'll catch his own fish from Florida, ship farmer's market shrimp from Louisiana, stash jams from the Pacific Northwest, or find the best cut of meat from a Nebraska farmer. Kent believes that regardless of where the it comes from, good food is meant to be shared.
---
Related Articles
The Omaha pizza scene is an ever-changing carousel of wonderment. Some restaurants are like long-lost friends that remind visitors of
Publisher's Note: Omega Omega Omega (Tri Omega), the culinary fraternity at the Institute for the Culinary Arts at Metropolitan Community
Textbooks say multiple star fine dining restaurants have three defining qualities: Delicious and beautifully plated cuisine. A wait staff that
Only registered users can comment.