The Dirty Little Secret in the Industry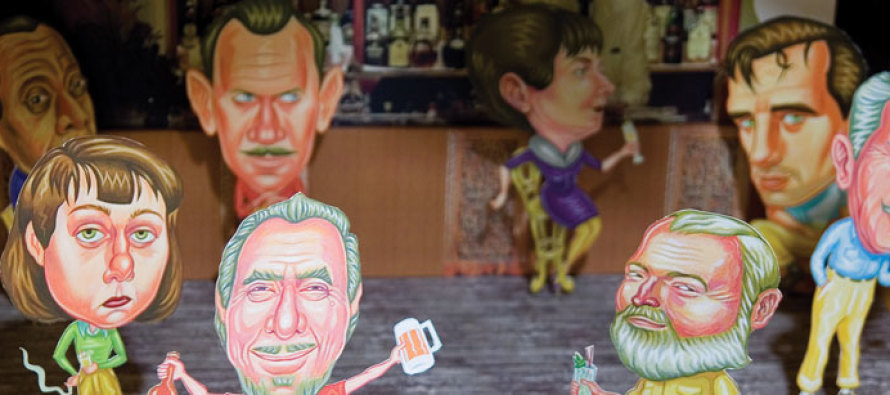 "Hi. My name is Ron, and I'm an alcoholic." The first time I said those words aloud I felt free. Terrified, but free. What you are about to read is an account of my opinions (and my opinions only) on a touchy subject. An important subject, but delicate nonetheless. It's about a problem in our industry – one that no one likes to discuss. Let's just call it our dirty little secret.
Thirty years ago when I began my restaurant career, the three martini lunch wasn't just a myth, it was the norm. And not just for the patrons – it was a way of life that was not only accepted, but condoned. People worked hard and they played hard, and drinking hard was part of the equation.
Respected members of the community would frequent the restaurant where I worked; judges, doctors, educators, clergy and business people. They were successful in their fields, and successful in their lives. I could never figure out how they made it through the afternoon, but they sure looked like they were having fun. These were the people I emulated. Fun loving people who made the three martini lunch look easy.
The restaurant scene itself was full of fun loving people. Actors, artists, musicians, and drug addicts all mixed together, all working hard and all playing hard. We needed energy to stay "on the edge" to provide our guests with the energetic service and big personalities that make a dining room come alive. Those bigger than life personalities usually translated into bigger than life tips.
We all felt alive, bullet proof, immortal. We could drink before a shift, drink during a shift, and the after hours parties were legendary, sometimes with a wink and a nod from the local law enforcement that would pop in from time to time. It was a different age, a different time, and it was a lot of fun. And it probably would have been all right if it had passed. For some it did, they went on to have careers and families and mortgage payments. But for some of us, those days were just the beginning of a life style that was about to turn into a nightmare.
In most cases, active alcoholism leads to failed relationships, failed dreams and failing health. Most alcoholics lose it all before they seek help, but help is out there in the form of holistics rehab centers and other organizations. My case was no different, but I was lucky. I got desperate enough soon enough, and I had loving people in my life that cared enough to say the tough thing at the tough time, and I got help. But how many others do?
Alcoholism can affect people of all ages. That being said, there does seem to be an increase in young people turning to drink. It's no secret that being charged with Under Age Drinking can have severe, lifelong consequences, but when someone is an addict, no matter their age, these legal repercussions don't dissuade the behaviour in question.
The numbers don't lie. All of the studies I found suggest that the restaurant industry is almost always first or second on the list of employed alcoholics/ drug addicts, alternating the top spots with the construction trade. Sadly, drug testing is very uncommon in these industries. I would urge any business owner in either of these sectors to search drug testing Manchester NH in order to help their employees get clean. The problem is obvious – easy access, cash in the pocket, and a complacent management attitude have contributed to the demise of many a waiter or bartender. For most of us, drinking was just "part of the job", and we learned how to play hurt the morning after, just to prove that we didn't really have a problem. Because if you showed up for work and did your job enthusiastically, where was the problem?
This is not an easy problem to research, nor is it an easy problem to diagnose. My experience mirrors the facts that I could find; that most of those who truly need help rarely get it, and of those lucky enough to get help, few find life long freedom from their demons. And for employers, the problems are many. The estimated monetary damage from hangovers alone is staggering, let alone absenteeism, lack of productivity, theft and dereliction of duties. But this is more than a matter of dollars and cents. It is about our most cherished resource in this industry, our people.
In the end it is all about the people. The people that communicate the passion of our business' vision to the public. When confronted with an employee with a drug or alcohol problem, the employer must act decisively but caringly. Confidentiality, empathy and action are the necessary components needed to help. Oh, and vigilance. A recovered addict can make one of the most grateful and productive members of a staff, but the process rarely goes off without a hitch. It can take a lot of time, energy and love, but it can, and does, work if everyone involved has the resolve to address the symptoms of what is certainly a bigger problem.
In the end, this isn't about most people, it is about some people. Studies indicate that about ten percent of any given population is hard wired genetically alcoholic, and some studies show almost twice that percent in the hospitality industry. But this is also not just about a problem in the bar and restaurant industry. We just happen to have numbers to show that we are uniquely challenged to be of service to people who come our way and eventually need help finding their way back to sanity. The resources are plenty, and thankfully today we can have a conversation about the ravages of this disease openly and honestly, without the stereotypes and prejudices that used to cloud the issue.
Few people I know can say that they have not been affected by alcoholism, either in their immediate family, business associations or friends. The problem is that people still die every day of this disease, and so unnecessarily. Thirty million people in America alone may be at risk of alcoholism, yet as few as two million are said to be members of the leading organization dedicated to the treatment of this malady, Alcoholics Anonymous. Help is available. Services are out there. There are even ETG tests to ensure that former alcoholics do not relapse and can get more help if they do slip up – you can learn more about ETG tests on the Countrywide Testing website. But in most cases the person needing the help is the last to know, so tough love is usually the last option, one that all of us need to at least try in order to assist those in need.
As I write today and the New Year is upon us, my thoughts turn to the countless 'resolutions' each New Year brings, always convinced that I would never go through the holiday's 'like that' again, that this year would be different but it never was – it couldn't be based on my will power alone. So, if you know some one who has a problem, today could be the day. Or, if you have a problem, today could be your day. All it takes is a phone call or two and some loving actions for the light to reappear in someone's life. Maybe that life is yours.
Ron Samuelson
Ron Samuelson has co-owned M's Pub for over twenty years with business partner Ann Mellen. They also own Vivace, which will soon celebrate 20 years of operation in the Old Market. Ron's 38 year restaurant career has spanned from Dallas and Denver to Omaha, with stints in the kitchen as well as front of house management for both corporate and locally owned concepts. He has served as President of the Omaha Restaurant Association and is a recent inductee to the Omaha Hospitality Hall of Fame.
---
Only registered users can comment.