The Formal Wine Tasting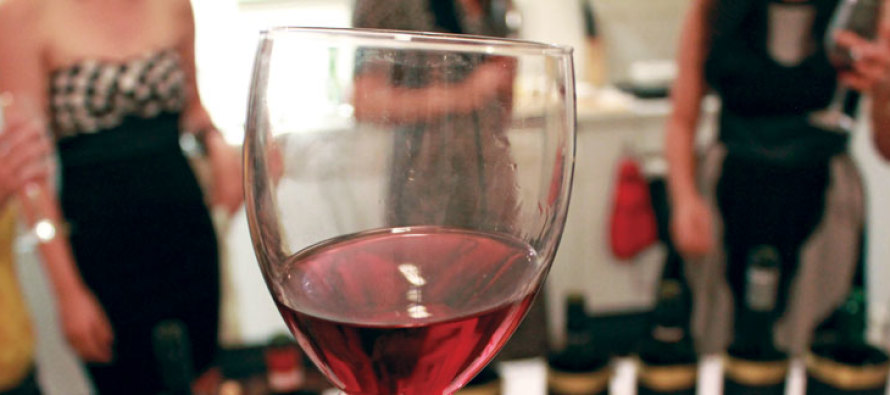 Previously I had written a rather playful article on the lighter side of casual wine tastings and the characters we meet at such fun-loving events. This time around, let's address the more serious side of formal tastings.
Before we dive in headfirst, we should ask whether the more somber, rigid tastings that occur frequently within winery walls and fine dining establishments are truly beneficial to consumers or to the industry as a whole. Let's face it, they appear quite stuffy. They are not particularly social, as participants do far more listening than conversing with one another.
The only tipoff that these functions are not college chemistry lectures with a dress code might be the extensive amount of glassware on the tables. These events do not look fun and it is precisely such perceptions of formality and snobbery that slowed America's acceptance of wine as a common, frequent, enjoyable, acceptable mealtime beverage. Europeans never considered wine to be reserved exclusively for the 'special' occasion. For some reason, we did, so why bother with formal tastings?
We bother because we desire to increase our appreciation and enjoyment of wine. Education is the key to enjoying fine wine, and knowledge is like hot sauce: a little goes a long way. A good tasting event can provide exactly such knowledge. Here is what makes for a good formal wine tasting:
First, we need to get rid of the term 'formal'. This is a misnomer. A successful tasting does not need to be – nor should it be – 'formal' in the strict sense of the word. Formality implies the precise element of snobbery that should be avoided. We don't want that. What we do want is a relaxed, comfortable, and friendly environment. Raised glasses are fine. Raised noses and pinky fingers are not.
Step one in preparing to host a wine tasting is to make sure you have proper stemware. It is not absolutely necessary to have the most expensive varietal designated crystal stemware available. However, it is essential that you have a quality red wine and white wine glass. Many of us have terrific memories of a favorite, classic, old world Italian steakhouse, complete with a quarter-inch thick juice-glass-on-a-stem filled to the rim with "vino rosso". Trust me when I tell you that such fond memories were not because of, but rather in spite of, the wine glass. Wine truly does taste much better in good stemware. Before you run out and purchase wine, make sure you have acceptable glassware.
The number of wines to be tasted is your next decision. While there is no perfect number, know that more is not always better. After sipping roughly half a dozen wines, most of us begin to incur at least some level of palate fatigue. Our ability to distinguish one wine from another becomes blurred. If you buy a dozen wines and are saving the best for last, you are wasting your money. Far before you are on the last selection, your friends won't know the difference. At the conclusion of the tasting, feel free to pour from those previously tasted. Many attendees greatly appreciate the chance to revisit their favorites from the evening.
The order of wines to be tasted is crucial. A dry wine sipped after a sweet wine will taste overly bitter. A lighter bodied wine tasted after a full bodied blockbuster will taste weak, having been overpowered by the previous pour. Taste lighter bodied wines before the more full bodied, and taste dry wines before sweet. Generally, I prefer tasting white wines before reds unless they contain a pronounced level of residual sugar. Sweet wines, whether white or red, should be saved for last – just as a sweet dessert is reserved for the end of a meal.
Always provide crackers, bread, and/or a simple cheese to cleanse palates between wines. This is more than just a courtesy snack. Residual flavor components can linger and alter the taste of subsequent wines tasted unless they are neutralized. A little cheese and crackers goes a long way. Also, provide a glass of water. Alcohol actually dries the mouth and causes thirst, so don't forget the water.
Blind tasting is a fun format worthy of consideration. Pour a selection or two from a brown bag covered bottle. Say nothing about what you have just poured and watch the conversation flow. Nothing stirs a little class participation more than the 'mystery wine'. This is the tasters' chance to describe and critique, rather than passively listen to the chemistry teacher – er, I mean wine presenter. After all have weighed in, reveal the brown bag selection and watch the crowd reaction. Proceed with the presentation, knowing that you have stimulated the interest of those in attendance.
Finally, it is crucial to understand that the tasting and evaluation of wine is a subjective experience. The apparent "superior palate" of a wine presenter is largely a fallacy. With all due respect to the self-proclaimed wine expert in the crowd, some persons obviously have had more experience with wine than others, but no one can say exactly what flavors and nuances someone else tastes or finds appealing. A good, knowledgeable wine presenter can inform others as to what to look for in a particular wine, where such flavors and characteristics came from, and many other facts of interest.
But beware: Do not be led to believe that you don't "get it" if you can't immediately detect the subtleties and nuances allegedly present with each sip. News shock: some of these phantom flavors may not actually be there (gasp!). If a claim is made that a particular wine is superior and you don't agree, no problem; You have your own personal preferences and it is not your job to conform to someone else's. Allow your palate to evolve at your own pace and never feel that you are incapable of appreciating wine.
Fine wines are complex, with layers of flavors and unique characteristics. Each vintage, each vineyard, each winemaker puts their own exclusive spin on their wine. The education that a good wine tasting provides can be invaluable in fully appreciating wine. For the better wines of the world, a formal tasting can enhance your enjoyment of wine tremendously. If you are serious about increasing your knowledge and enjoying wine more fully, take advantage of such educational opportunities. Oh, and one more thing: despite their outward appearance, such tastings ARE fun.

John Finocchiaro
John Finocchiaro is a former co-owner of Johnson Brothers Finocchiaro, LLC, a Nebraska wholesale wine, spirits, and beer distributor. Formerly the owner of Finocchiaro Wine Co., Inc., John has been in the wine distribution business for the past 25 years and the Finocchiaro family's association with the Nebraska wine industry has been continuous for the past 73 years, since 1935. John was a Certified Public Accountant before entering the family business and is a Certified Specialist of Wine.
---
Only registered users can comment.