The Top Dishes & Drinks of 2011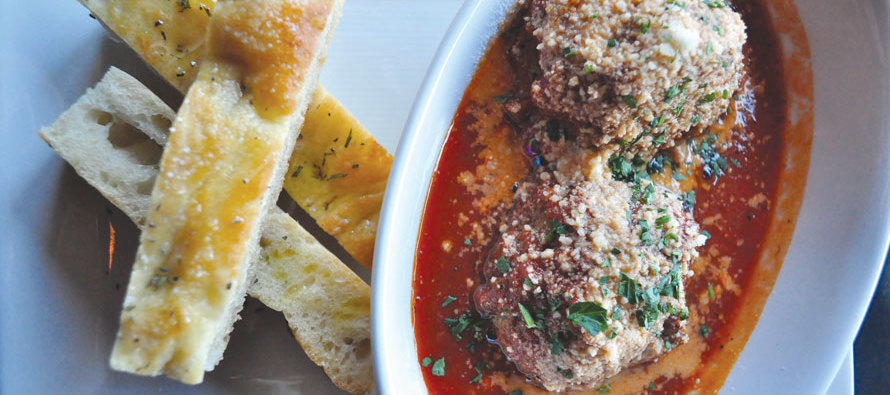 Welcome to the 2011 Menu of Menus. The menu items featured here were the top vote-getters in an online poll of Omaha's top dishes and drinks in 11 different categories. Those are Best Salad, Best Comfort Food, Best Entrée, Most Exotic, Best Burger or Sandwich, Best Soup, Best Cocktail, Best Appetizer, Best Dessert, Best Steak and Spiciest Dish. Hundreds of dishes were nominated by lovers of the local food scene and the voting was extremely close — so consider these dishes as truly the best of the best for this year. Thank you to everybody who voted and enjoy — literally!
BEST SALAD
Thunderbird Salad, Omaha Press Club: A winning combo of crisp greens tossed with "famous" Thunderbird dressing, bacon, bleu cheese, mozzarella, chives, Roma tomatoes and homemade croutons made this hearty creation the go-to house salad at many Midwest clubs. It's no wonder OPC Executive Director Steve Villamonte has his Peruvian-born chef father Luis' recipe trademarked.
Build Your Own, Spirit World: Have it your way the healthy way. Choose small or large, romaine or mixed greens, your signature fresh toppings and a homemade or fat-free dressing, and bask in your unique veggie vision. New owners took the helm at Spirit World in 2008, but maintained the quality of the classy deli.
Crispy Asian Salad, In-gre-di-ent: Thai-chili glazed steak, Napa cabbage, bok choy, glass noodles, edamame, red peppers, snow peas, carrots and spicy cashews with sesame ginger dressing, prove that this eatery lives up to its name. A garnish of crispy wonton strips is the proverbial icing on this much-healthier-than-cake delight.
Grilled Asian Chicken Salad, Granite City: Chicken is marinated in pineapple juice, sherry and soy sauce, then charbroiled and tossed with shredded iceberg and cabbage, cilantro, carrots, green onions, peas, cucumbers, sweet red peppers and crispy wonton strips with a lime-sesame dressing. Topped with a Szechwan peanut sauce, this one has the works.
Arugula Salad, Pitch: Pitch's pizzas are so scrumptious you'd almost forget they serve anything else — except that their top-shelf salads, sides and appetizers don't let you. Here, the marquee arugula is served with prosciutto, candied walnuts, pears, Maytag blue cheese and finished with balsamic vinaigrette, resulting in a Pitch-perfect flavor profile.
BEST COMFORT FOOD
California Taco, California Taco: A favorite midtown source for lunch and dinner, Cal Taco's titular offering is a filling combination regardless of whether you opt for chicken, beans or steak. Topped off with a generous dollop of their red and/or green salsa, and you're good to go. One is filling. Two is a commitment.
Chicken Enchilada, La Mesa: Chicken was picked as the best, but La Mesa also offers beef, cheese and bean. All four options are topped with healthy amounts of sauce, cheese, lettuce, sour cream and tomato. With all four heaped onto one plate, the enchiladas at La Mesa are a real value.
Pot Roast, Wheatfield's: Officially dubbed the "Alsacienne Baked Beef " on the Wheatfield's menu, this is Omaha's alpha pot roast. Slow roasted "meltaway" beef is served with mashed potatoes, vegetables and warm butterbuns, smothered in a hearty gravy. This is where simplicity meets divinity.
BEST ENTRÉE
The Don, Lo Sole Mio: There's a reason this dish is named after the boss. Beef tips, green peppers, onions, tomatoes and mushrooms unite in a light Marsala wine sauce. Enjoy the savory sauce, with ample meat and veggies, over your choice of fettuccine, linguine, spaghetti, angel hair, penne, shells or bow tie pasta.
Tandori Chicken, Jaipur: Chicken is marinated in yogurt and fresh, ground spices then cooked in the tandoor oven until tender and packed with flavor. Choose between a full or half-size portion. Be sure to wash it down with a pint of Jalapeno Ale, brewed onsite in small batches.
Carbonara, Vivace: Pancetta, red onion, peas and egg yolk are tossed with olive oil and pasta in this lighter take on carbonara. Enjoy it over one of Vivace's trademark fresh, housemade pastas, choosing from radiatori, campanelle, conchiglie, fusilli, cayenne quadralini, rigatoni, fettuccini or capellini. Meat, seafood and veggies are available as add-ons.
Chicken Fried Chicken, Grandmother's: With wonderfully crisp breading on the outside giving way to tender chicken on the inside, this down-home dish is served with homemade mashed potatoes, corn, creamy gravy and still-warm fresh baked bread. It's not just like grandma used to make; it's better.
Veal Parmigiana, Caniglia's Venice Inn: This tender Veal Parmigiana is one of the Caniglia family's signature Sicilian style Italian dishes, topped with melty mozzarella and Venice Inn's traditional red sauce. They've been in business since 1957 and the authentic, old-world Italian steakhouse feel and decor add to the dining experience.
MOST EXOTIC
Poor Man's Noodles, Laos Thai Market: Thai-style noodles are stir-fried with egg, bean sprouts, crushed peanuts, garlic and veggies, then lightly dressed in a tangy-spicy sauce — all custom-cooked to your preferred level of spiciness. The dish is named for its simplicity, but additions of beef, chicken, tofu, shrimp or even more veggies are welcome.
Oxtail & Gnocchi, Dante Pizzeria Napoletana: Fresh, housemade and hand-fashioned gnocchi is paired with oxtail, roasted mushrooms and grana padano (a hard, salty cheese, similar to parmesan). Although many dishes have exotic appeal, Dante locally sources much of its meat, herbs, eggs and vegetables. Try the housemade ricotta as a starter with this adventurous dish.
Lamb Shank, Ethiopian Restaurant: Technically termed key wat, this slow-roasted lamb shank dish includes hard-boiled egg and a spicy sauce of onions sautéed in clarified butter with chile powder and a trove other fresh ground spices. The meat is prepared in daily batches and served over injera, a spongy flatbread that doubles as utensil.
BEST BURGER OR SANDWICH
Reuben, Omaha Press Club: It may have originated at Omaha's Blackstone Hotel, but the OPC has perfected this classic selection. Your choice of turkey or corned beef is sandwiched with Swiss cheese, Villamonte Thousand Island dressing and sauerkraut on grill-toasted pumpernickel.
Black & Bleu Burger, Goldbergs: This 8-oz burger comes charbroiled to medium-well, seasoned with a blend of Cajun spices, topped with homemade bleu cheese dressing and served on a toasted ciabatta bun. Word to the wise: Upgrade to a side of potato wedges or sweet potato fries for the perfect partner to this savory burger.
Bronco Burger, Bronco's: Lord knows we have plenty of burger options, but few satisfy on the level of the mighty Bronco's. For fifty years they've been serving up simple, cheap burgers that always hit the spot. Whether you go for the classic Pony Burger or opt for a cheese or BBQ-sauced Hickory burger, few drive-through burgers satisfy like Bronco's.
Burger, Fuddruckers: The appeal here is creating your own burger: Choose from four patty sizes. Pick standard beef, or go exotic with buffalo, wild boar, elk or ostrich. Add cheese, hickorysmoked bacon, grilled mushrooms and onions at your own discretion. Embellish with lettuce, tomato, peppers, pickles and more at the toppings bar.
Dixie Burger, Dixie Quicks: This traditional offering holds its own on a menu known for flavorful and unique items. Dixie Quicks offers a fresh, upscale approach to comfort food — with a Southern/ Cajun/Southwestern bent — at decidedly non-upscale prices. This mammoth meatravaganza piled with crisp veggies on a tasty bun fits right in.
Cheeseburger, Tish's: This comfy Council Bluffs restaurant began as a seasonal walk-up joint serving ice cream and sandwiches, but since 1995 it's been a full-service destination for American fare with a contemporary feel. Try Tish's classic cheeseburger with one of their signature margaritas to round out the experience.
Steak Trim Burger, Gorat's: Perhaps one of the best kept secrets of Warren Buffet's favorite steak joint is Gorat's special edition burgers. Made from steak trimmings, it's quite possibly the best burger in town and one of the cheapest, at $6.75 for a meal that includes a salad and fries (add another twenty cents if you want cheese).
BEST SOUP
Minestrone, Sgt. Peffer's: The classic Italian soup house soup is offered daily at Sgt. Peffer's, but it's so good they'd serve it eight days a week if they could. It's made with beef and chicken broth, tomato, zucchini, yellow squash, carrot, celery, cabbage, spinach, onion, basil and northern beans.
Potato Soup, Market Basket: Because it's done so well, breakfast is the meal most often associated with The Market Basket. But the restaurant/bakery/deli/foodie retail outlet also puts on great lunch and dinner spreads, with one star of those meals being the much loved creamy potato soup with chives, cheese and bacon.
Gumbo, Shucks: Although the lobster bisque, clam chowda and San Fran cioppino are fabulous, Shucks' gumbo is the favorite of the four fishy house-made soups. It's easy to see why with a perfect balance of Cajun flavors laying the foundation for the thick bayou stew of veggies, rice, andouille sausage and, of course, fresh seafood.
Clam Chowder, Grandmother's: Although the French onion is Grandmother's house soup, voters sing the praises of their clam chowder the loudest. The creamy base is chock full of clams, diced potato, onion and celery. Once again Grandmother's hits the spot with a quality, cozy-inducing dish.
Chicken Tortilla Soup, Dixie Quicks: A pico de gallo style blend of tomatoes, onions, zucchini, yellow squash and peppers (poblano, anaheim, jalapeno) is simmered in a chicken broth, with chunks of chicken and plenty of fresh cilantro, then served with tortilla chips and avocado. This soup made "Diners, Drive-Ins and Dives" host Guy Fieri moan.
Hot & Sour Soup, Chopsticks House: A piping bowl of hot & sour soup is a staple at Chinese restaurants, but the Menu of Menus poll rated Chopsticks House's as the best. Balancing spicy and sour, the broth is
BEST COCKTAIL
Martini, Blue: With 23 varieties, Blue not only brings the martini party, they get creative with it. To get your sake fix too, try the Classic Saketini (Grey Goose vodka, sake, fresh-squeezed limeade) or Samurai Saketini (unfiltered sake, cucumber infused vodka, fresh-squeezed limeade). Bonus: House martinis are just $5.50 during happy hour.
Margarita, La Mesa: In addition to the famous house margarita, made with gold tequila, triple sec and a secret mixer recipe, La Mesa offers Midori, Bahama Mama, Blue Milagro and 1800 Grand variations, plus top shelf margaritas. Join the tequila club and sip your way through their 100+ varieties of tequila.
Cosmopolitan, The Boiler Room: A standout when it comes to classy mixology, The Boiler Room itself is so cosmopolitan that voters chose it for the Metro's best cosmo. In addition to nailing the trendy cocktail, they offer many other fine drinks like the Pisco Sour, Old Havana and French 75, plus apertifs and digestifs.
Nutty Irishman, M's Pub: This simple yet blissful pairing of Baileys and Frangelico will have you doing a happy jig. Get it on the rocks or shaken and served martini style.
BEST APPETIZER
Bang Bang Shrimp, Bonefish Grill: Bonefish's signature Bang Bang shrimp sounds simple enough on the menu: "tender, crispy shrimp tossed in a creamy spicy sauce." But once you've tried the crunchy, craveable appetizer doused in a blend of sweet, sour and spicy, you'll understand why it's one of their most popular dishes and one you'll come back for.
Crab Cakes, Dixie Quicks: Crab cakes can be a crapshoot. All too often they're stuffed with too many bread crumbs, veggies or other filler. Not here. Dixie Quicks' crab cakes are light, feathery pillows of crunchy crab goodness that'll have you wonder why you order them anywhere else.
Crab Cakes, Firebirds Wood Fired Grill: A good crab cake is like a little bit of heaven. At Firebirds real lump crabmeat is laced with Old Bay seasoning then covered with crisp panko breadcrumbs and served with tortilla slaw and mango habañero chutney.
Meatballs, Pitch: Listen up meatball lovers, these Calabrese style meatballs in a San Marzano tomato sauce with grana cheese are the appetizer for you. The tasty spherical fare is also available on Pitch's pasta and at lunch you can try them sandwich-style with fresh mozzarella and arugula.
BEST DESSERT
German Chocolate Cake, Delice: Delice has so many delish desserts voters had a tough time time choosing just one, but the decadent German Chocolate Cake emerged the favorite. Layers of velvety chocolate cake intermingle with coconut-pecan filling and chocolate frosting.
Cupcakes, Jones Bros. Cupcakes: Jones Bros. means business when it comes to their cupcakes, each as cute as they are scrumptious. Try one of 10 everyday cupcakes, like red velvet, lemon and chocolate, or choose from 15 more offered only on certain days of the week, like chai honey, coconut and tiramisu.
Fried Ice Cream, La Mesa: The local master of the margarita also excels with its fried ice cream. The crispy, fried outer crust conceals cool vanilla ice cream and is garnished with chocolate sauce, whipped cream and even a cherry on top.
Napoleones Torte, Lithuanian Bakery: There are desserts and then there is the Lithuanian Bakery's Napoleon Torte. A symphonic blend of multiple slivers of pastry, creamy custard and apricot, it's what God serves for dessert. Yes, it's that good.
Seasonal Pie, Wheatfields: It doesn't get better than Wheatfields fresh pies baked daily with only the best seasonal ingredients. The rotating cast of pies includes caramel apple, blueberry, strawberry rhubarb, key lime, coconut cream, pumpkin, pecan, lemon meringue and
BEST STEAK
Ribeye Steak, Texas Roadhouse: This chain eatery promises "legendary food, legendary service" and the Ft. Worth Ribeye is proof that they do deliver on that Texas-sized promise. Choose between 10-, 12- or 16-ounce portions, saddle up and enjoy.
T-Bone Steak, Piccolo Pete's: One of Omaha's enduring steakhouses, Piccolo Pete's has the goods when it comes to the T-Bone. Offered in 16- or 20-ounce servings, they start with USDA choice beef, cut into steaks in-house. Be sure to order the hash browns as your potato; their's are the best in town.
Native Filet Mignon, Johnny's Café: This storied Omaha steakhouse is situated in the heart of the old stockyards. The Native Filet Mignon is one of their signature dishes and their most tender cut, served at 9 ounces. Or you can opt for the Petite version, which at 6 ounces is one of their healthy selections.
Prime Rib, Pink Poodle Steakhouse: Crescent, Iowa's Pink Poodle is a fun little jaunt for local foodies. It's also well known as the destination for the area's best prime rib, served with a standout au jus. Choose from the regular cut, cut-and-a-half or the big time Diamond Jim Cut, "for the extra-hearty eater."
Prime New York Strip Steak, Mahogany Prime Steakhouse: Mahogany offers fine steaks in a classy atmosphere, helping make this satisfying 14-ounce New York strip a voter favorite. All steaks are seasoned with kosher salt, black pepper and butter. Diners can add a bèarnaise, hollandaise or peppercorn sauce to dress it up even more.
Hawaiian Ribeye, Charleston's: This 14-ouncer is marinated then grilled to order over hardwood. The five-state chain also offers distinctive sides like burgundy mushrooms, sweet glazed carrots and fried okra alongside the more typical French fries, baked potato, rice and others.
SPICIEST DISH
Pepper Steak, Thai Spice: Thai Spice offers an array of cuisine at its two locations, but the Thai-style pepper steak is the voter favorite for spicy. Tender slices of beef are sautéed in a light Thai sauce with onions, red and green bell peppers and carrots, then served over steamed jasmine rice.
Smoked Hot Wings, Bighorn Mountain BBQ: This locally owned joint is known for juicy, tender brisket, but its smoked hot wings also impress those who love spicy eats. The menu warns diners up front that these are "no joke hot." As a bonus, all of Big Horn's sauces are homemade.
---
---
Only registered users can comment.