Understanding Burgundy: A Wine Primer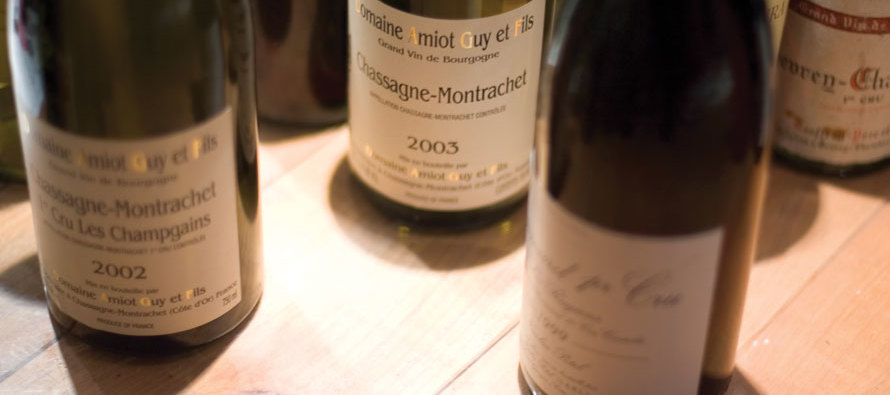 My desire to have a career in wine began over ten years ago. I impulsively headed to Napa Valley to work the harvest and then a tasting room. Afterwards, I foolishly felt like I knew everything there was to know about wine. So when national wine retailer K&L Wine Merchants offered me a sales position in San Francisco, I confidently told them I could handle Burgundy, one of the most complicated wine regions in the world. It did not take me long to figure out how wrong I was.
Primarily, "Burgundy" refers to a geographical place, a wine-producing region in central-eastern France. The word Burgundy is similar to Chianti, Rioja, or Napa, because it's both a reference to the place as well as to wines typical of those regions. Burgundy can seem simple because nearly all of its white wines are made from the Chardonnay grape, and nearly all of its reds from Pinot Noir. Furthermore, these grapes are familiar to producers across the world who have experimented with Chardonnay and Pinot Noir, making them truly international varieties planted everywhere from Northern Italy to Argentina.
While I thought I knew everything about wine, K&L kindly sent me to France for a Burgundian education. I quickly learned that Burgundy is far more than just Chardonnay or Pinot Noir. Burgundy is an intricate patchwork of ancient vineyards, each with subtle differences and stories, making it home to some of the most desired, celebrated, and expensive wines in the world.
Burgundy education starts best with a map. It is a long and narrow region about two hundred miles southeast of Paris, starting with Dijon. Dijon acts as Burgundy's commercial hub and most populous city. It is an inland region with a climate best described as "northern continental," meaning cold winters, hot summers, and moderate temperatures throughout the growing season. Temperatures are similar to the Midwest, but not quite as extreme. Also, Burgundian precipitation is similar to Nebraskan weather in that it experiences a rainy autumn, which threatens to bring rot to the vineyards.
Geographically, the region is divided into the five main sub-districts, each with notable identity. From north to south, it starts with Chablis, then Côte d'Or, Côte Chalonnaise, Côte Mâconnaise, and finally Beaujolais. Northernmost Chablis is mainly known for producing clean, minerally white wines from Chardonnay. The mineral flavor and texture in these wines comes from the limestone-rich soil and relatively cool weather which produces wines with high acidity and distinctive crisp characters.
Next, the Côte d'Or, original home of Chardonnay and Pinot Noir, runs along a fault line, meaning soil types are extremely varied in composition and age. Along the fault line, you can see the hillside of the Côte d'Or planted with hundreds of vineyards running like a wave. The planting angle maximizes sun exposure, creating some of the ripest and most desirable plots of land in the world.
Notably, Côte d'Or is further subdivided into Côte de Nuits in the north, and Côte de Beaune in the south. Côte de Nuits is known for its red wines, while Côte de Beaune is known for its whites. Côte d'Or is the recognized "Heart of Burgundy," with the greatest number of Premier Cru and Grand Cru designations.
The three sub-regions south of the Côte d'Or produce some of the best value wines of Burgundy. Côte Chalonnaise produces good quality reds and whites, typically made for drinking young. Reds from Mercurey and Givry have the best reputation in Côte Chalonnaise, while whites from Rully and Montagny are good bets, although somewhat difficult to find.
Côte Mâconnaise produces quality white wines, particularly from Pouilly-Fuisse, which sub-region is in all of Burgundy, which produces a rich, full-bodied style. And lastly, Beaujolais is (in)famous for its super-fruity Beaujolais Nouveau, which is worth trying at least once, preferably just after its November release date. Beaujolais also has wines of greater interest and refinement, such as those from Chiroubles AOC, Brouilly AOC, and Chenas AOC, all made from the Gamay grape.
The five geographic sub-regions of Burgundy are further divided into a system of sub-zones or appellations, formally called Appellations d'Origine Controlee (AOCs). These AOCs represent a delimited area of agricultural production where laws govern everything from what varieties of grape can be grown to when to harvest. Interestingly, even the various zones of cheese production in Burgundy have their own AOCs.
The AOC system of Burgundy owes its creation to monks who spent their time recording the different soil-types, microclimates, and qualities of Burgundy. Over hundreds of years, these monks created a detailed vineyard map which isolated individual parcels and classified them by quality. These monks also experimented with different types of grapes to determine which would best express each Burgundian terroir.
While terroir has no literal translation in English, it might best be simply described as the essence of a place. Terroir is more than soil and weather; it is also the character of a place and the person who tends the grapes. It is the feeling and experience of a place. The monks believed that Burgundian terroir favored Chardonnay and Pinot Noir because those were the most sensitive to the subtle Burgundian soil variations. The monks' zealous studies and classifications became the basis for the modern AOC system in 1937.
But ever since the inception of AOCs, there has been great debate about how much power AOCs should or should not have. Regardless, the intent behind their existence is one that wine lovers from around the world should appreciate: preservation of traditional wine styles of AOCs. More emphatically, without wine laws of AOCs, free-market forces no doubt would have destroyed the great Burgundian traditions.
The AOCs are not just divided geographically; they are also divided by pyramidal quality. At the base are "Regional" AOCs which will always have the word "Bourgogne" on the label, informing the buyer that the grapes could come from anywhere within Burgundy. For example, a Regional label might say "Bourgogne Blanc."
Next is the "District" AOC. Grapes for these wines must come from a single district within Burgundy. Instead of "Bourgogne," the buyer will see the name of the district. For example, a bottle with "Macon" on its label must be produced from grapes grown exclusively within the Macon district. Next are "Village" wines which must be produced within the limits of a specifically designated village area. The name of the Village will appear on the label, such as "Macon Village."
The next tier represents a huge step up in class: the "Premier Crus." To be a Premier Cru, all grapes must come from a single vineyard. Premier Crus are of superior quality and character, and have longer aging potential. The words "Premier Cru" are sometimes abbreviated as "1er Cru." Note that multiple landowners or producers can produce a Premier Cru, all growing grapes within one vineyard. Thus, several producers might make a wine labeled "Chassagne-Montrachet 1er Cru Les Caillerets." This means the wine is Premier Cru from Les Caillerets vineyard, produced by Chassagne-Montrachet.
Finally, "Grand Cru," the highest classification, comprises only about one percent of Burgundy's wine output. Only thirty Grand Crus exist, all well known by name. Their reputations are so well established that their labels read very simply, with just the name of the vineyard. Examples are Chambertain or Les Bonnes Mares. These high-quality wines need time to age in the bottle before drinking.
It should be apparent that Burgundy can seem simple at first but is quite complex. However, it is worth the time and effort to learn Burgundian wines because they offer insight into the important concept of terroir, and represent some of the greatest wines in the world.

Jesse Becker
A native Nebraskan, Jesse Becker M.S. began his wine career at 21 when he took a position as a clerk with a small wine shop in Lincoln. Jesse moved to California's Napa Valley in 2001 where he worked in the cellars of both Robert Sinskey and Miner Family wineries. During this time, he also poured some of Napa's top wines for Michael Chiarello's Tra Vigne Cantinetta. Jesse moved to San Francisco in 2002 and worked for retailer K&L Wine Merchants. He then took the opportunity to work the harvest for Burgundy producer Maison Camille Giroud in 2004 and returned to the US and settled in Chicago. There he shifted his career focus from retail to hospitality, working as a sommelier with restaurants Charlie Trotter's and NoMI at the Park Hyatt. He committed to education and professional development and passed the Certified Wine Educator (CWE) exam in 2006.
---
Only registered users can comment.