What's In a Name?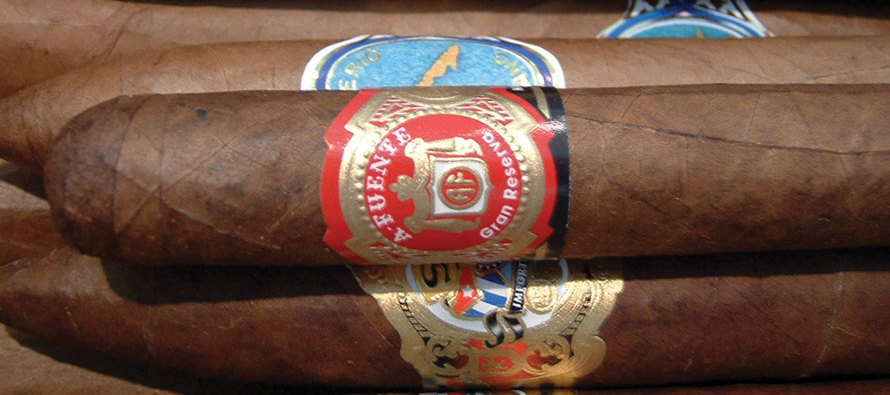 Macanudo, Punch, Romeo y Julieta, Hoyo de Monterrey, Partagas, Montecristo, Cohiba. If you've ever smoked a premium cigar in your day, you've probably tried one of these brands. Unless you frequent cigar shops, these might be the only brands you've ever heard of. There are a few reasons these famous names still get so much recognition. With the exception of Macanudo, which is manufactured in Jamaica, all of these brands make up Cuba's flagship cigars. After Fidel Castro nationalized all Cuban businesses from 1966-68, many of the owners of these brands fled the country only to reestablish their companies in places like the Dominican Republic, Nicaragua, and Honduras. With the Cuban trade embargo in full effect, these cigar makers were able to manufacture cigars and sell them to the U.S. under the names that had been in their families for generations.
While I haven't smoked any pre-embargo Cubans—I'm only 27 years old, for hell's sake—I have had the opportunity to smoke all of these brands in their more recent incarnations, and can honestly say they all make a great cigar. Unfortunately the majority of their offerings don't go too far off the beaten path in taste. Early on, before deciding to broaden my horizons, these were the only cigars I'd smoked. I can tell you now, though, that through the smoke I have seen the light, and there is a world of wonderful cigars that may not have the same brand name caché as the big boys, but blow them away in many other areas.
I have to admit that I have a certain bias toward some of the newer up-and-coming cigar makers, such as C.A.O., Rocky Patel, and Drew Estate. They have made their product much more accessible to smaller smoke shops, and don't charge an arm and a leg for a brand name. They also continue to push the boundaries of traditional cigar making by innovating in areas such as size, strength, and composition. The amount of new product coming out of these companies eliminates the need to smoke the same old cigars produced by the establishment.
Rocky Patel has proven itself to me time and again to be on the cutting edge of the strong-as-hell cigar category. Using tobacco from both Honduras and Nicaragua, they've managed to blend some of the spiciest cigars I've ever had the pleasure of lighting up. The greatest example of this would be their Edge series. Coming in both a sweet and rich maduro as well as the Cuban-esque corojo wrapper, these cigars, as the box states, are for professional smokers only. Be prepared to drink a little extra Scotch when smoking an Edge, just to keep the spice from overwhelming your delicate palate.
Cigar maker C.A.O. is another of my favorites. They make a wonderfully spicy cigar in their Anniversary Maduro, a smooth, creamy, and mild offering in the C.A.O. Gold line, as well as a great middle-of-the-road option, the Anniversary Cameroon. But the coolest things they've got going are their Brazillia and Italia lines. As their names suggest, they offer tobacco from the little-used countries, as tobacco growing goes, Brazil and Italy. The Italia combines tobacco from Honduras, Peru, and Nicaragua, as well as the Benevento region of Italy, to make a bold, earthy, and sweet smoke that won't blow you away. With rich Nicaraguan filler and a bold Brazilian wrapper and binder, the Brazilia is a full-bodied and full-flavored smoke that carries a long and spicy finish.
Acid cigars made by Drew Estate have found a way to bridge the gap between traditional and flavored cigars. Instead of using the usual flavorings such as vanilla, chocolate, or fruit, Acid infuses their cigars with all natural herbs, essential oils, and floral botanicals. This imparts delicious aromas and flavors without overpowering the high-quality Nicaraguan tobacco they use to construct these cigars. While these smokes don't sit well with everyone, they are a prime example of taking the path less traveled and being rewarded kindly for it.
While you might be content smoking the same old bland Macanudo the rest of your life, I'm not. As long as I can find something new and original to smoke, I'll give it a try. I suggest you do the same; you'll be surprised at how far cigars have come. If not, well, Jake's still carries all the time-tested favorites, Cuba be damned.

John Larkin
John Larkin is co-owner of Jake's Cigars & Spirits in both Omaha and Lincoln. He's been smoking and selling cigars for close to 15 years, having begun his career as a tobacconist right out of high school in Salt Lake City. John moved to Lincoln in 2002 to run Jake's for longtime friend Alex Roskelley. After serving a tour in Iraq with the Army Reserve. he came home and bought into the original Jake's in downtown Lincoln. In August 2006 John and Alex opened a new shop in downtown Benson, where he now resides with his wife. John spends much of his time in business meetings (golfing), smoking cigars, and questing after the best beers bourbons and wines he can get his hands on.
---
Only registered users can comment.