What the Pho?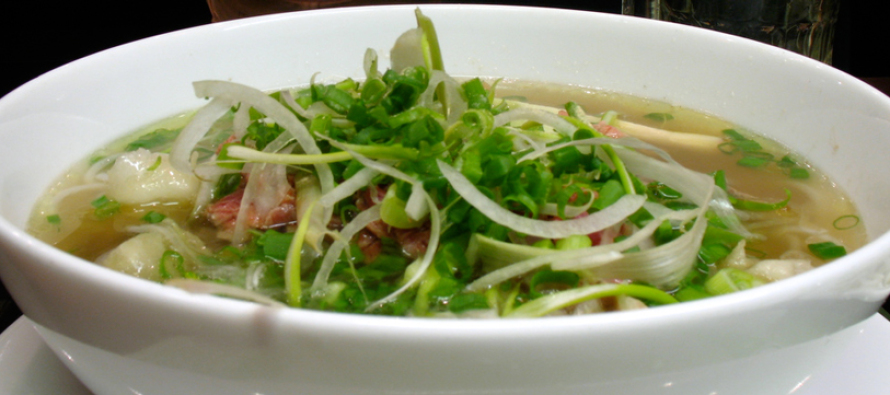 In winter, in Nebraska, the doldrums of winter's days wear on with the cold winds howling across the prairies, sending chills to all of our bones. To come inside and take off my coat, hat and gloves, and enjoy a bowl of soup that I love, cannot be beat. One of my favorites is a bowl of warm and spicy pho that is full of nutrients while filling the belly.
The last time I lived in the Big O, I discovered pho. Since then my travels have led me to pho in cities like Chicago, Austin, and San Francisco, where the flashing neon sign of a bowl dispersing steam with the word "pho" into the air became a cairn that signified my direction in life was the right one.
It was in San Diego, however, that I learned to really enjoy pho. I moved there after college, and lived there until I returned to Omaha in 2013. From the batch of pho that my old roommate made for us in South Park to the Sunday morning (or afternoon, it all depends on perspective here) trip to Pho King with a friend or two, pho became a staple of my diet for this bachelor roaming the streets of San Diego.
After moving back to Omaha, I got a job working at Nebraska Furniture Mart. On my break one day, I walked over to the plaza across the way and noticed a little Vietnamese restaurant. I quickly altered my route from the nice, friendly neighborhood fast food joint, Sam and Louie's, and followed the trail to the Vietnamese Asian on 72nd and jones.
Because different people like different things, I should share how I like to eat pho. The base consists of rare flank steak and small rice noodles and topped with chopped green chives. Tripe and tongue are other ways that people eat pho, but I prefer to stay away from those variations (in fact, right after I moved to San Diego, I accidentally ordered the tripe pho. I didn't eat it again until years later when my roommate cooked a batch for the house. But, I digress…). It should be served with fresh bean sprouts, Thai basil, sliced jalapeños, and cilantro stacked on a side plate. A variety of sauces to choose from are necessary. Hoisin sauce and chili paste are my choices. Sriracha will do if there is no chili paste available.
With that being said, here are some of my favorites;
Every city has a downtown restaurant that is swanky. Saigon Surface on 14th Street in Omaha serves that role well. The restaurant was quiet, but we went at around 3 p.m., so it is entirely possible that they do good business for the lunch rush. They certainly look like they know what they are doing. The nine-hour simmer they give their oxtail sounds like they know what they are doing as well.
I was happy to see that they served all the fixings. The soup was spicy and the size was good. I gauged this one on my guest who is incredibly picky and always hungry. He finished it, no problem, and even gave the owner some compliments. It is downtown, so expect to pay a bit more for your food there. Its long, backlit lines fit right in with the sun chasing buildings that engulf it.
Saigon Restaurant is at 12100 West Center Road in Omaha. It has been there forever. I remember this place from years ago. Yet this seemed like my first time. For starters, they had some amazing crab Rangoon. While low on jalapenos and basil, I enjoyed the soup. It was still quite spicy without the jalapeños, and I was full at the end. It came in a close second.
The next artistically named place to visit is called Vietnamese Restaurant on 8013 South 83rd Street in La Vista. I guess they can get away with that clever name since they are located in La Vista and not in Omaha. It was quiet and clean and the customers were quite friendly. I got into a conversation with the table next to me, and we talked about our favorite Asian cuisine. They were Pad Thai fans.
Their portions are perfect. For the truly famished and those who are hollow of leg, there is an extra large bowl available as well. The server brought out the sides. I would definitely go again.
New Gold Mountain is way out west, on 15505 Ruggles Street. They were nice and very friendly. I could tell that they had been doing this for a while. The staff seemed to know everyone who walked in the door much more than other places; their familiarity gave the place a real neighborhood feel.
One thing that I love about pho is the balance of sweet and spicy. The sweet rice noodles mix with the spicy basil and sliced jalapeños. The sweet hoisin sauce mixes with the zesty chili paste. Just as I was thinking of getting more spice for this particular bowl, a spoonful of the broth hit the back of my throat and I was off on a serious cough, and neither water nor ice could cure it – that's my kind of spicy.
I got the small bowl, but do not be fooled. This is a relic of the super-sized days gone by and I'm glad that I didn't get the larger bowl – I don't think I could fit the leftovers in the fridge. They also have a wide range of Asian food. Chinese dishes, Vietnamese soup, and even Dim Sum are all listed on the menu. I got an order of spicy pork Dim Sum just because they had it.
My favorite thing about traveling is that there are so many wonderful things you can see and experience during your time there. The food contributes to the aroma of the city, and the languages spoken within these restaurants indicate the diversity and wealth of global culture that a city can provide an individual. As I get reacquainted with the city of my youth, I visited Asian Grill at 333 North 78th Street.
I came here thinking I was going somewhere else that I had heard about before. But, when I arrived I saw that that place was no longer there and, instead, there was a new Asian restaurant in its place, with the magic words, "pho" glowing in red neon letters.
The name leaves the imagination starved, but there are two other words that are much more impressive: chili paste. It does not matter that they were out of basil, because the chili paste is key. I love the stuff. They leave oiled down, milder versions on the table, but if you ask, they will bring out the real deal that is in back that packs more of a punch – like Thai chilies sort of punch. This simple fact makes Asian Grill the number one place for me.
The owner was gracious enough to come out and apologize for running out of basil. A married couple owns the Asian Grill. She is Hmong and he is Vietnamese. She said her husband likes a lot of basil in his pho, so she knew I would be sad. They also gave me ample peppers and cilantro and sprouts. She informed me that she uses no MSG or sugar in her soup and in fact decided to open her own restaurant because she liked the pho made in her kitchen better than any other pho shops around. I always get excited when I hear the person cooking my meal say that.
They came from Sacramento, California, and we chatted and reminisced about Cali. She was thrilled when I said that this was the closest I had seen to Cali style Vietnamese pho and I thoroughly enjoyed it. I had a great time here and I will go back another day, when they have some of that fresh basil.
---
---
Related Articles
For those of us in Omaha, the Reuben sandwich is our fair city's iconic food item. Although its invention is
Welcome to the 2011 Menu of Menus. The menu items featured here were the top vote-getters in an online poll
Publisher's Note: Omega Omega Omega (Tri Omega), the culinary fraternity at the Institute for the Culinary Arts at Metropolitan Community
Only registered users can comment.